Top 7 Destinations For Beach Weddings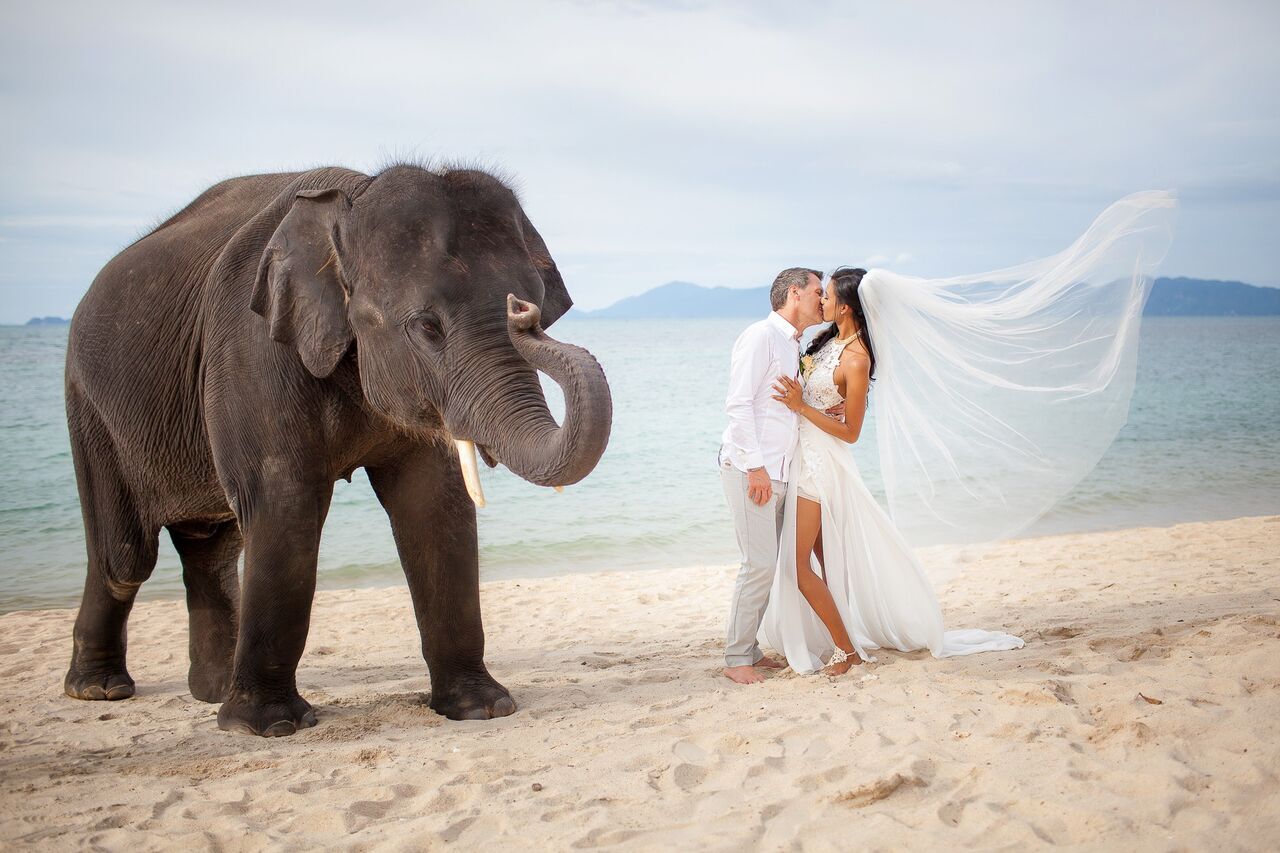 There's no time like now to start planning the beach wedding of your dreams. Whether the idea of a beach wedding is relatively recent or you've had your heart set on it since you were young, we've got seven destinations you'll love. So, it's time for sun, sand, and cocktails for you two soon-to-be newlyweds and your guests!
Hotel Esencia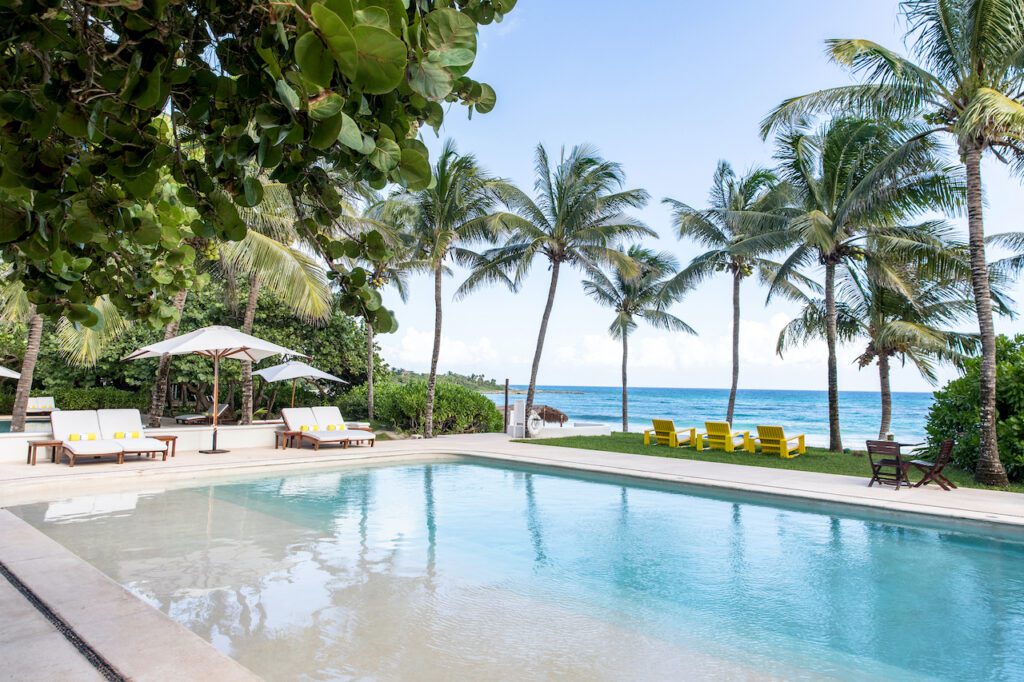 For a private beach hideaway surrounded by panoramic sea views, you'll be in awe over Hotel Esencia. You can find this hidden Riviera Mayan gem at Xpu Ha Beach. A beautiful and secluded Mexican beach where sea turtles venture each year to make their nests! Perched on 50 acres, this 5-star luxury estate has one Main House, with footpaths leading to the 44 suites and three villas. The professionals at Hotel Esencia offer genuinely bespoke service. You can leave it to your wedding planner and their team to turn your dreams into real-life, unforgettable moments.
Whether you want to plan an intimate ceremony with your closest family and friends or prefer to host a grand affair, Hotel Escencia has you covered! Between their three venues, you have stunning options for your wedding ceremony. One choice is on Xpu Ha beach in the white sands. The next, at the foot of Main House on their enchanting red brick path. Or in their Palm Garden, surrounded by swaying palm trees and the country's local fauna. 
Besides relaxing in paradise, this resort offers you and your guests many activities. Imagine the excitement of watching fire dance shows, the mariachi band, and other musical performances. When you want to unwind, enjoy a spa session, sunset meditation, or group yoga. For a bit of adventure, consider snorkeling, yacht tours, or attending a bonfire! There's a little something for everyone here. 
One&Only Palmilla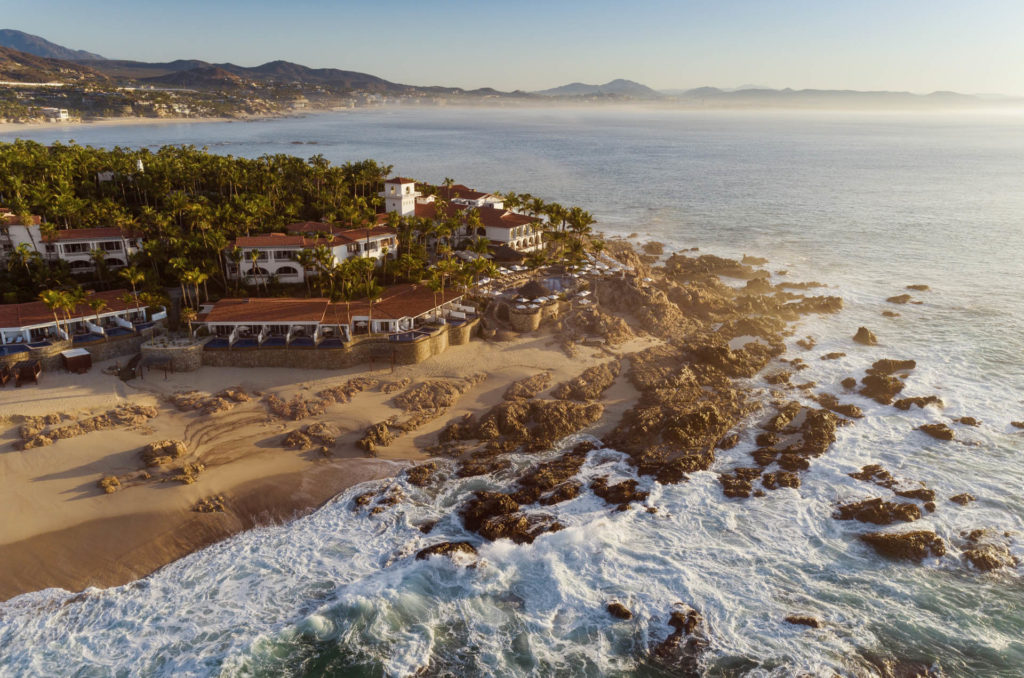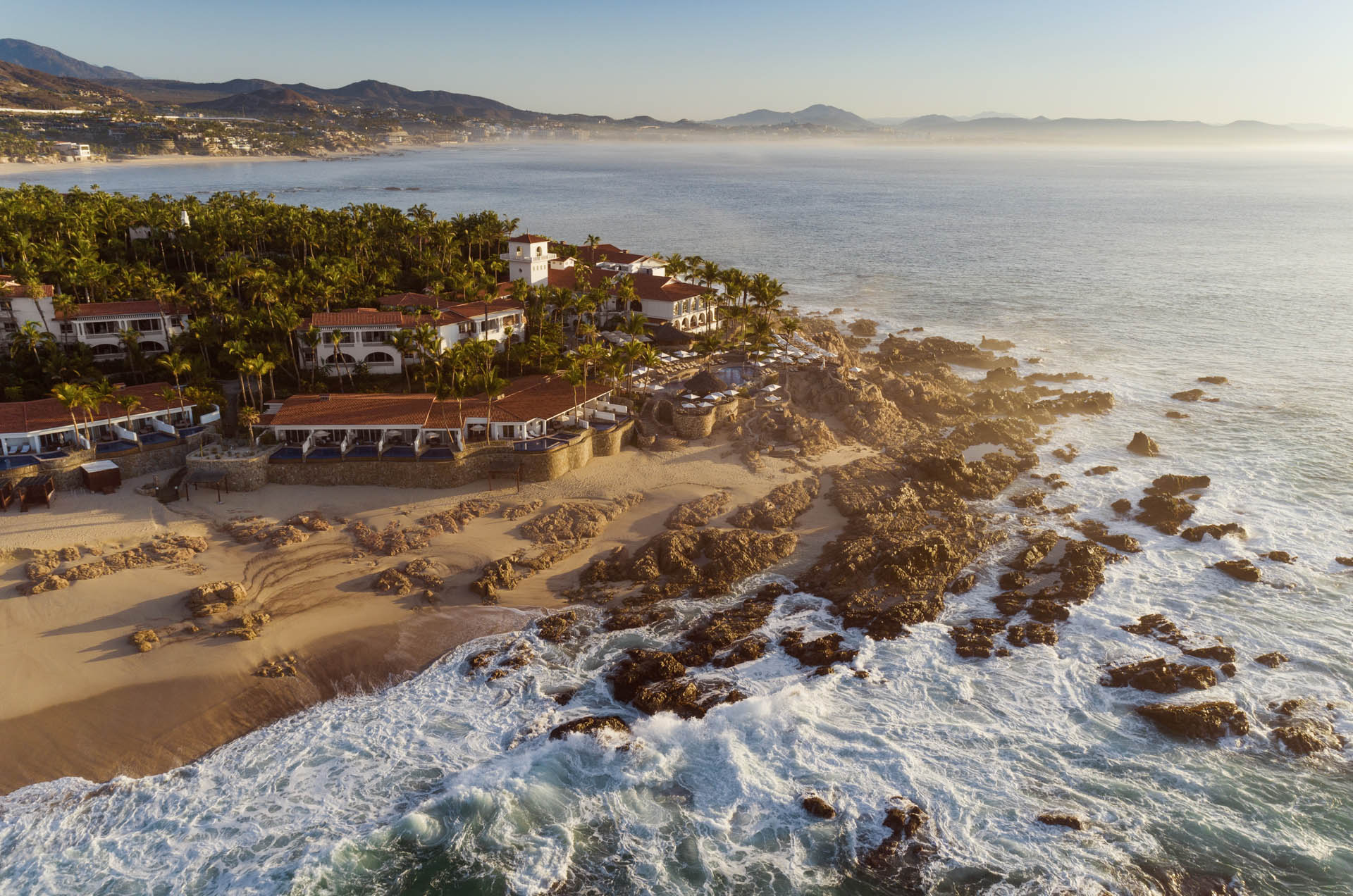 For an idyllic beach destination, consider One&Only Palmilla in Los Cabos. Picture lush tropical gardens where the mountainous desert meets the shimmering Sea of Cortez. You'll enjoy exquisite accommodations with ocean views and experience delightful hospitality. This includes having an intuitive butler to ensure your stay is as dreamy as possible. When it comes to your room, you'll have ultimate privacy, undeniable luxury, and plenty of romance. The resort offers private beach coves along its one-mile coastline. You'll be delighted to relax in their floating beds or netted hammocks suspended above the sand or sea.  
The One&Only Palmilla has earned a reputation as one of the world's most exceptional wedding and honeymoon destinations. The resort can host various events, from the most intimate to the most extraordinary. There are eight venues on the property for you to choose from for your ceremony. Each of them offers a unique feature that you're sure to love! You can choose from their lavish lawn or pool deck to their highly sought-after beachfront location or ballroom. There is also their iconic white-washed chapel on the hilltop, with a bell tower that will ring to celebrate you two. Whatever you pick, you can ensure your wedding will fit your style. Your dedicated celebration specialist and destination wedding planner will take care of it all, ensuring you'll have the wedding of your dreams! 
You'll find plenty of new experiences for you and your love when you stay here. There are adventurous excursions to be had and authentic cuisine to experience. You must visit the One&Only Spa at Palmilla for the relaxation you desire. The spa offers water passages and ancient healing rituals that are indeed one-of-a-kind—this journey of renewal will soothe your mind, body, and soul.
Chileno Bay, an Auberge Resort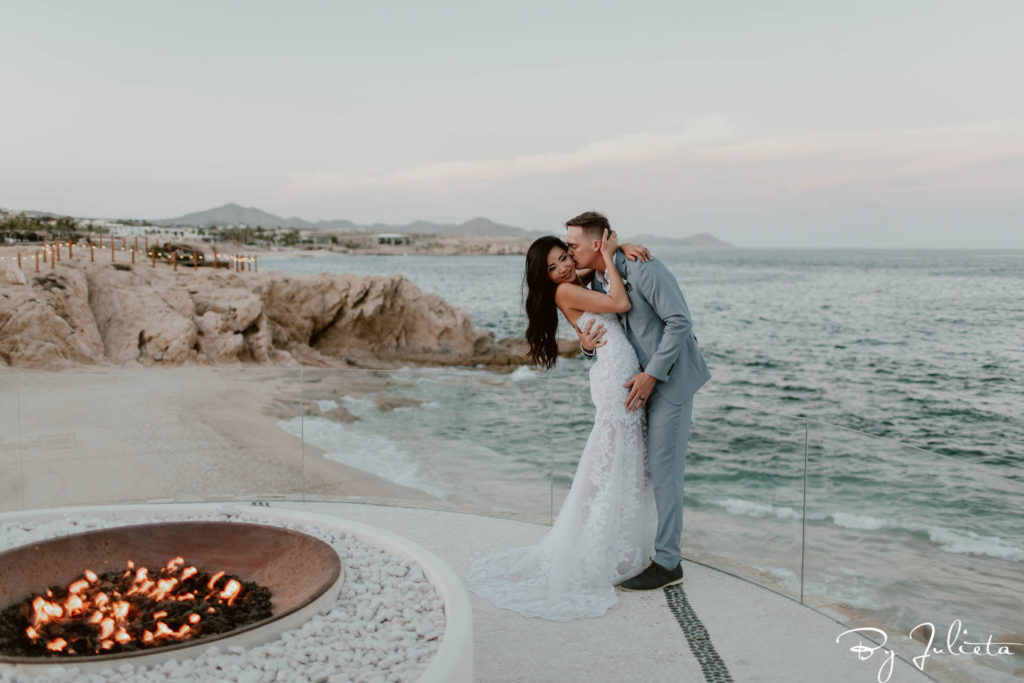 The serene beauty at Chileno Bay, an Auberge Resort, is unique. Located on the most desirable beach in Los Cabos, you'll find tranquil and swimmable waters here. Not too far out at sea, you'll discover breathtaking coral reefs and a veiled underwater world full of tropical fish and even sea turtles! This resort has a total of 110 guestrooms and villas. If you reach the 160-person reception capacity, your wedding party can take over the entire resort as if it were your own! 
Access to the well-known Chileno beach makes this resort one of the area's most exclusive and desirable wedding sites. There is a fantastic range of wedding venues here at Chileno Bay Resort. Such as their contemporary spaces offering striking ocean views or their sandy stretch of coastline. Wherever your ceremony may take place, imagine the sun dipping below the horizon as you stand with your soulmate, surrounded by your closest loved ones.
The resort only hosts one wedding per day, so you can be sure that the focus will be on you two and your wedding needs. The resort's wedding specialists work alongside your wedding planner, each enjoying working with couples like you to make all your destination wedding dreams come true. Your ceremony will be an event you will cherish forever and that your guests will never forget! 
There are plenty of water activities, like paddle boarding and sailing. However, you can also ride a camel in the Baja outback or golf at their private championship course overlooking the Sea of Cortez. 
Las Alamandas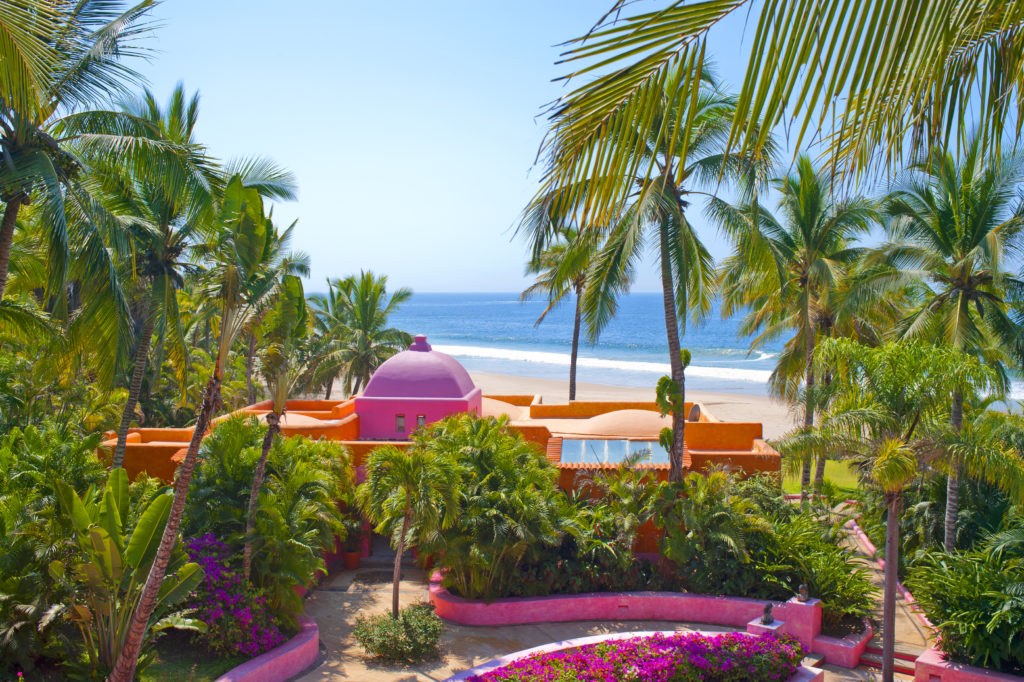 If you're looking for an intimate beach wedding, Las Alamandas is perfect! This resort has an exclusive number of 18 suites despite being on a 1500-acre nature reserve. They focus on relaxing solitude and deluxe accommodations. Seven villas can be made into one private house or separated by patios. All of the villas are directly on Playa Las Alamandas. The beach is only a few steps away. Some suites have jacuzzis, with master suites offering a splash or private lap pool! 
This resort is known for beautifully scenic wedding setups right along the coastline. Here, you'll find a charming location to start your journey with your significant other, especially with the resort's bright colors and traditional Mexican style. There's a reason Las Alamandas has been named the Most Romantic Hideaway Resort: it's exclusive, it's magical, and it's a lovely spot for your once-in-a-lifetime dream wedding! This ideal getaway can host an intimate wedding or even a complete buyout for a small one.
Although it is a smaller resort, there is no lack of activities to keep your wedding party busy! You can control it and relax by breathing in the fresh air, walking on the beach, and swimming briskly in the ocean. They also offer horseback riding on private trails, kayaking, and much more! There are four secluded beaches, two lakes, and a nearby river to explore and encounter. 
Viceroy Riviera Maya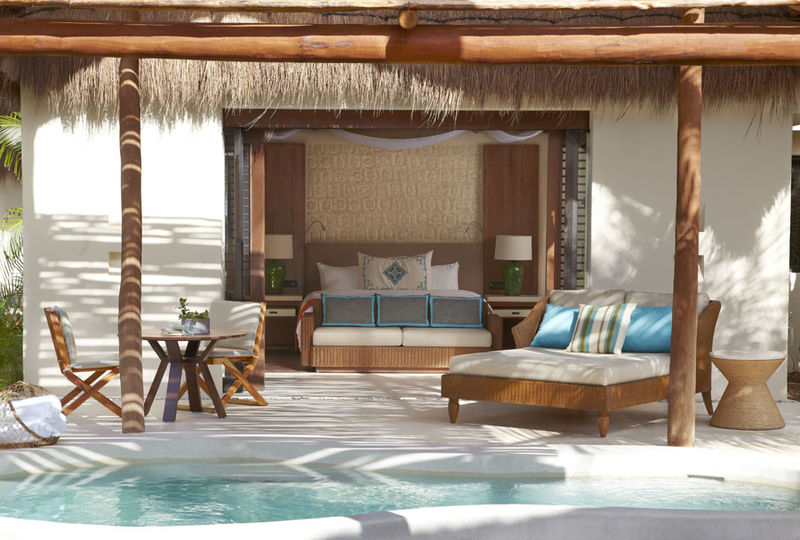 If you're looking for a mesmerizing Caribbean backdrop for your wedding celebration, you'll love Viceroy Riviera Maya. This adult-only resort has 41 luxury villas, lush shades of the untamed jungle, and unbelievable charm. Nestled in the rainforest of Riviera Maya and near Playa Del Carmen, you'll still find the white sand beaches and pristine azure waters of your dreams. This resort has all-new features for you to enjoy. Such as a new pool deck with poolside cabanas and overwater hammocks on their new pier! 
For your once-in-a-lifetime ceremony, it's clear why this luxury resort is a hot spot for Playa Del Carmen weddings. They offer many different venue spaces for celebrations. These options ensure that your ceremony setup will fulfill your dreams. All you need to do is relax as the planning team and your dedicated villa butler takes over. From your arrival, the resort will welcome you with a Mexican fiesta to kick off your stay. Regarding your beach wedding ceremony, you can exchange your vows as the sun sets behind you, with your toes in the sand and your loved ones all around you. 
Along the seven miles of beach, this resort offers you, your love, and your wedding party will have plenty to do! If it's an adventure you're looking for, you can enjoy an ATV ride through the jungle or dive into nearby cenotes. You can certainly expect to do some windsurfing and venturing out to sea for dolphin discovery for some water sports. As an adult-only resort, you can be sure to find an activity to fit your taste! 
Anantara Mai Khao Phuket Villas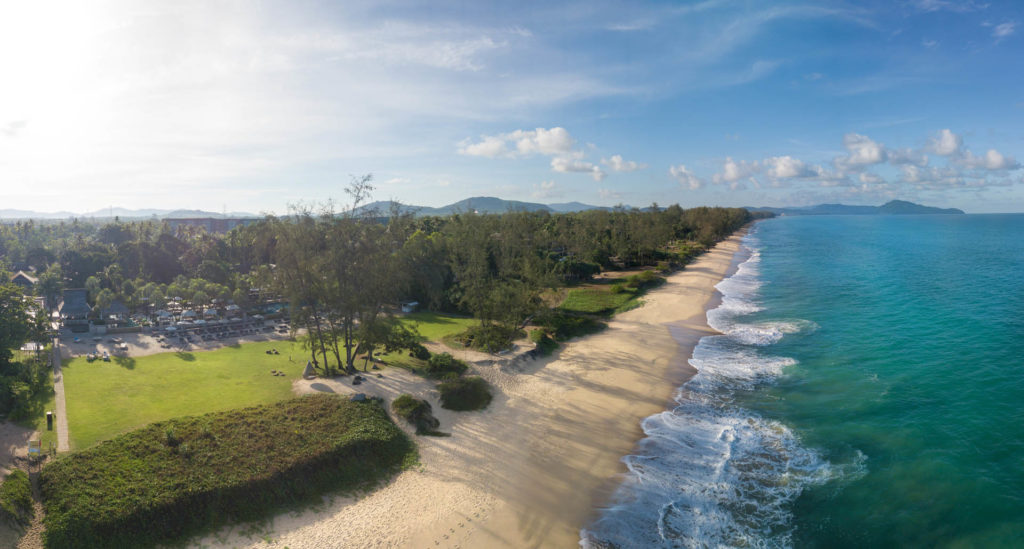 Anantara Mai Khao Phuket Villas is perfect for pristine white sand, coconut palms, and the beach at the end of a jungle. Phuket is tropical and luxurious, truly a top destination for brides who desire an authentic Thai experience. On the edge of Sirinath National Park, you will encounter unbelievable panoramas and wild beauty. Here, you'll find 91 pool villas full of contemporary tropical style surrounded by Thailand's lush greenery. Being so close to the beach, you can enjoy the sound of gentle waves each day.
The weddings at Anantara Mai Khao Phuket Villas are bespoke and sophisticated. Known for having couples set sail on a private yacht for their wedding festivities, you will have memories that will last a lifetime. Such as champagne toasts with your closest friends and family! Imagine exchanging your vows on golden sand before the ocean for the ceremony. Picture perfect opportunities no matter where you are around the resort, at any time of your ceremony, from start to finish! 
Activities at this resort are plentiful. You and your bridal party can treat yourselves to the sanctuary spa to relax and unwind before the big day. At the break of dawn, you could find yourself at yoga or Muay Thai on the beach. Later, experience the joy of trekking through the jungle by elephant, seeing all that this island has to offer. Nearby, dive in the crystal clear waters and enjoy the peace of sailing out at sea. This destination is the place to be for adventure, indulgence, and relaxation. 
Nizuc Resort & SPA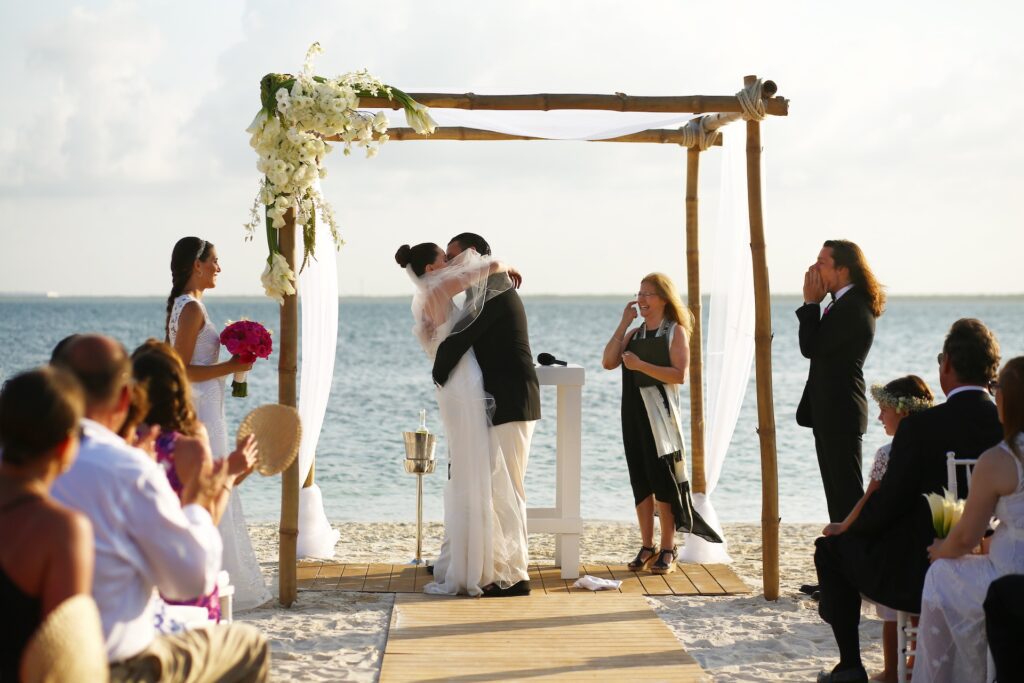 For a Caribbean beach destination full of grandeur and romance, Nizuc Resort & Spa is the place to be. This resort is on 29 acres of a beautiful nature preserve. They offer 274 luxurious suites and private villas. Features you can expect to find are the private pools, grand terraces, and free-standing soaking tubs. We can't forget the tropical gardens for strolls and undeniably airy spaces for comfort. This resort truly captures the essence of ancient Mayan culture with a modern and luxurious feel.
The ceremonies at Nizuc Resort & Spa are full of enthusiasm and romance. Whether the occasion is grand or smaller and more intimate, the resort goes all out. With the crystal blue waters as your background, you will feel like you're in paradise! The wedding staff focuses on every detail so that your beach wedding dreams come true. You will feel as though the entire celebration came together effortlessly as the team goes to unimaginable lengths to exceed your expectations here in one of the world's most desired wedding destinations. 
One of the main attractions of this resort is its grand main pool. You have a perfect opportunity to lounge in a chair and soak up the sun with a cocktail. For some excitement, the two of you can dive into the brilliantly clear waters surrounding the resort's beach. Then, as the sun dips below the horizon, you'll have the chance to take in live Cuban jazz in complete and utter bliss. And remember, your trip won't be complete without taking a cruise on their luxurious yacht! 
If a dreamy beach wedding is the celebration you've always wanted, you'll love any of the properties listed above. Each one of them offers the luxury and paradise you desire. Grab your sandals, the sunhat that's been sitting in your closet for far too long, and your bags. You have a beach wedding to plan!