Creative & Colorful Hotel Rooms around the World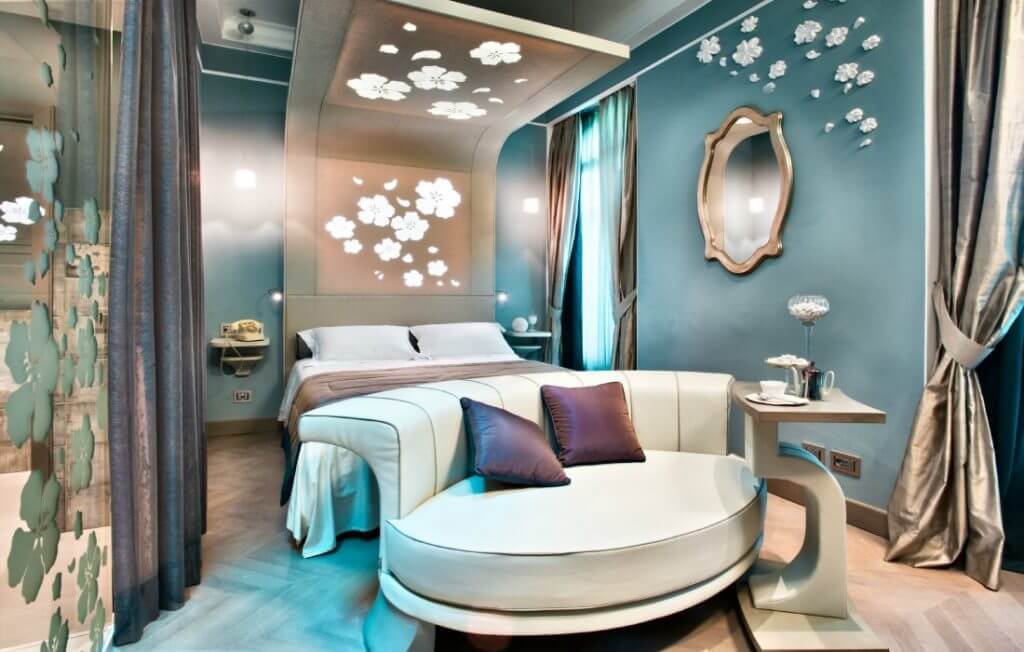 Your honeymoon is and should be one of the most anticipated and indulgent experiences of your life. Filled with expectations of pure joy, relaxation, and togetherness, your hotel room can make or break your experience. So keep in mind, a colorful and creative hotel room anywhere in the world will give your honeymoon just the lift that you may not know it needed. You and your partner, after all the fabulous wedding celebrations, need some time to recharge in style and comfort. Check out these rooms that can give you just that.
And keep in mind, even if you're not looking for that special honeymoon destination just yet, and may still be searching for your wedding venue, consider one of these. They can provide the perfect spaces for your big day. With personalized touches and service, these venues and hotel rooms are some of the perfect ways you can entertain your guests and bridal parties.
Il Borro, Tuscany (The Dimora Rooms)
Step into a piece of history at the Dimora Rooms at the Il Borro, Tuscany. The 700-hectare Tuscan estate, belonging to the Ferragamo family, is an oasis of charm in the image of a medieval village with a 19th Century villa, farm, and farm buildings. The villa produces wines and olive oil by traditional methods. In the Dimora rooms themselves, time would appear to have stood still because of their authenticity. Exceptional quality and attention to detail is the hallmark. A perfect getaway for your honeymoon or even your wedding party.
At the heart of the estate, the elegant Dimora Il Borro towers over the nearby small medieval village. The historic villa originally built in 1854 was later restored to its former glory using authentic materials. The Dimora is an exclusive location for VIPs, large families, and events. Inside are 10 double bedrooms with en suite bathrooms, a meeting room, dining room, study, heated indoor swimming pool, gym, billiard room, and sauna. Each suite has its own unique features, such as the canopy bed and oriental-style wallpaper of the Royal Suite. The staff is always at your disposal, as a result, expect exclusive service.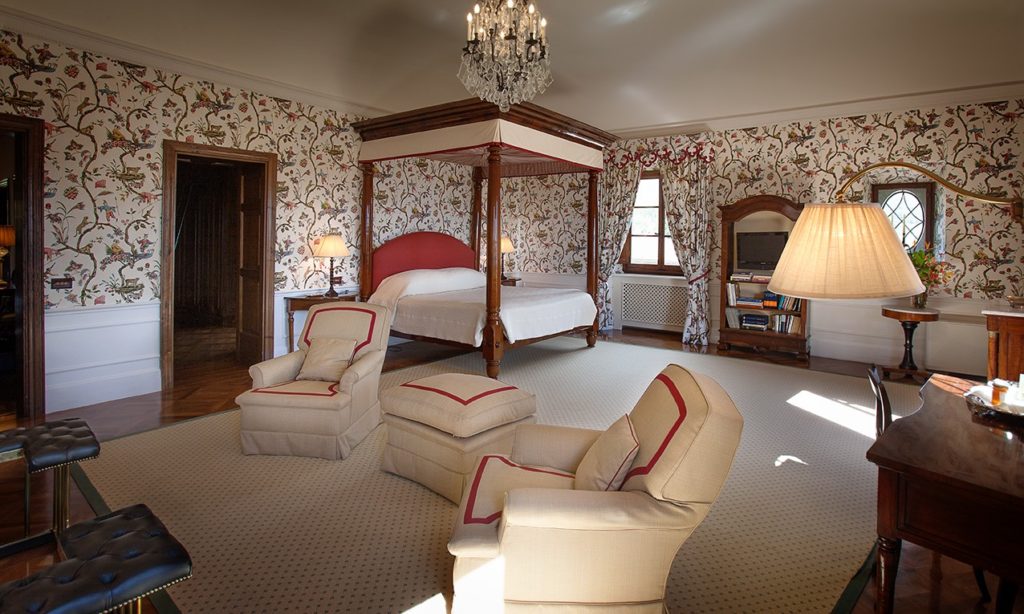 Hotel De L'Europe, Amsterdam (Prestige Suite)
Experience the Amsterdam of yesteryear with the convenience of modern life at the Hotel De L'Europe. In the heart of Amsterdam overlooking the Amstel River, within walking distance of the lively and sophisticated Museum Quarter, De L'Europe is steeped in Dutch history. It opened in 1896 and has been favored by Amsterdam's elite and consequently still attracts the world's most celebrated names. Replicas from Dutch Masters including Rembrandt and Frans Hals decorate the walls. Each suite is vibrantly unique featuring floor to ceiling paintings and colorful decor to complement the art.
The vibrant Blue Room of the Prestige Suites is the perfect hotel room to put up your feet after your days in the city. Spending your honeymoon here will guarantee relaxation and bliss. The Prestige Suites have separate living areas with picturesque sights of Amsterdam's historic city center and its river. But, it's their colorful decor that will really catch your eye.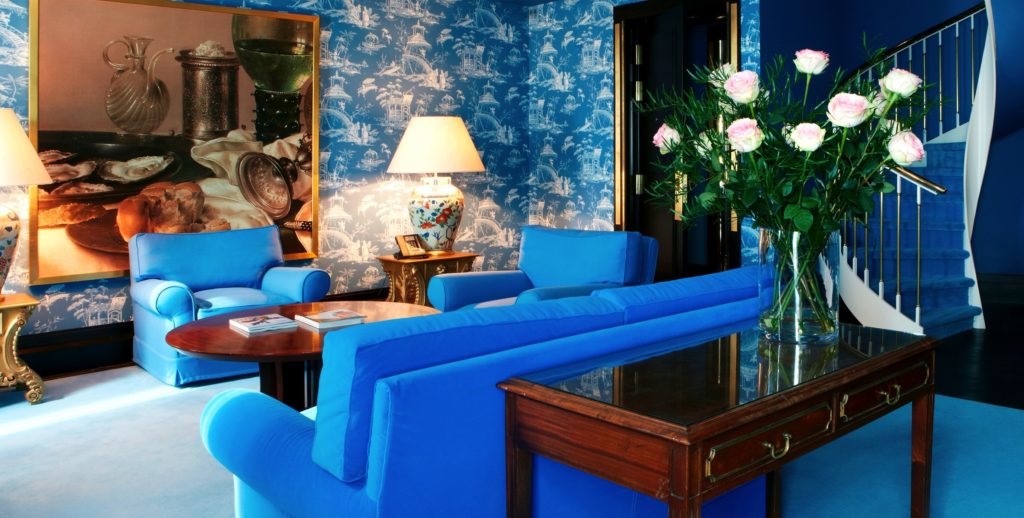 Hotel Edouard 7, Paris

Touches of bright color and modern tranquillity await those who stay at the super glam Hotel Edouard 7 in Paris. The hotel is an upscale, fashionable property only a 10-minute walk from the stunning Louvre. A boutique hotel, this was once the historic home of Edward VII, renovated with a fresh and young feel and a gemstone theme. The sleek rooms are different colors (the red one is a popular favorite) and you can choose the one that suits your honeymoon vibe the best. Some have Juliet balconies overlooking the Opera House. The sun-lit restaurant gives you a feel of summer when basked in sunshine and the blue bar is the perfect place to get your party started. The hotel rooms also accommodate your best friend … the dog, that is.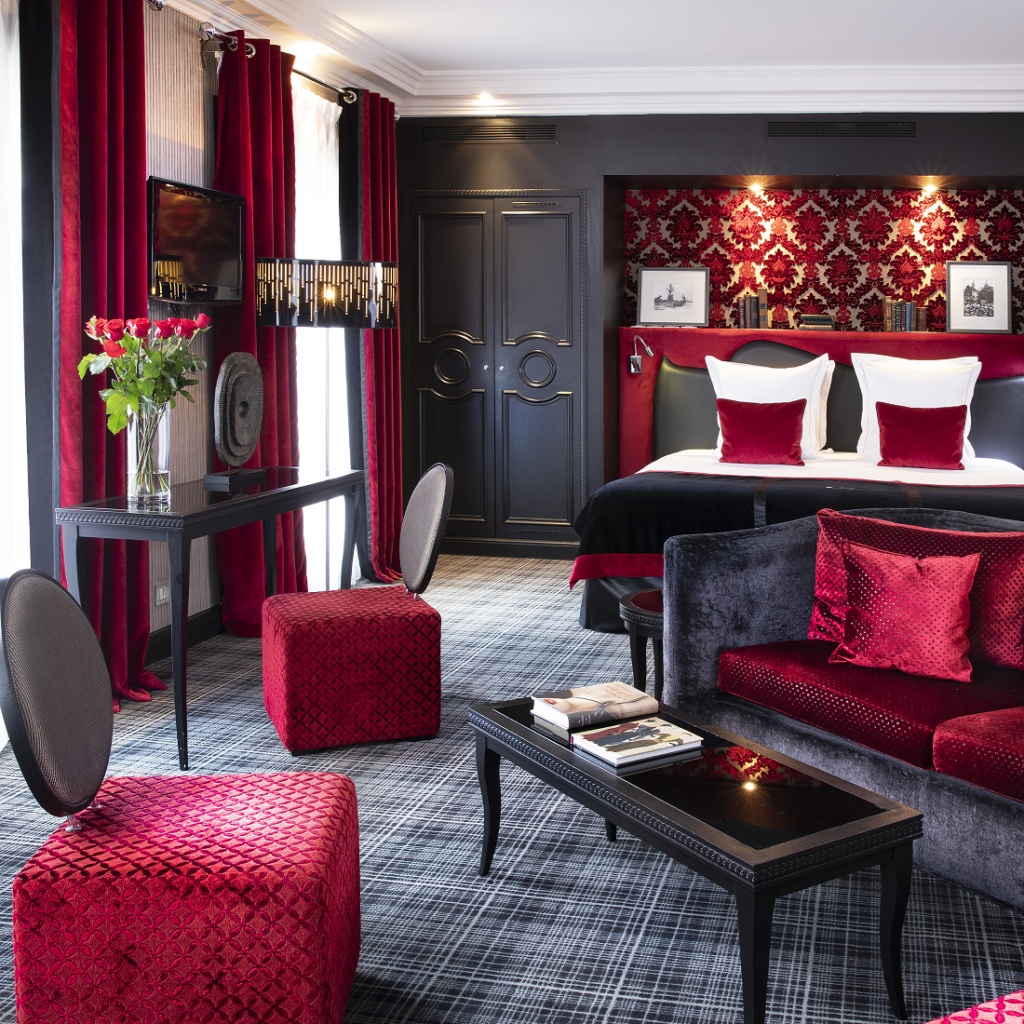 Borgo Pignano, Tuscany (Signature Suite)
At the heart of historic Tuscany lies a haven of tranquillity. Borgo Pignano is a restored country estate offering an exclusive combination of elegant accommodation, comfort, and hospitality. The hotel rooms that this enchanting piece of Tuscany offers are exquisite with two signature suites that boast total seclusion and have exceptional views of the town.  Suites have king or queen-sized beds, a lounge, and luxurious en-suite bathrooms with freestanding roll-top baths and glass-enclosed showers. We couldn't resist showing you this bathroom that looks like you're stepping into a Tuscan painting. One suite features a ceiling with original period frescoes and a small balcony overlooking the terrace. The other suite can accommodate one or two couples and has views of the countryside.
Villa Cora, Florence (Duplex Suite)
Step into 19th Century opulence with this converted noble estate. The Villa Cora is set inside a centuries-old park overlooking the Boboli Gardens, just minutes from Florence's city center. Its elegant hotel rooms will make you will feel like a true Florentine aristocrat. Perfect for honeymooners, The Bellevue roof terrace is the perfect spot for enjoying impressive views and mesmerizing sunsets.
Each accommodation is designed in a different color palette. Emerald greens, royal blues, deep magentas and more. We've chosen the Yellow and Pink Duplex Suite located on the Noble Floor to highlight. The suites are open-space rooms, dislocated on two levels connected with an internal staircase. The master bedroom, the lounge, and two bathrooms are located on the ground floor while two twin beds are on the upper floor. Each detail has been attentively thought out to create a unique ambiance. Luxury and elegance harmoniously blend taste with quality comfort. The rooms offer original 19th Century frescoes. An opulent way to spend your honeymoon.

Schloss Elmau, Germany
South of Munich, tucked deep in the calm of the Bavarian Alps, is Schloss Elmau. It is a sanctuary framed by dramatic peaks, whispering forests, and rushing streams. A romantic retreat away from the hustle and bustle of the city awaits those who honeymoon here. The national monument was built in 1914 by philosopher Johannes Müller. It is a perfect retreat for literary lovers and couples who appreciate cultural experiences. It has been a hideaway for great artists and authors since its founding and hosts more than 170 concerts and literary events annually.
The Retreat is located on a sunny hilltop west of Schloss Elmau with breathtaking views of the lofty Wetterstein Mountain and rushing Ferchenbach creek. Spacious hotel rooms offer the ultimate in contemporary comfort in grand yet intimate interiors. The rooms, which can offer a retreat for a couple or a grand but private wedding party, combine casual luxury with warm lights and rich textiles with precious natural materials from around the world.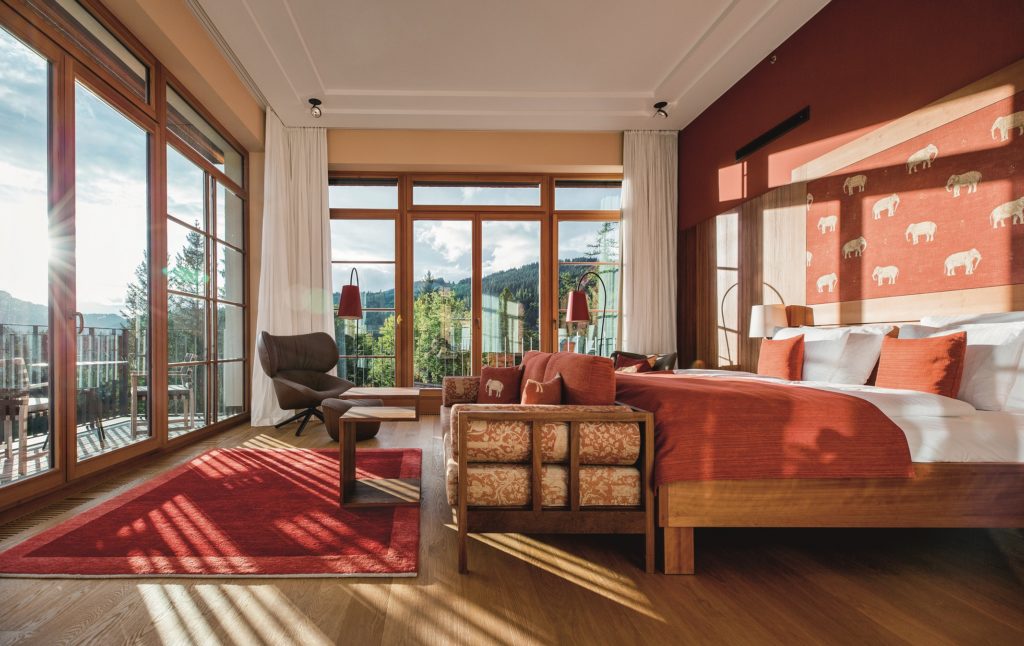 L'Albereta Resort, Italy (Cabriolet Suite)
L' Albereta Resort is a haven of antique-styled lounges and terraces with extraordinary vistas of Lake Iseo, between the hills and vineyards of Franciacorta. Tucked away in the lush heartland, a honeymooner's dream, the magic is in the opening ceiling of your hotel room to gaze up at the stars from the comfort of your bed. Whether looking to let in the morning sunshine or stargaze after dark, part of the ceiling disappears with the simple touch of a button, making the transition from indoor to outdoor space seamless. Known as the Cabriolet Room, this two-person suite embodies romance and honeymoon vibes. It's a unique feature that brings romance to you.
The retractable roof isn't the only view the Cabriolet suite offers. There's also a balcony that faces the surrounding vineyards and nearby Lake Iseo, as well as a hydro-massage bathtub.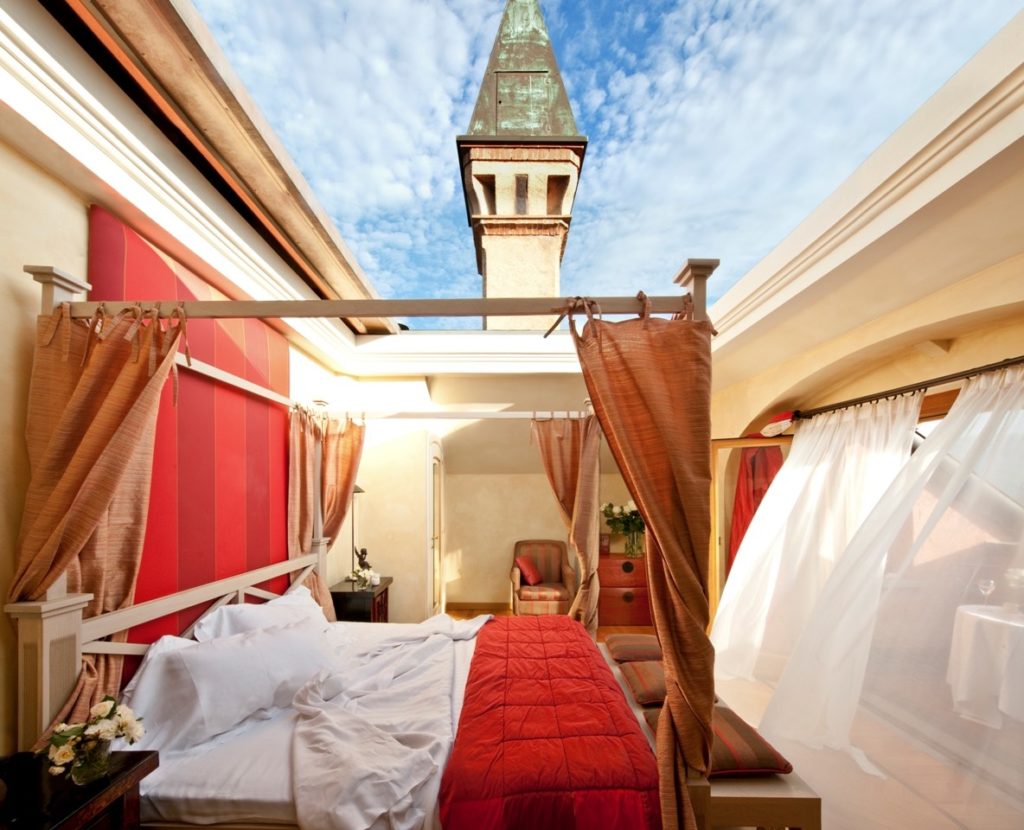 Kilronan Castle Estate & Spa, Ireland (Turlough O'Carolan Suite)
A fairytale experience from the moment you pass through the gates, this is one of Ireland's best because of the rich history of Kilronan Castle Estate. Restored to its medieval glory, a full suit of armor welcomes you in reception and elegant furniture that awaits you in your room. It gives you a real sense of what it was like to live in an old Irish castle with old-world finishes and modern comforts. The Turlough O'Carolan Suite was named after a local Celtic harper, composer, and singer who is buried in nearby Roscommon. It is one of the most authentic suites in the castle and is indicative of the time. So if you and your partner wish to feel like royalty on your honeymoon, this is the place to be.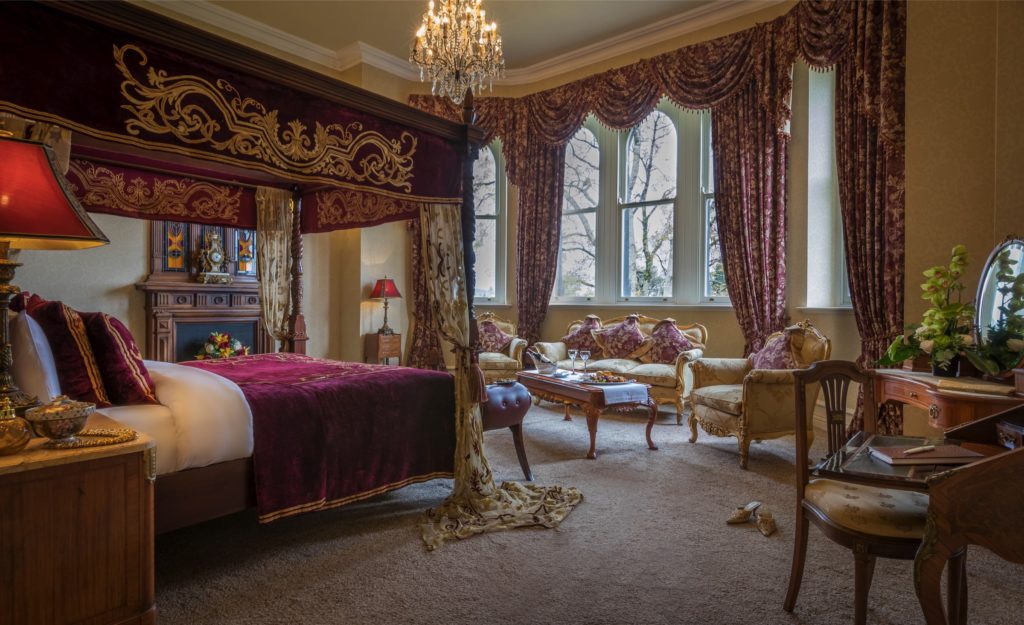 Hotel Savoy Florence (Junior Deluxe Suite)
Savoy Hotels are famous for their style and elegance. However, the Junior Deluxe Suites of Hotel Savoy in Florence are truly unique. And at the Hotel Savoy, a Rocco Forte hotel, director of design Olga Polizzi designs the hotels paying homage to Italy's love of art, design and culture. With walk-in showers in the Carrara marble bathrooms and views out over Florence's historic streets, these refined spaces convey a sense of relaxed elegance. Topped with contemporary furnishings and fine Italian fabrics throughout, shades of yellow, gold and grey abound. The separate living area with bespoke artwork, classic tomes, and stylish furniture is perfect for living like a Florentine while you're on honeymoon.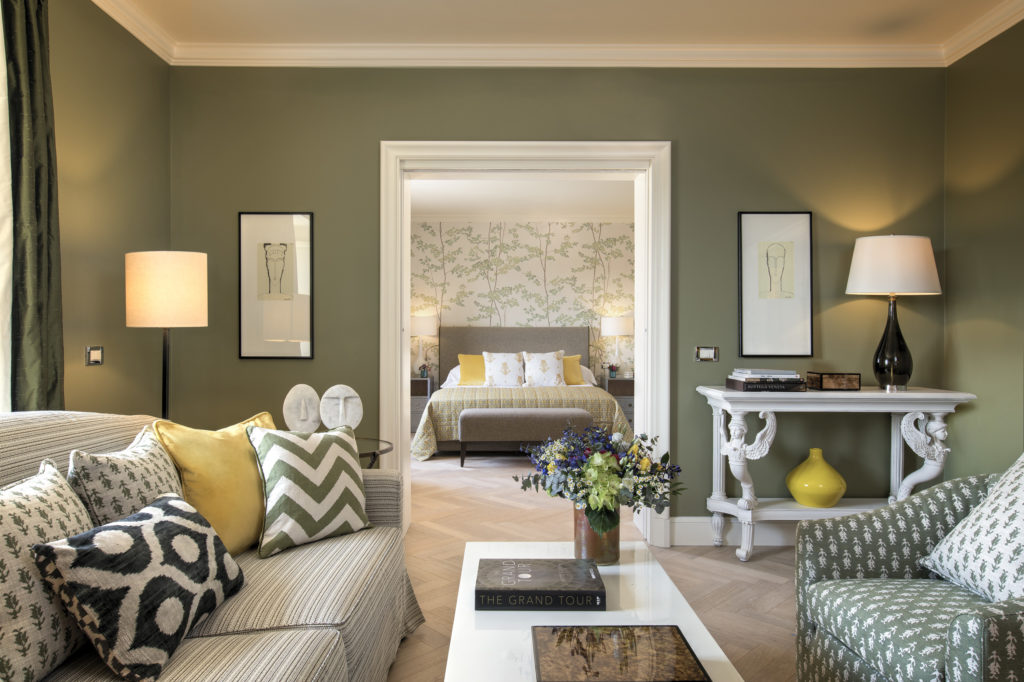 Belmond Napasai, Koh Samui (Ocean Front Pool Residences)
Enjoy a slice of paradise in Thailand with the ocean at your window at the Belmond Napasai. The resort spread out among cashew and coconut groves is as welcoming as the coconut ice cream arrival treat. Chill with the resident water buffaloes before you relax with your wedding party in teak furnished rooms with traditional weavings. Each accommodation features splashes of different colors creating unique spaces throughout. The Ocean Front Pool Residences are separate from the hotel rooms, giving you privacy for your wedding guests. Enjoy all the luxury of independent accommodation while benefiting from the facilities of this luxury Koh Samui resort. Spacious living and dining areas complemented by a fully-fitted kitchen and personal housekeeping services ensure relaxation. There are a private pool and massage sala on this multi-level residence. An ideal getaway for your destination wedding.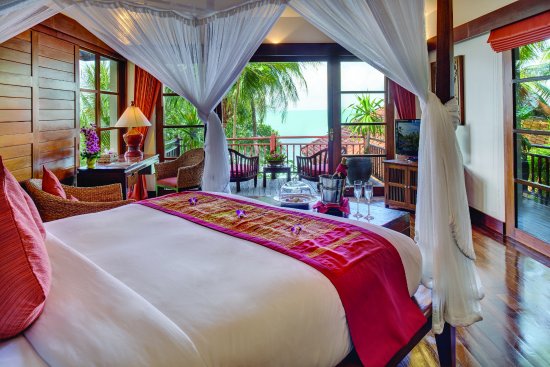 Castel Porrona, Tuscany (Junior Suites)
A little drive out of Tuscany lies the Castel Porrona Relais & Spa. An ancient castle converted into a hotel with authentic finishings and modern comfort. The luxury hotel rooms nestled in this gem of Tuscany are spacious and are perfect for a couple seeking a getaway from the tourism of the nearby town. Porrona – a medieval village built in the 12th Century is beautiful. Honeymooners can visit the charming village where the local people go about their daily lives. The castle itself was abandoned and then lovingly restored by an Italian gentleman who made his fortune in ferry boats. What better way to start your love story than with an adventure like this?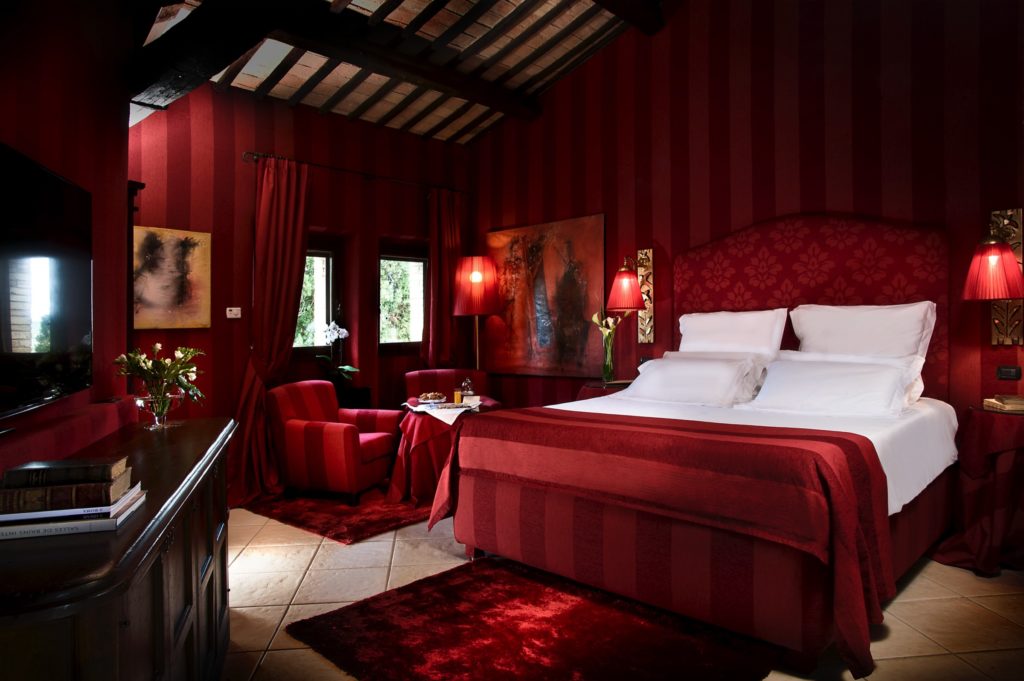 Banyan Tree, Cabo Marques (Ocean View Pool Villa)
The Banyan Tree Cabo Marques is a unique honeymoon experience perfect for couples seeking a romantic and secluded getaway. The private villas contained within an oasis inspired by the courtyard houses of the Far East with mountains to one side and strikingly brilliant blues of the ocean on the other. Who needs walls when the scenery is as colorful and dramatic as this? The Ocean View Pool Villa faces the Pacific Ocean. Set above a natural bed of boulders to bring you closer to the edge of the sea, the villa is quiet and serene. This exclusive villa gives the ultimate luxury experience for honeymooners. Dine under the open skies, as you take in the panoramic sea and landscape views.
Viceroy Resort, Riviera Maya (Luxury Villas)
With direct beach access to Playa del Carmen and the luxurious amenities of Viceroy Riviera Maya at your disposal, your Mexican vacation doesn't get any easier than this. The Luxury Beachfront Villas boast a private atmosphere created by lush tropical greenery and mature palm trees. Whether you're on your honeymoon or hosting a wedding you'll feel as if this lush jungle paradise was made for you. Each villa features its own completely private plunge pool, patio and outdoor shower. Embroidered colorful accent pillows, throws, and blown glass objects give each accommodation a personality of its own. Villa locations range from the oceanfront to the jungle-enclosed. The vibrant city life of Riviera Maya is just minutes away. The villas here can be your cocoon or you can spring leap into vacation mode for an experience to remember forever.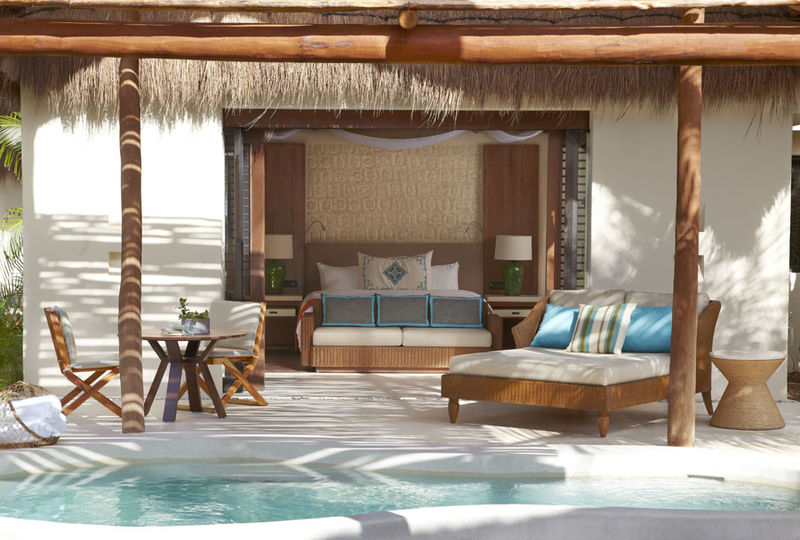 Las Alamandas (Villas)
The ultimate beach hideaway located between Puerto Vallarta and Manzanillo along the famed Costalegre Coast. Las Alamandas is a secluded luxury resort and Mexican paradise that has been described as "the essence of romance, beauty, and style" by the LA Times. This delightful Mexican paradise created by Isabel Goldsmith-Patiño breathes color from the outside in. It makes for a wonderful honeymoon escape or an intimate wedding. The villas let you enjoy privacy in an exceptionally spacious suite. You and your partner can indulge in massages and treatments to the sound of the Pacific Ocean. This serene eco-destination flanked by untouched white-sand beaches, warm turquoise water, lush tropical gardens, and sweet-water lagoons is paradise.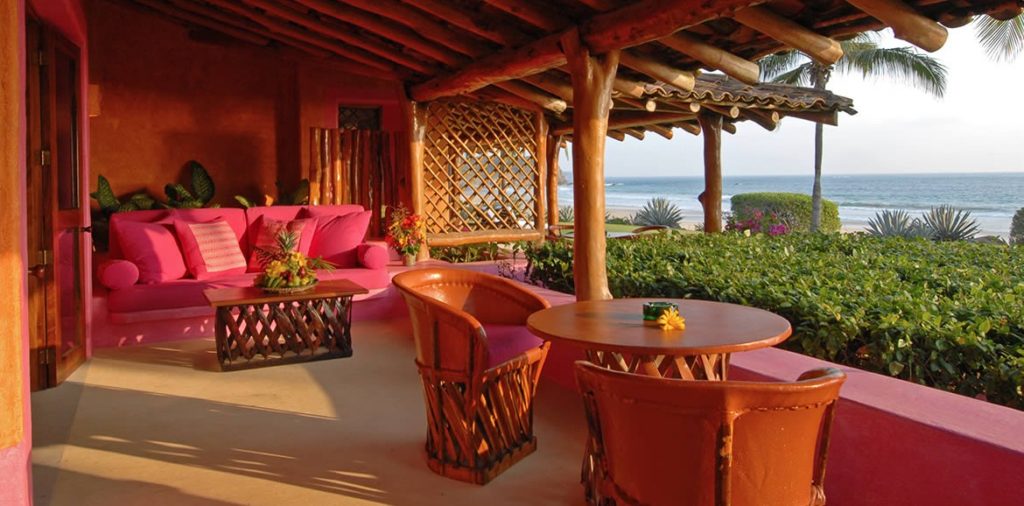 Featured Image: Chateau Monfort Milan Executive Suite