Cupid's Journey Of Love Around The World Part 4: Dream Destinations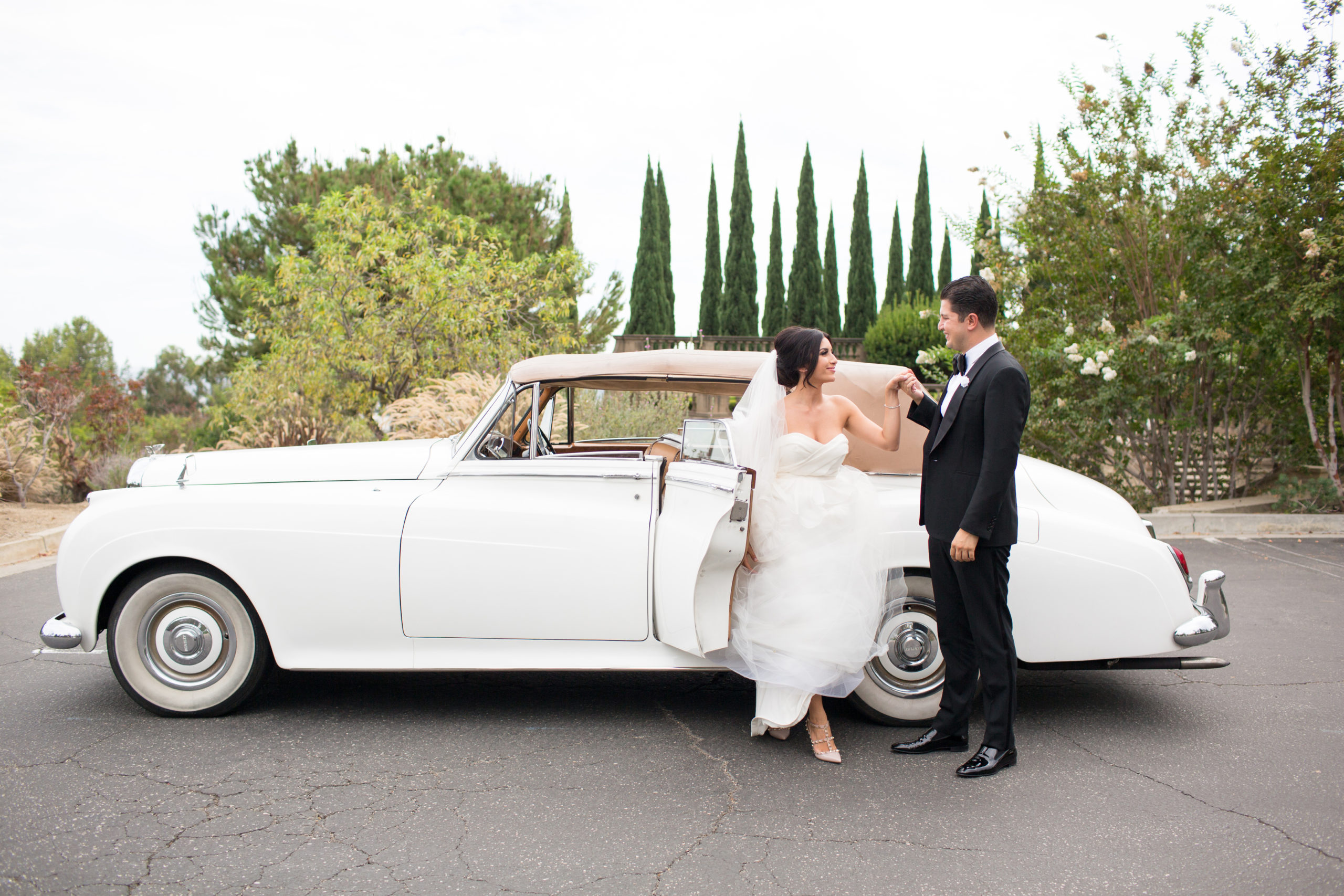 It's the merry merry month of May! If you're a hopeless romantic filled with wanderlust like we are, you're yearning to travel to places that inspire. Let's follow Cupid and his journey of love around the world to dream destinations that blossom in springtime. Perfect for the most gorgeous destination weddings and honeymoons!
We know that the heart and soul of a destination are its people. And some of the warmest and most welcoming people can be found in Mexico. From small rural communities to bustling towns & cities, family, art, history, music, and food make up this country's traditional culture. The tropical rainforests and jungles of the Yucatan are home to Mexico's Maya people. And Cupid's first stop on this journey is Chablé Yucatan Resort & Spa. Let's go inside!
Chablé Yucatan Resort & Spa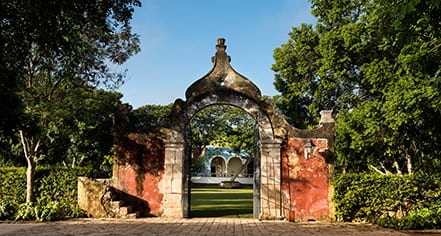 Built on the former site of a Mexican Hacienda/Plantation, in the Yucatan jungle, Chablé Yucatan Resort & Spa is a world-class resort. Sprawling across expansive grounds, the architecture is a hybrid of modern and old-world rustic charm. The accommodations are all free-standing casitas and villas, each an intimate hideaway tucked into the landscape. You'll immediately notice you are somewhere very special, authentic, and luxuriously designed. With a strong focus on wellness, you and your guests can relax and rejuvenate before and after the celebrations!

The Experience
The experience is an homage to the property's history and Mayan culture.  From shamanic experiences by the Medicine Mother to restored remnants of the original hacienda walls and archways. Super cool backgrounds for your wedding photos are all over the property. The 14-room spa is noteworthy. Built around a cenote (a limestone freshwater pool in an underground cave) considered an energy source by the Mayans is a focal point of the resort. You can spend days here enjoying an incredible menu of spa treatments, alone, as a couple, or with your bridal party.

Suite Details
Reserve a casita, family, Presidential or Royal villa. Planning on a destination wedding of around 80? A full property buyout will give you full unrestricted access to the entire resort as if it were your very own. Each accommodation is decorated in natural stone with plunge pools, hammocks, chaise lounges, and indoor/outdoor showers. Splashes of turquoise brighten up the decor. Super elegant furnishings in lush and natural surroundings. Floor to ceiling windows merges the outside in and vice versa. No matter which you choose, there is ample space for everyone to prepare for the celebrations you've planned during your stay.


Magical Moments
Chablé Yucatan Resort & Spa provides "nests," the teardrop-shaped lounges hanging from the Banyan trees, for relaxing outdoors. Daily Zen meditation, yoga, pilates, and more enhance the wellness offering. Tour the chef's garden to witness the healthy, organic ingredients used in the preparation of the fantastic dishes you'll enjoy. You'll want to dine in all of the three superb restaurants and taste tequilas until the sun comes up. Yes, you can choose from many different varieties. Víva Mexico!

The Wedding
From intimate weddings to up to 250 of your closest family and friends. Chablé Yucatan is ready to make each person feel special and most welcome. And there are local accommodation options for the overflow. We'll help you with all of it! Celebrate your marriage vows in the outdoor chapel. Enjoy the excellent service and entertainment during your wedding reception. And with an exclusive buyout, you can party the night away.
Explore
There's plenty of excursion choices for wedding guests or honeymoon couples to enjoy in the Yucatan. From Mayan ruins or jungle tours to visiting the glistening cenotes all around the region. Colorful buildings are everywhere and serve as the perfect Instagram backdrops. The region is vibrant with a rich history, delicious cuisine, fun shopping, and friendly Mexican residents ready to welcome you! Olé!
The Lodge at Blue Sky, an Auberge Resort
Cupid loves the great outdoors and so do we! Before we discovered this magnificent getaway, we only had our dreams to rely on. But now, on 3500 glorious acres surrounded by dramatic granite peaks, lush old-growth forests, and vast high-mountain meadows in the magnificent state of Utah, sits The Lodge at Blue Sky. One of 19 Auberge Resorts across 3 continents. Proudly, Wedaways features eight of them. And we're so excited that this incredible property is so close by, without the need to travel overseas.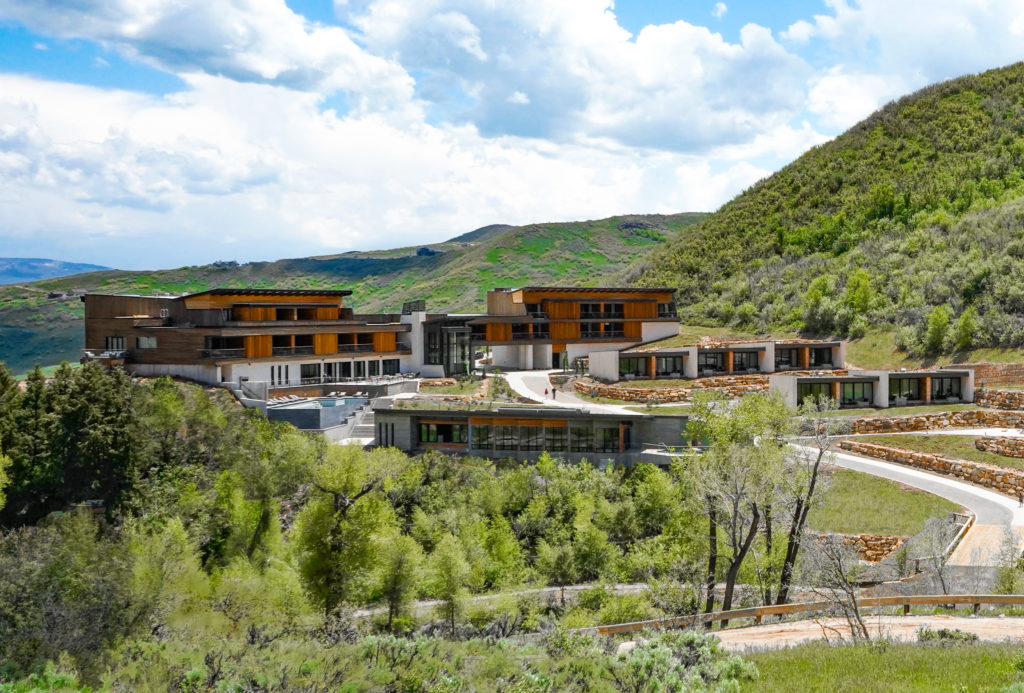 The Experience
Everything about this resort is special. First of all, it's a working horse ranch. And they are proud to share that horses are part of their DNA. And there is a horse rescue foundation on the property, as well. You and your guests can enjoy authentic western experiences from beginners to more advanced. All during the fantastic destination wedding activities you've planned! Take off early in the morning for a sunrise ride where a campfire breakfast awaits. Ride with cowboys during a real cattle drive. Fly fishing, hiking, clay shooting. Winter, spring, summer, or fall. Wake up to breathtaking scenery on day one as an engaged couple, and on day two, wake up happily married! Our great country has so much to offer!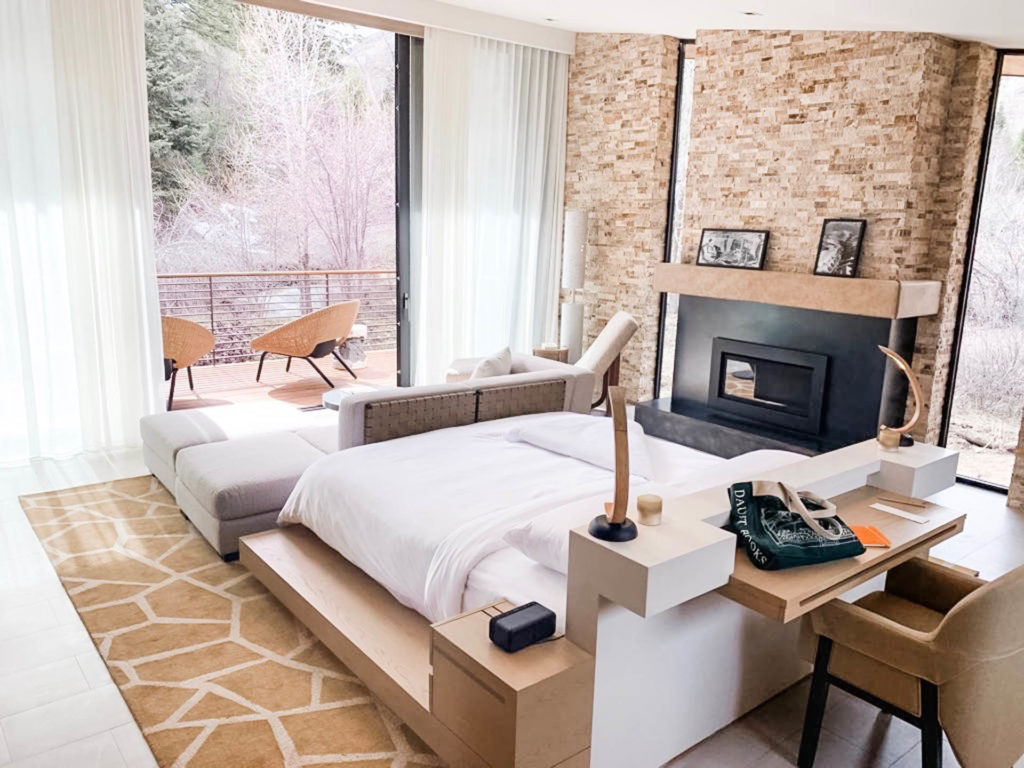 Suite Details
Built over sprawling acreage, you and your guests can choose from three unique accommodation styles and locations: Sky Lodge, Earth Suites, or Creek Houses. Each celebrates the unique elements of the natural environment, and are located within a 3-minute walk from the main amenities of the resort. So you'll all be close to one another, yet each will enjoy their own exclusive sense of place.

Magical Moments
Not only is The Lodge at Blue Sky a working ranch, but it also has a working distillery. This means there's plenty of whiskeys to taste and enjoy! You can cross the bridge and spend some time with your guests marveling at the great outdoors, glasses in hand. If you and your guests aren't early risers,  maybe sitting around the campfire at night, toasting smores under the stars is more your style. Gather up the group for a swim in the high alpine lake. Book a "Back in the Saddle" treatment to ease the muscles after that fabulous horseback ride. There's so much to do here, you and your guests will remember your wedding like no other. Guaranteed.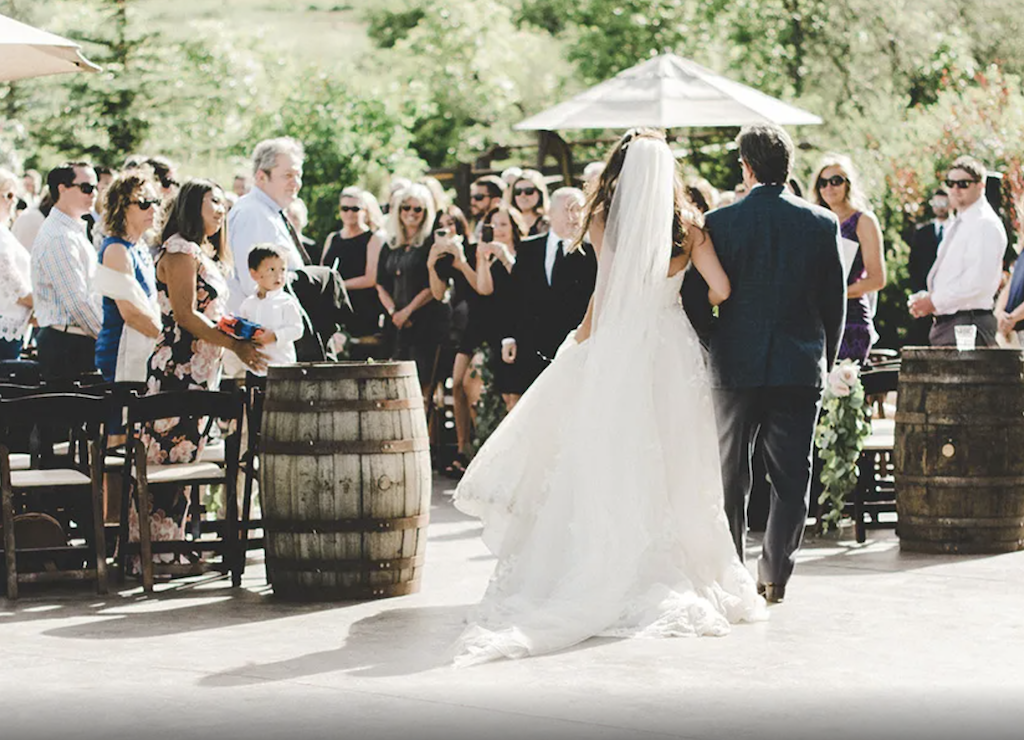 The Wedding
With expansive views all around you, choose from three different venue spaces to host your ceremony and reception. Take full advantage of the property with a buyout and utilize all of it. How does an outdoor ceremony in the fresh air, followed by a reception in a barn as rustic or as elegant as you'd like sound? Up to 90 can sleep on the property, and we'll find alternative accommodations for up to another 160, no problem!  There's no shortage of fabulous activities for you and your guests to enjoy during your destination wedding here at The Lodge at Blue Sky. Leading up to, the day of, or post celebration.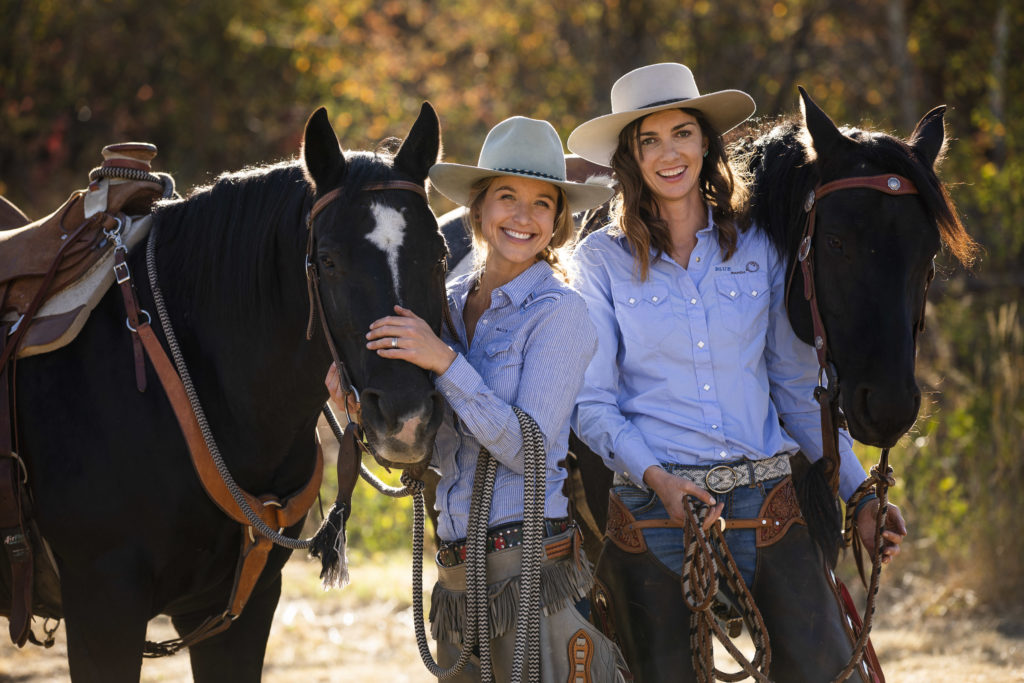 Explore
Whether on horseback, ATV, bicycle, hiking or helicopter, there is so much to do and see you could stay for 2 weeks and never do the same thing twice. The beauty of this property being right here in the US makes it even more enticing. A road trip to The Lodge at Blue Sky, through the majestic landscape, in and of itself is an experience. Not to be missed. So, once the wedding is over and the guests (hesitatingly) depart, you and your new spouse can stay behind to celebrate your romantic, and active, honeymoon!
Kilkea Castle
Cupid has the same fascination for knights in shining armor, princesses in the tower, kings, and queens, as we do. And he's as spoiled as we are when it comes to conveniences and technology. So we've followed him all the way to The Emerald Isle, Ireland. To relive the medieval fantasy with all its modern trappings.  The authentic and incredible Kilkea Castle. The castle was first built for a Norman knight, who arrived during the Anglo-Norman invasion of 1169!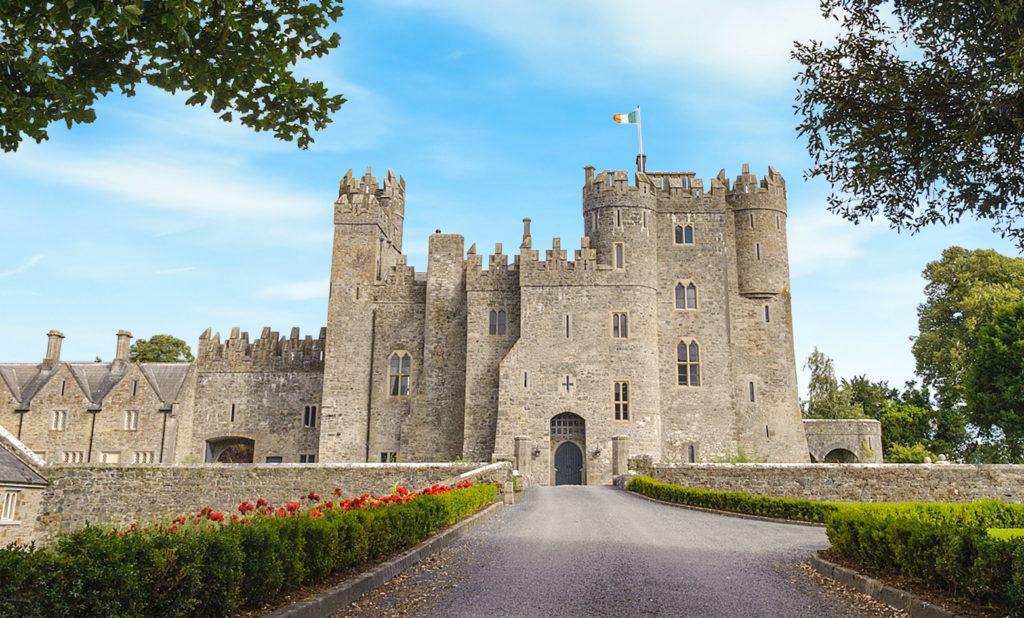 The Experience
Driving through Ireland is a unique experience in and of itself. Colorful cities that look like Hollywood sets. Sheep dotting the hills. Cows grazing within arms reach. Gnarled, mature trees with stretching boughs creating natural tunnels sheathing the narrow, winding roads that go on forever. Most of the island is made up of countryside. And it is spectacular. And at the end of many winding roads, surprises await. Our surprise is Kilkea Castle. Enter the deceivingly small wrought iron and stone gates that lead you down a tree-lined path to the 12th Century castle that literally bursts up from the ground. There it is. You've arrived.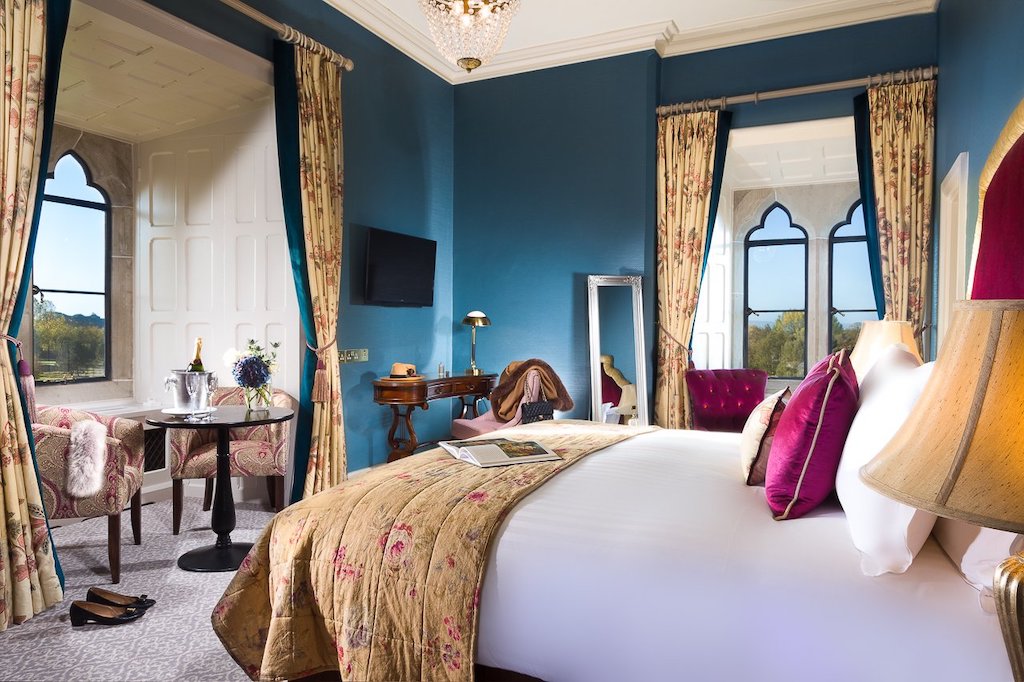 Suite Details
With a full property buyout, up to 340 of your closest family and friends can stay all together. Be the king or queen of your very own castle. You and your guests can choose from Castle, Carriage, or Lodge Bedrooms overlooking the 18-hole golf course. Daylight streams through the windows, while nightfall brings your dreams to life. Plush accommodations and luxurious bathrooms will have your guests feeling just as royal as you will.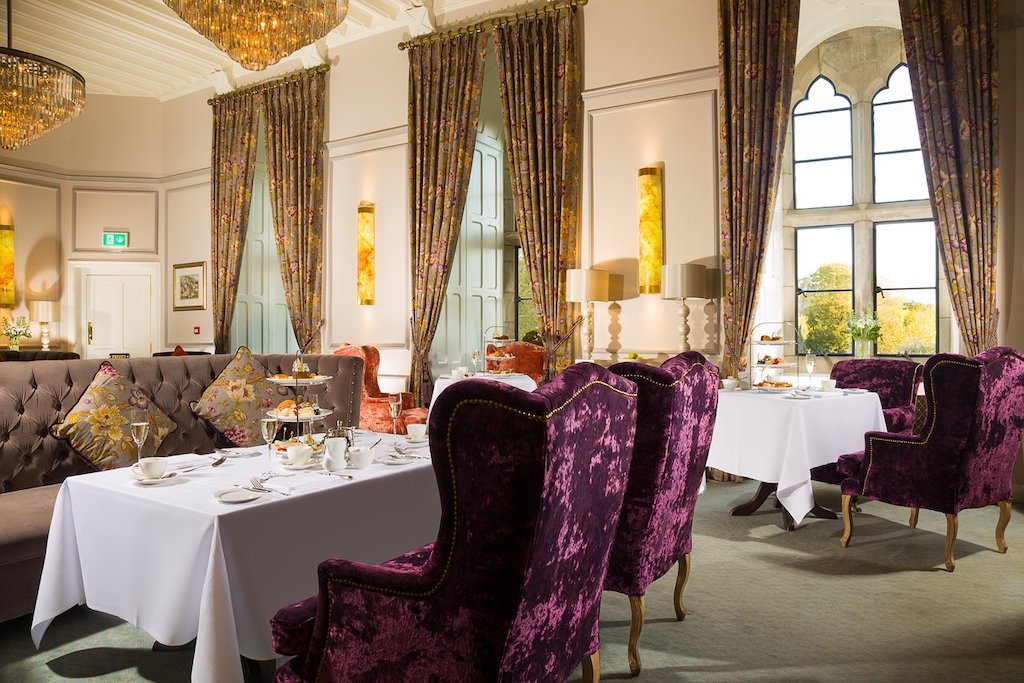 Magical Moments
Seriously, we think just being here hits the magical moments target. But there is so much more to share. The elegant old-world ritual of afternoon tea is celebrated in grand style. While some of your guests enjoy this special service, others can explore the expansive kingdom. Walk along the lazy river that runs through the property. Take photos in the ancient cemetery smack in the center of the grounds. Lounge all afternoon in the spa enjoying the vitality pool. Primp & prep for the wedding day at the beauty salon. All that's offered here is specifically designed and fit for a king, queen, and royal subjects.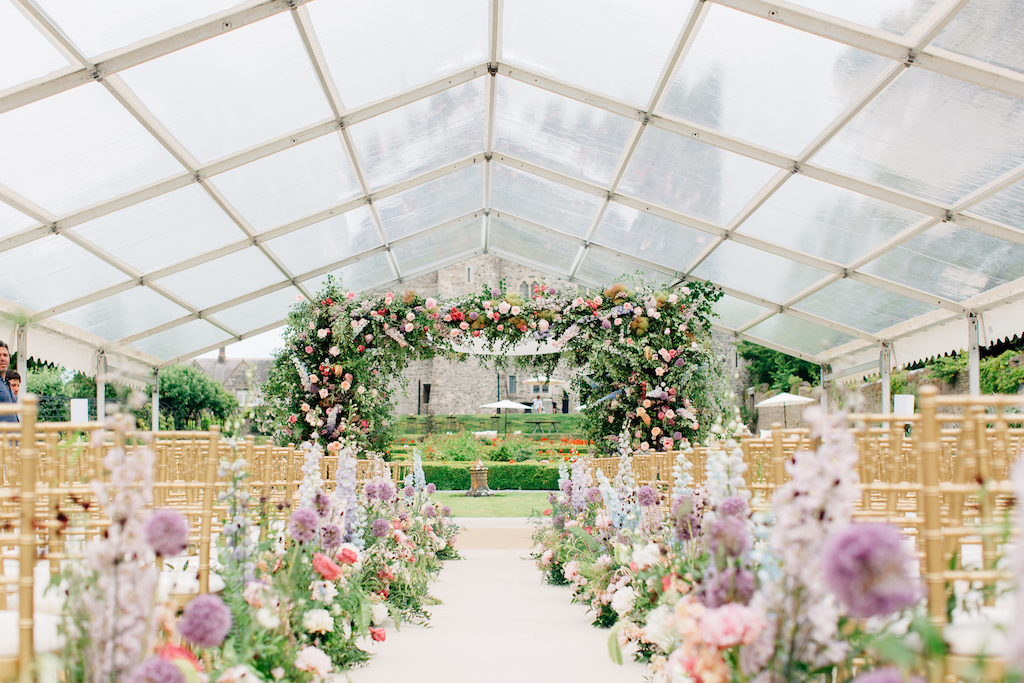 The Wedding
The big day has arrived. You and your guests are settled in, immersed in the setting, and ready to celebrate your nuptials. The event team has been focused on setting up the wedding of your dreams in a land where dreams come true. Big or small, intimate or grand, the castle backdrop sets the tone. Elegant and regal describes all that is to come. From ceremony to reception to the after-party. No detail is forgotten. Here are some Irish Wedding Traditions to fire up your imagination.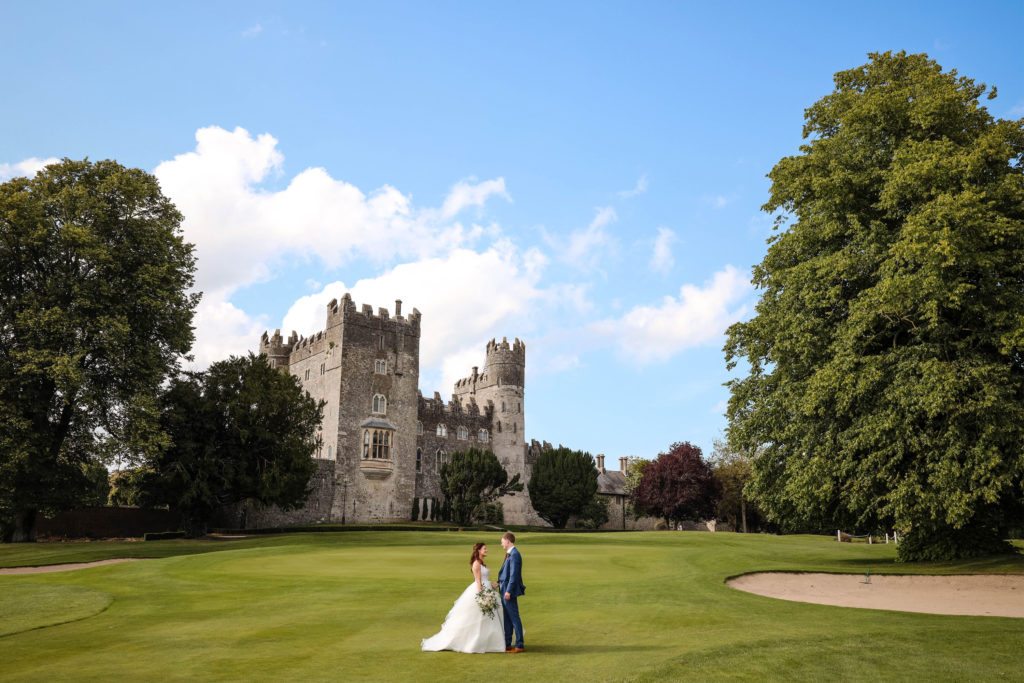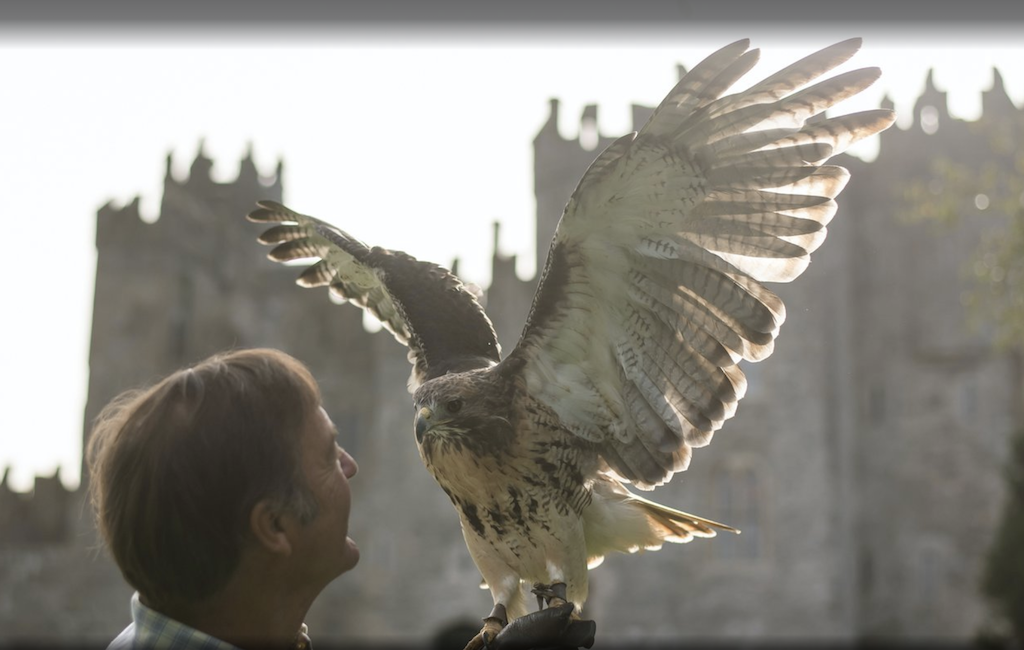 Explore
With extensive and lush acreage to traverse and so many activities to enjoy there isn't much reason to leave the castle grounds. Whether falconry, archery, horseback riding, golf, or the spa sound perfect, there is, even more, to choose from. These are just some of the options that will surely keep you and your wedding guests entertained. But if anyone wants to venture beyond the property gates, there is a charming little hamlet to visit that will bring you back to the present, if you must.
Villa Cora
Cupid is a fan of Italy. Who isn't? As he journeys around the world to dream destinations he could not pass up Florence, the birthplace of the Italian Rennaissance. Here he finds Villa Cora, an homage to the glorious past. Built by a baron as a gift for his beloved, Villa Cora is the perfect destination for all things romantic. Every sensory perception is nourished just being here. Let's follow Cupid and he'll show us why.

The Experience
In 1868, Florence was the capital of Italy. This magnificent villa reflects all the grandeur of the Italian capital during that time, masterfully crafted. Marble, frescoes, luxurious furnishings. The breathtaking interiors and the exteriors are superbly designed. This is by far one of the most spectacular properties in the entire world. Thank you, Cupid! Since guests expect to indulge during their getaways, Villa Cora offers many wonderful activities. The swimming pool is heated all year round.  They offer cooking classes, wine tasting, olive oil tasting, painting lessons, and yoga classes. And at the end of a very busy day, you'll retreat to one of the 44 exquisitely appointed  guestrooms.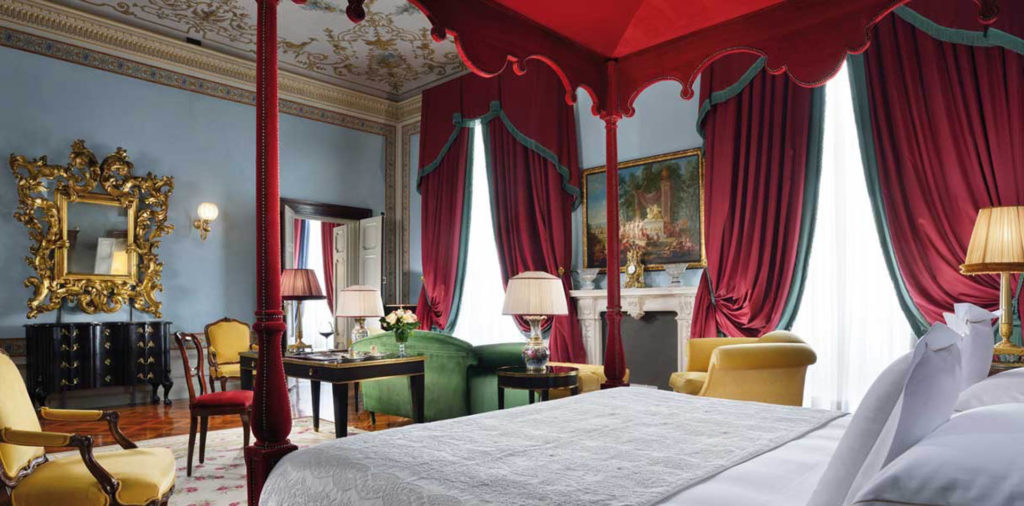 Suite Details
Up to 96 guests can sleep on the property housed in 3 different structures. The decor of the guest rooms in the main building, Villa Cora, is inspired by famous guests. The Imperial suite is dedicated to Emperor Akihito of Japan, and Princess Eugenia, the wife of Napoleon III.  The stables of this historic villa, now called Villino Eugenia, have been transformed into 14 different guest rooms and the villa spa. Overlooking the Boboli Gardens you'll see more than 100 varieties of roses, Princess Eugenia's favorite flower. The third building, La Follie, features 2 guestrooms in total seclusion. Luxury, privacy, grandeur. A destination truly fit for the most important celebrations of one's life.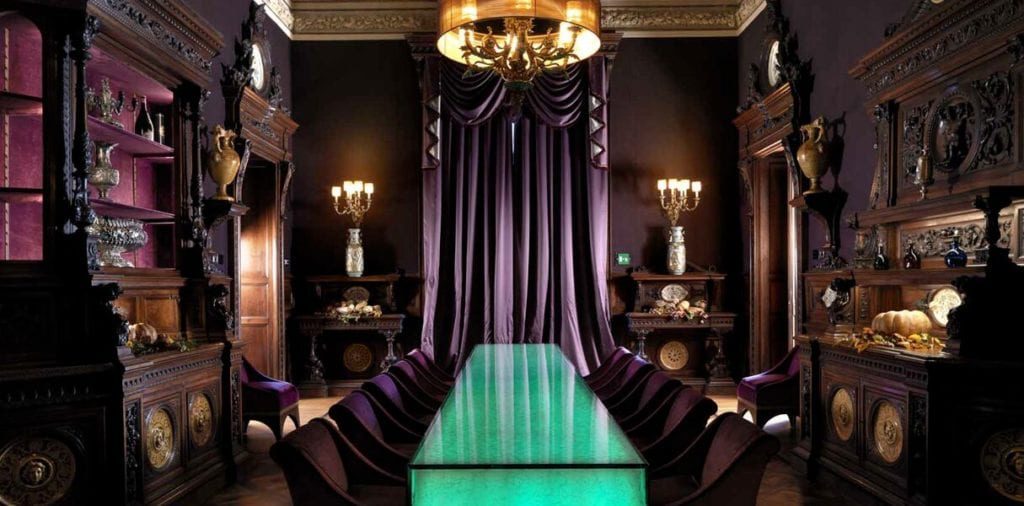 Magical Moments
This Florentine villa is ornate to be sure. So, get ready to relax in grand style! Play a game of cards on the LED illuminated table in Le Bar Long. Enjoy a cigar in the cigar lounge. Have a cocktail by the pool. Propose to your beloved in the Boboli Gardens! Or simply relax in the main lobby sitting area and marvel at the intricate decor. Every turn, there is something to behold.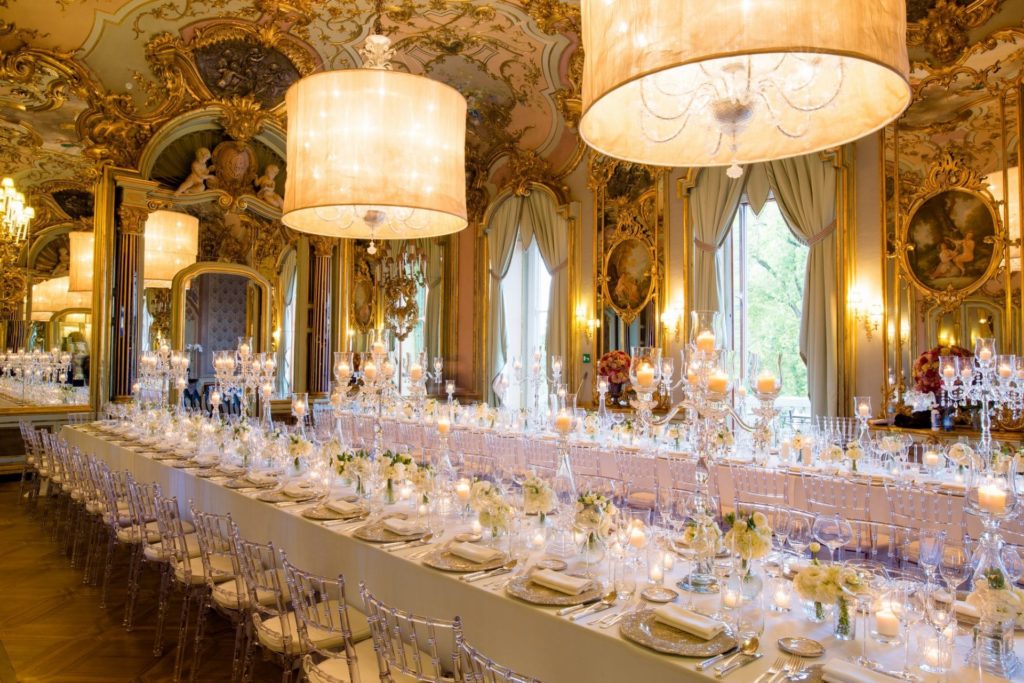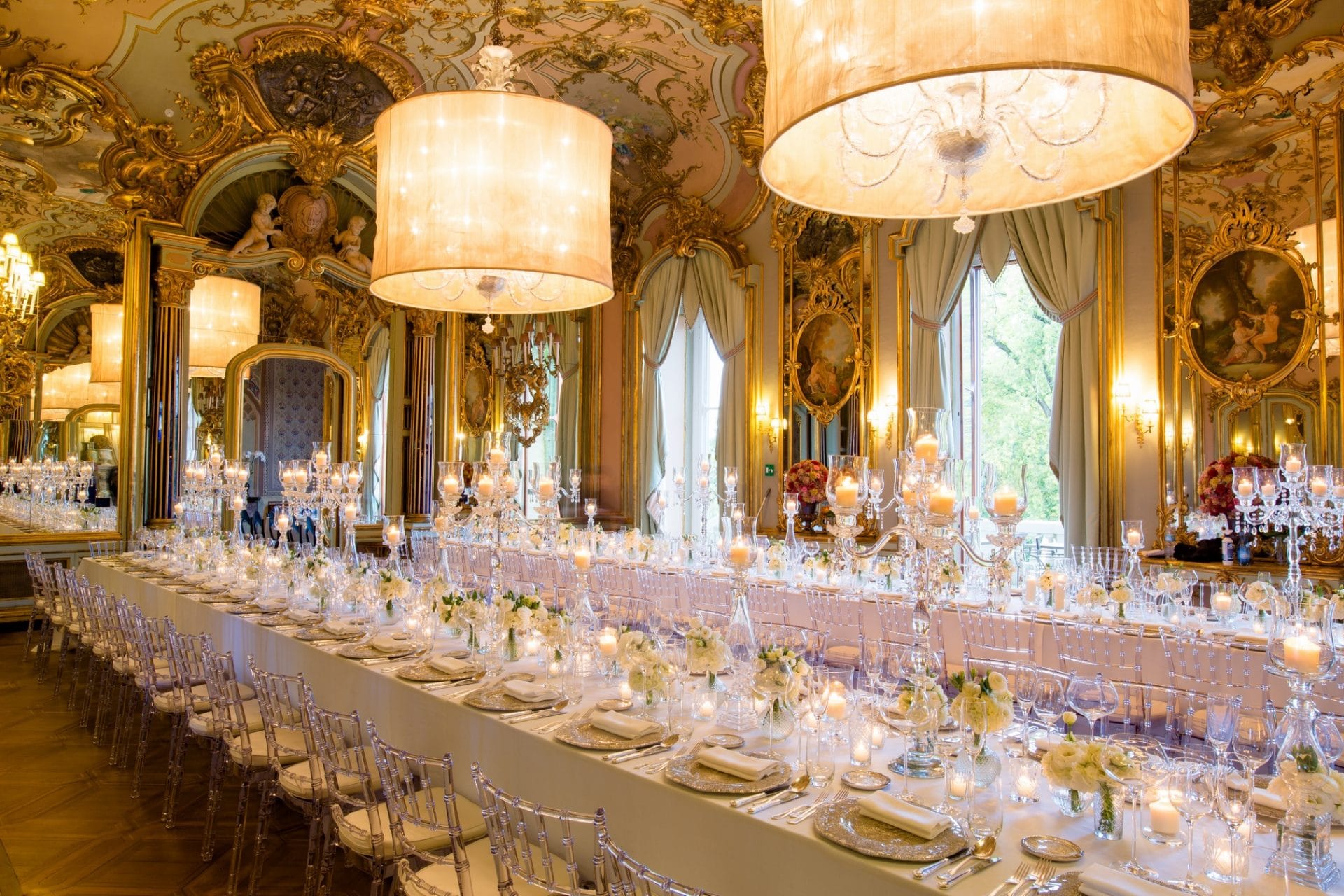 The Wedding
If you've dreamt all your life about a wedding fit for a prince or princess, you can have that dream a reality right here at Villa Cora. The lavish decor of the property itself eliminates the need for almost all additional decor. Crystal candelabra and florals are the finishing touches and you're ready to celebrate! First, the grand outdoor wedding ceremony celebrating vows under the blossoming arches. Then indoors for the reception you've been dreaming of. Your memories of this glorious experience will be shared by your family and friends for years to come.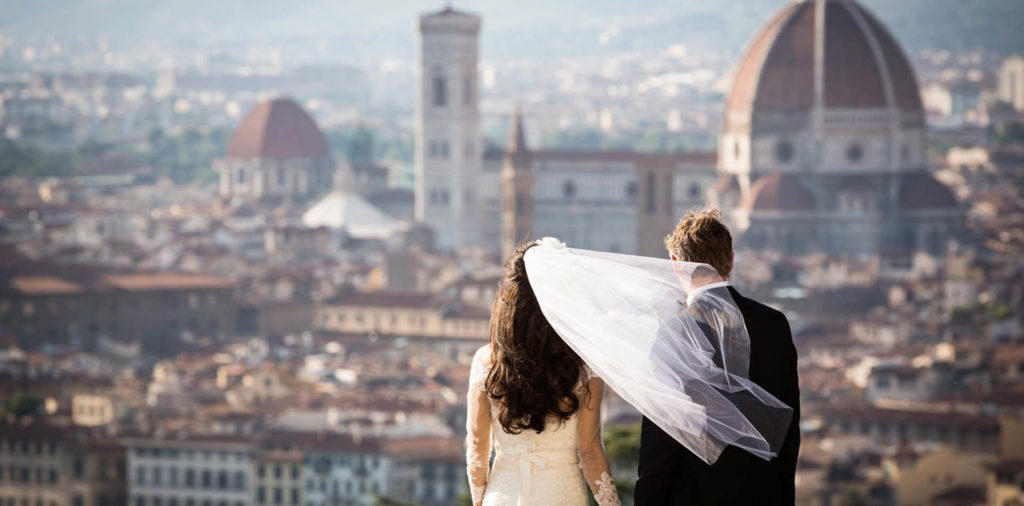 Explore
The wedding is over and the guests are either staying on to enjoy this magnificent city, or they've departed with the most incredible memories of your celebration. Now the two of you can enjoy newlywed bliss in the most romantic country in the world. So what's next? Why not indulge in a luxurious couple's spa treatment before heading down to enjoy a delicious meal prepared by the Executive Chef. You'll have time to take a scenic, leisurely stroll or shuttle into the city center for local artisan shopping. Are you a designer junkie? Take the shuttle to Florence's famous designer outlet, The Mall, where you can enjoy some serious retail therapy. Congrats! You're married, you're happy, and you're in Italy!
Stay tuned for Cupid's Journey Part 5, erasing all that June gloom we await every year.
#letswedaway