Destination Wedding Guest Gifts: Are They Necessary?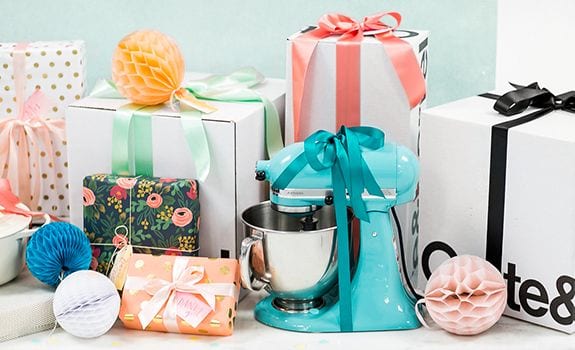 So you've RSVP'd that you'll be attending your dear friend's destination wedding.  That's exciting!  A chance to celebrate with them and an opportunity to travel to a new place!  You may think that spending a small fortune just to get there should suffice, and a gift isn't necessary, right?  I know this may be painful, but in this case, according to wedding etiquette experts, your presence isn't quite present enough. So, how do you determine what's the right (and most affordable) destination wedding guest gift amount to spend?
You Don't Need to Calculate Head Cost
Today, buying a gift calculated on the equivalent of what your host has spent for you to attend, is no longer the rule of thumb. Buy a gift in the range of what is comfortable and won't put you in a position of resenting the entire affair.
Buy an inexpensive registry item
Statistics show that on average, wedding guests spend $888.00 just to attend a local wedding!  This includes the gift, attire, perhaps travel.  As a destination wedding guest, with at least a couple of nights in a boutique hotel or even an AirBnB, the number can increase. Don't be discouraged. Although you are still expected to give a gift, don't feel pressured to spend on an expensive registry item. Read their list and see whether there are any less expensive items listed and pick one of those.
Be authentic and shop local
If you have some time to shop in the destination itself, this could be a great opportunity to pick up an authentic local item that the couple not only will enjoy but will also serve as a memento of the special time you celebrated together.  A colorful straw bag from Mexico, ceramics from Morocco or a bottle of scotch from Scotland or Irish Whiskey.  Matching leather gloves from Argentina or beautiful lace handkerchiefs from Belgium.  A painted teapot from China or Japan.  Beer steins from Germany.  Tradition Venetian masks for a wall motif. Whatever destination they've chosen, there will be many wonderful options.
Leave room in your suitcase!
Just keep in mind you'll need to bring whatever you buy home so leave some room in your suitcase!