Regions Of Italy For Amazing Weddings & Honeymoons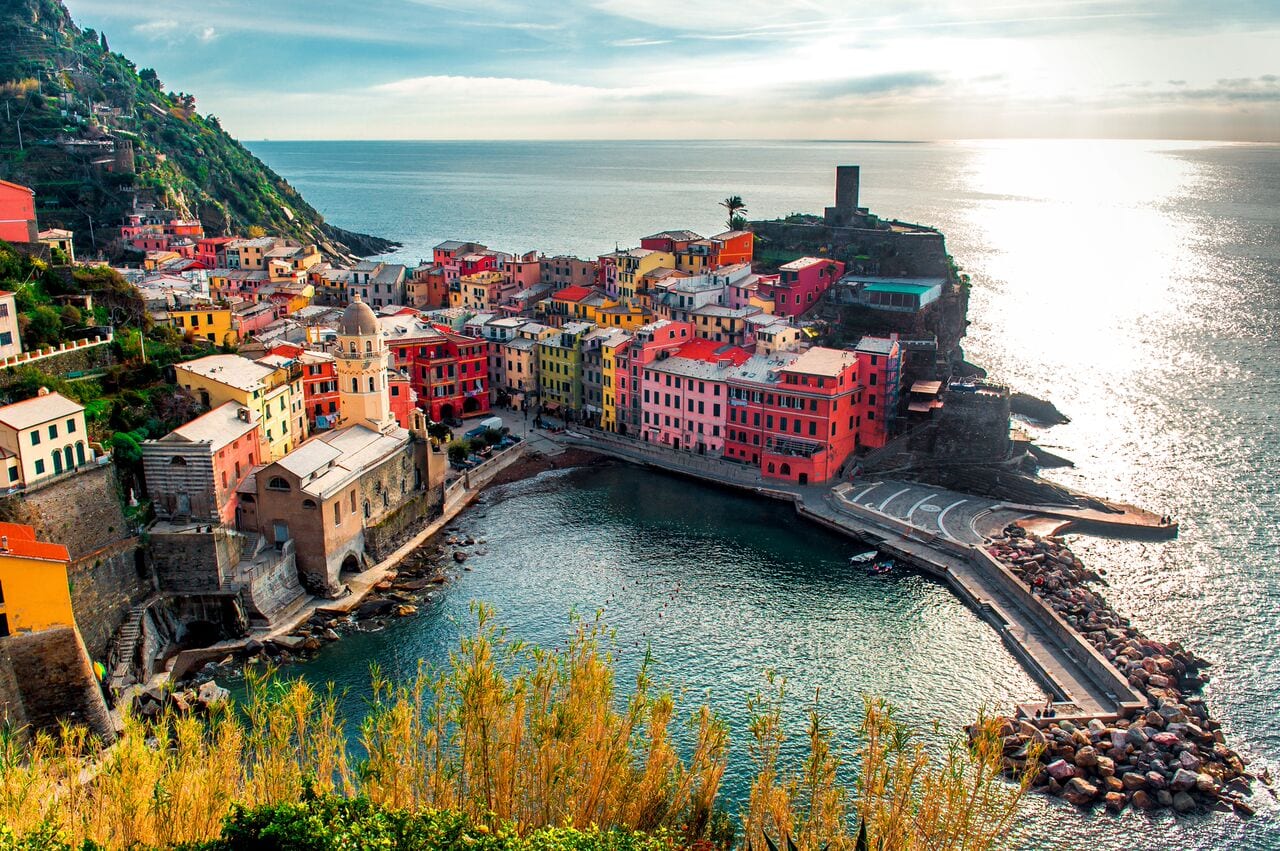 In a country synonymous with romance, weddings, honeymoons, anniversaries, engagements, love affairs, and make-ups — all take place during a typical afternoon in just about every one of the regions of Italy. The land of la dolce vita, here cupid reigns supreme!
Italy is divided into regions: Northern, Central & Southern (which include the islands). Each region has its own character, cuisine and magnificent landscapes. It's helpful to know a bit about each region when choosing the perfect spot to host your destination wedding and continue on to enjoy your perfect honeymoon. So here's a bit about each one, and if you've already perused the wedding destinations on Wedaways, you'll be able to envision the locations more clearly.
Northern Italy:
Liguria –  This region runs along the western coastline bordering France, and includes the Italian Riviera and the Cinque Terre. Ideal for a seaside wedding, the region enjoys a mild climate in winter.
Piemonte –  A more wintery region boasting grand mountain ranges (Monte Bianco/Mont Blanc) and winding highways, Valle d'Aosta and the smart city of Turin.
Lombardy –  A cosmopolitan region. Milan, the regional capital is the city of choice for the fashion-lover. Arriving into the international airports one can easily reach Liguria to the west, Switzerland and the magical Lake Districts to the north and north-east (Como, Maggiore, Stresa), and Venice (Veneto) to the east, by train and/or car in a matter of a few hours (or less).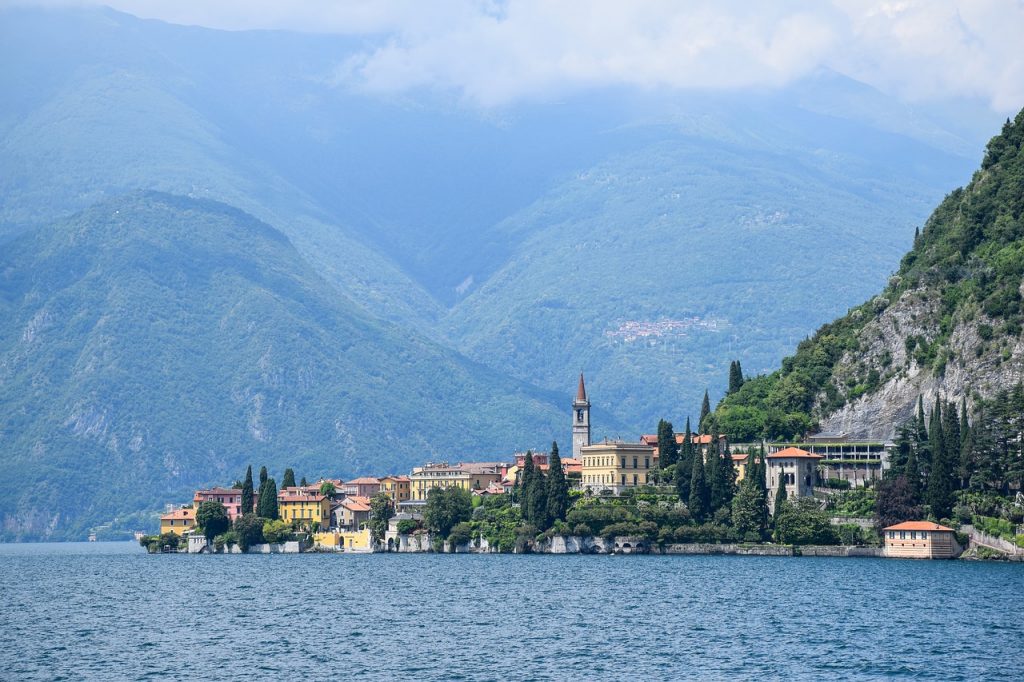 Venice
Veneto –  The Veneto region is located in the north-east of Italy, and its most famous city is Venice.  There are many other interesting and scenic towns throughout the region, including Verona, made famous in Shakespeare's Romeo & Juliette.  There is also an international airport here.
Friuli – Venezia Giulia – Italy's far north-eastern corner is home to the Dolomites, a mountain range in the northern Alps. The Dolomites are one of the UNESCO World Heritage Sites.  The roads are incredibly scenic and the hotels are charming, some luxurious, many being ski-in/ski-out. There are more Michelin Starred restaurants concentrated in this region than in all of Italy combined. For sports lovers, there are activities year-round.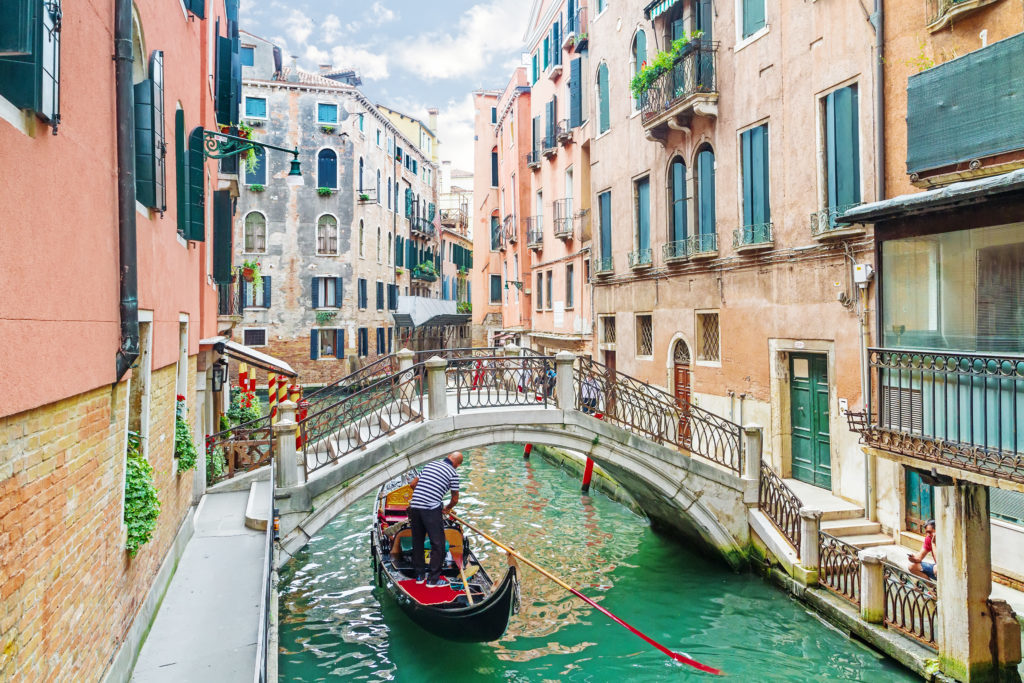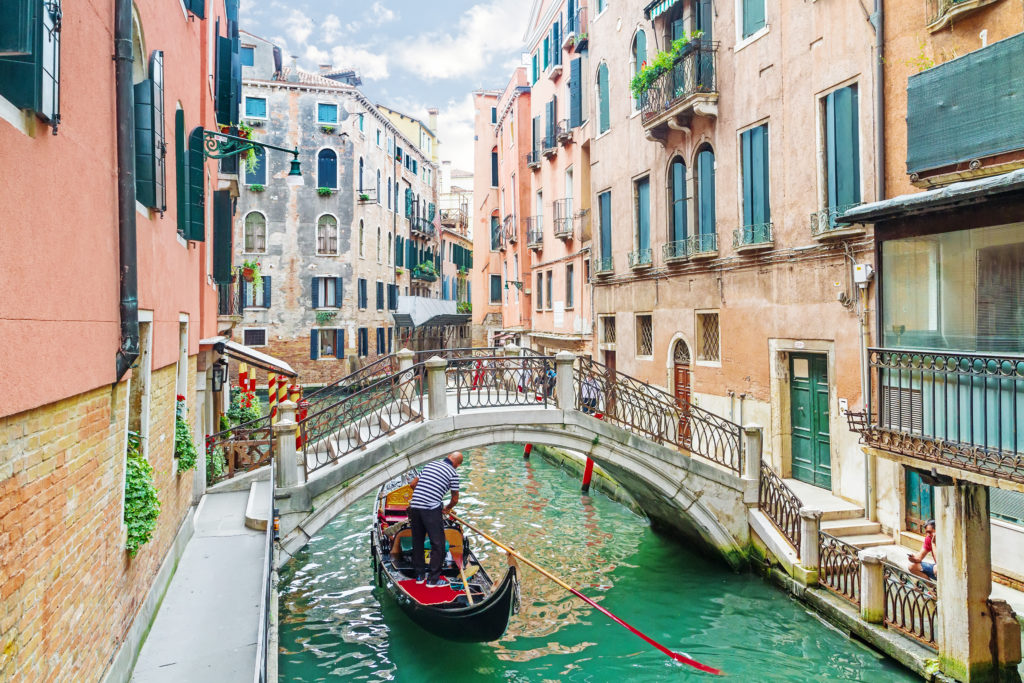 Central Italy:
Emilia – Romagna – The wondrous north-central region that lies in the fertile Po River Valley. Federico Fellini, one of the most famous Italian filmmaker and screenwriters of all time, is from this region.  It's most popular cities are known as the Big Five: Piacenza, Parma, Reggio Emilia, Modena, and Bologna.
Lazio – Bordered by Tuscany, Umbria, and Marche to the north, Abruzzo, and Molise to the east, Campania to the south, and the Tyrrhenian Sea to the west.  The countryside, lakes, and seasides are often overlooked in favor of the regional and country capital of Rome.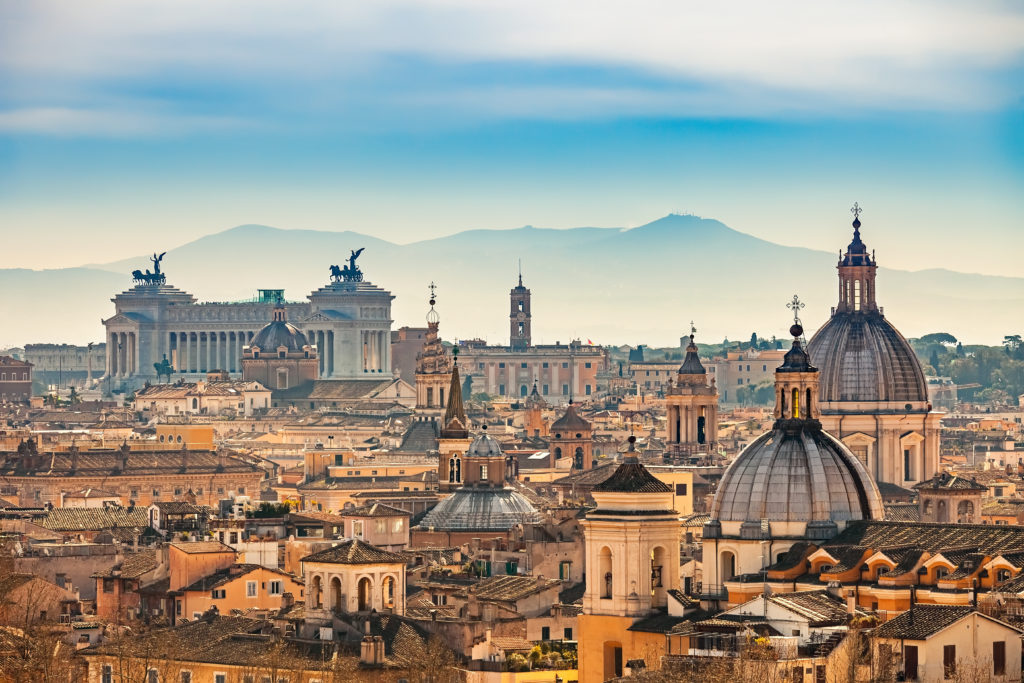 Countryside
Tuscany –  The birthplace of the Renaissance, famous for its rolling green countryside and vineyards; home to the towns of Florence; art-packed, and bustling starring Michelangelo's David, Brunelleschi's dome and the Ufizzi Gallery, with the Ponte Vecchio spanning the flood-prone Arno River.  There is a special spot on the bridge where romantic dinners may be arranged. Wedaways suggests this for the most romantic proposals.
Siena; The red-brick hilltop city known for its pageantry, Palio horse race, and stunning traffic-free main square. Pisa; A city famous for its iconic Leaning Tower.  Lucca; A charming city with a lively (and flat) town center, ringed by intact old walls wide enough for biking and strolling. Montepulciano; A rugged town crowning a ridge, with dreamy vistas of the countryside and wine-tasting.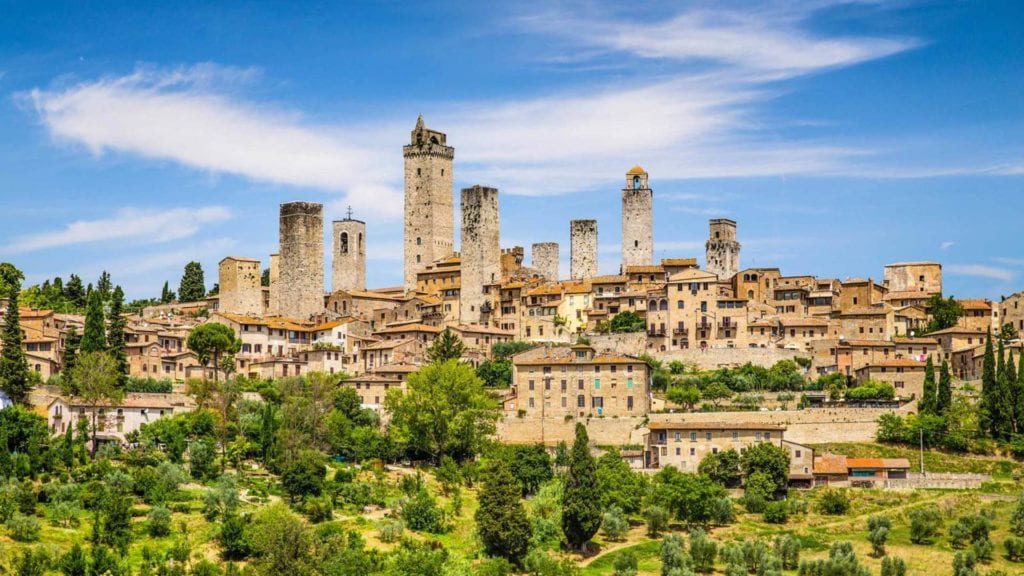 Italy's Manhattan
San Gimignano; The epitome of a hill town.  Dotted with medieval towers offering superb views and perfect backdrops for photos.   Montalcino; Truly the wine-lovers' paradise boasting a dramatic 14th-century castle, encircled by olive groves.   Cortona; A hillside town "under the Tuscan sun".  Brimming with historic churches and museums featuring Etruscan and Renaissance artifacts and art.   All these towns have villas, hotels, and spas.  These are among the most desirable places in Italy for weddings, honeymoons and romantic travel.
Umbria – Italian for "shadow" this region is less well-known than its neighbors and is the only Italian region having neither a coastline nor a border with other countries.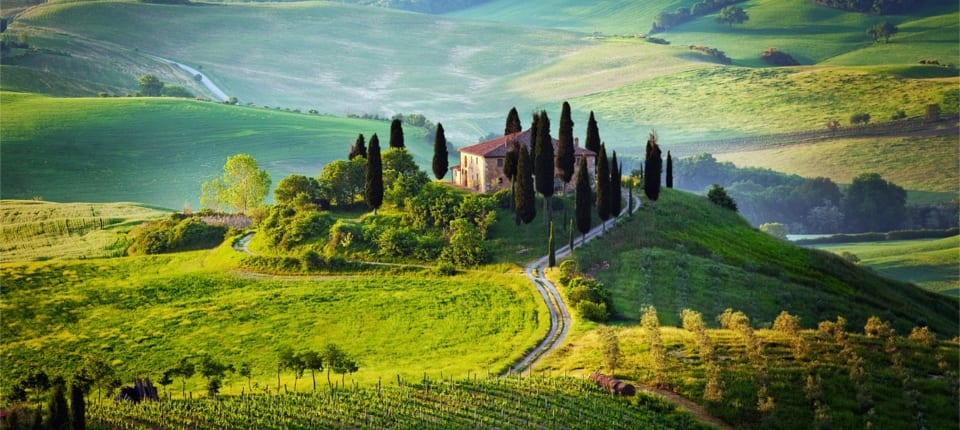 Southern Italy and islands:
Campania – Chaotic but beautiful, Campania's attractions range from hectic Naples to dream-like Capri and Positano.  Buildings cling to the hillsides.  Roads treacherously wind around the cliffs.   Limoncello is enjoyed as much as wine.   And the sea ranges from every hue of blue and green that you can imagine: emerald to turquoise to royal blue to aqua. Capri was the favorite vacation spot of emperors.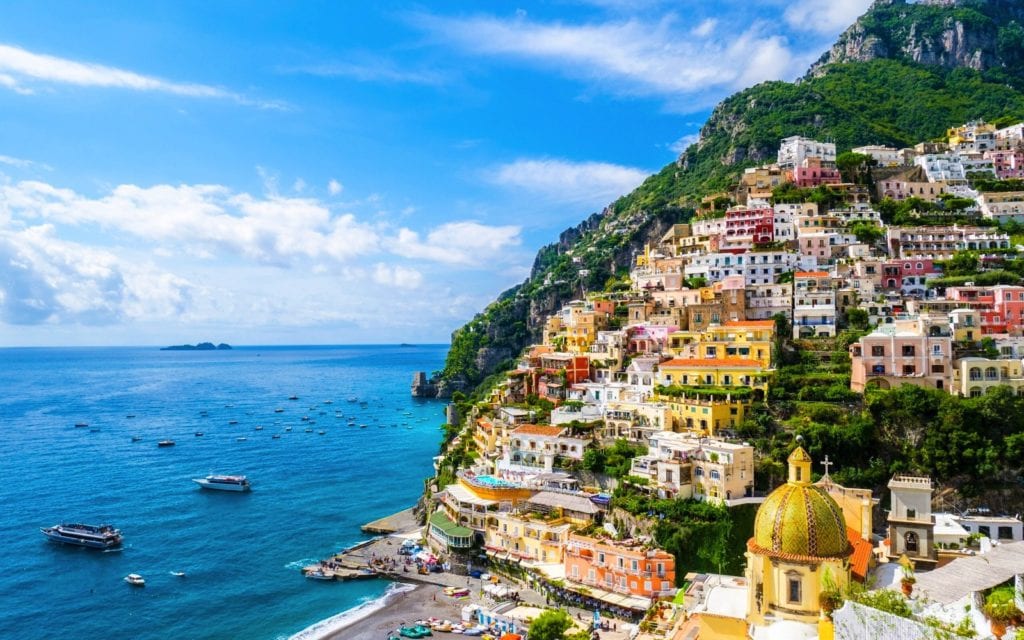 La Dolce Vita
Sicily – The true birthplace of la dolce vita, this island rich with a history all of its own, was the playground of old Hollywood.  Sicily's beaches, baroque towns, and ancient Greek ruins offer a lazy sophistication and charm.  The villa where scenes of The Godfather were filmed is a popular spot for weddings on the island.  Golf & tennis resorts are expansive and offer a totally different experience to enjoy Italy's largest island.
Sardinia – The island of wealthy Italian second homeowners.  The smartest destination in Sardinia is the Costa Smeralda, the 'emerald coast'. This beautiful stretch of coastline at Sardinia's north-east corner was developed in the 1960s by wealthy investors. Every summer gossip magazines are full of photos of Italian and international 'celebrities'.   Partying, swimming or hanging out on huge yachts in Porto Cervo and the other exclusive resorts of the Costa Smeralda.
Calabria – Is at the toe of the boot, the extreme south of Italy – lapped by the splendid crystal blue Ionian and Tyrrhenian Seas and separated from Sicily by the Strait of Messina.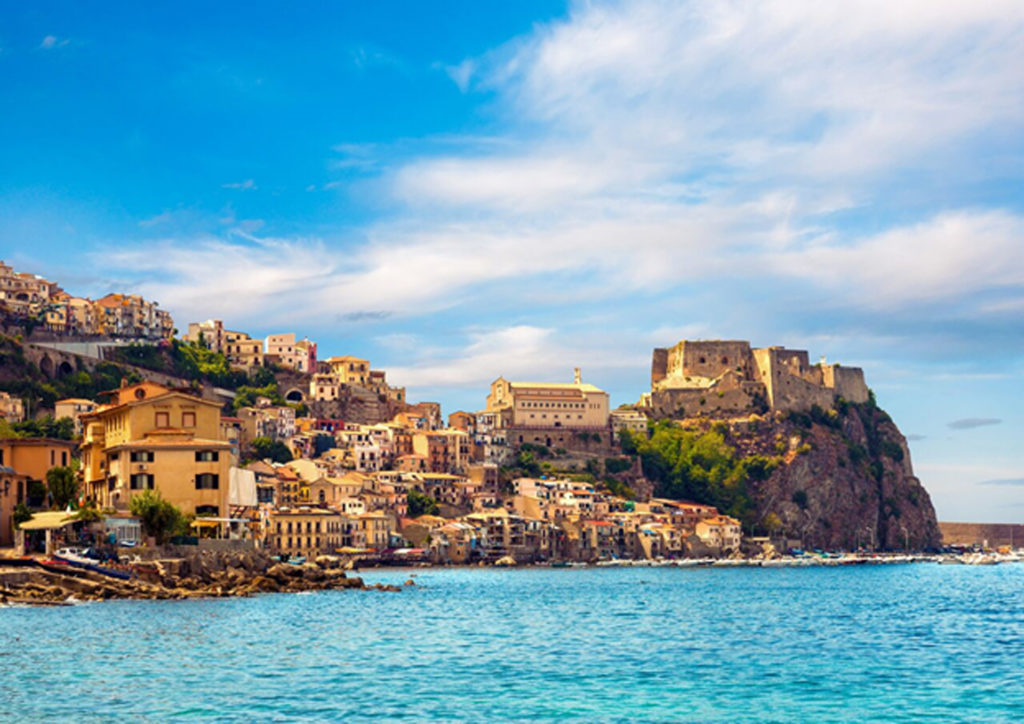 Popular regions
Puglia –  Forms the heel of Italy's "boot,".   It is known for its whitewashed hill towns, centuries-old farmland and hundreds of kilometers of Mediterranean coastline. Photogenic round houses with distinctive conical roofs called Trulli and sprawling tourist compounds called Masserias abound.  The Capital Bari is a vibrant port and university town, while Lecce is known as "Florence of the South" for its baroque architecture.
Basilicata –  Remote Basilicata is mountainous and home to Matera.  This is the town famous for its cave-dwelling districts.   It borders the Calabria and Puglia regions, as well as the Tyrrhenian and Ionian Seas. The city of Matera is known for its Sassi district, a vast, hillside complex of cave dwellings dating back thousands of years.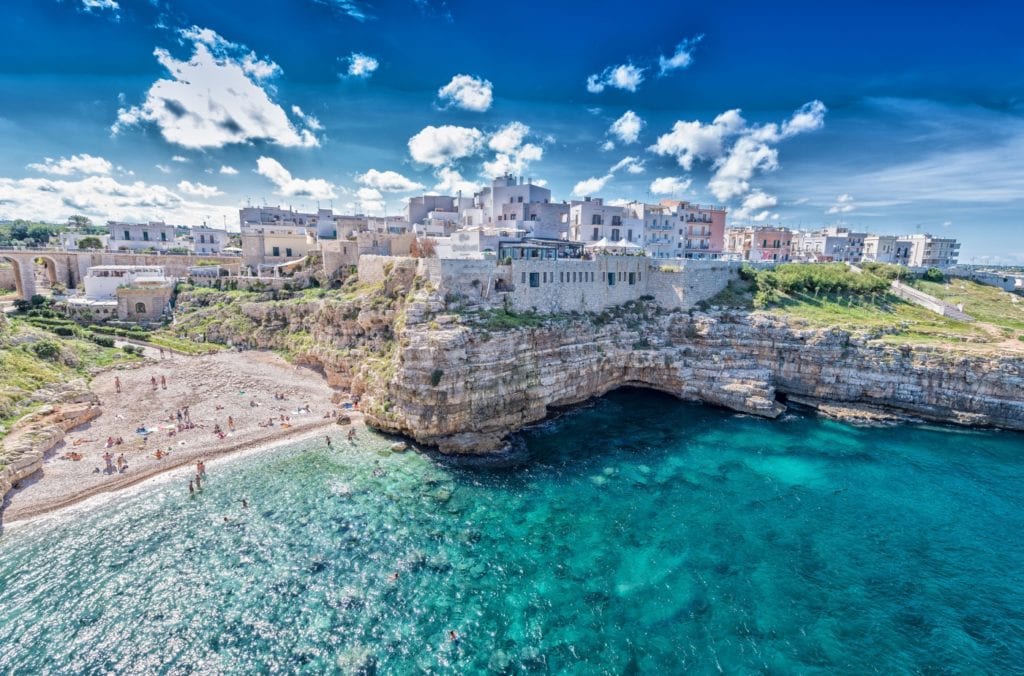 Visit our destinations to see Wedaways' portfolio of select Italian properties.