The Most Instagrammable Destinations for Romantic Travel
Whether you're planning a romantic trip with your better half, a far-off tropical proposal, a dream honeymoon, or even your destination wedding, one thing to always consider is the photo opportunities! Keeping physical proof (even if just in your phone) of your most special moments will make the memories last forever and live on for future generations. So, you better make sure those photos are breathtaking! To help you in this quest, we've compiled a list of the most Instagrammable destinations in the world – perfect for romance travel!
1 – Paris, France
We had to start with a classic: the European capital of sophistication, Paris. Nothing beats the iconic couple photo standing on a bridge with the Eiffel Tower in the distance. You know the one. You've probably seen it all over your Instagram feed. And even in countless movies! It makes for beautiful momentos. But the city of love has many more photography locations to offer. Some that you may not have thought of. From quaint and colorful little pâtisseries all over the city to beautiful riverside landscapes and out-of-this-world verdant gardens, Paris is the best when it comes to capturing romance. The city hotels in Paris are stunning, considering that many at one time in history were petite palaces for the local aristocracy. Many with original architectural elements and even some original and gorgeous elevators!
So, pop a bottle of champagne, strike a pose, and tap the camera shutter in the glamorous city of lights.
2 – Alps
There's nothing more majestic than nature. And nothing will inspire more wonder in a photo than the glory of the sun rising behind a grand Alpine mountain. Witnessing the immensity of the Alps is a bucket list must, and when there, snapping a few photos is mandatory.
Trust us; nothing screams romance like a cozy, warm fireplace and under-blanket cuddles while surrounded by a mountain of white. And the best part: some of Europe's most beautiful countries are home to the spectacular mountain range. If you love wine, pasta, and a vibrant culture, head to the Dolomites in Italy. The Swiss Alps offer unmatched landscapes and colorfully picturesque small towns. And if you dream of romantic France, make sure to visit the French Alps for a completely different experience of the glamorous country.
This destination is especially unique in that it offers year-round activities for all levels of outdoor adventure.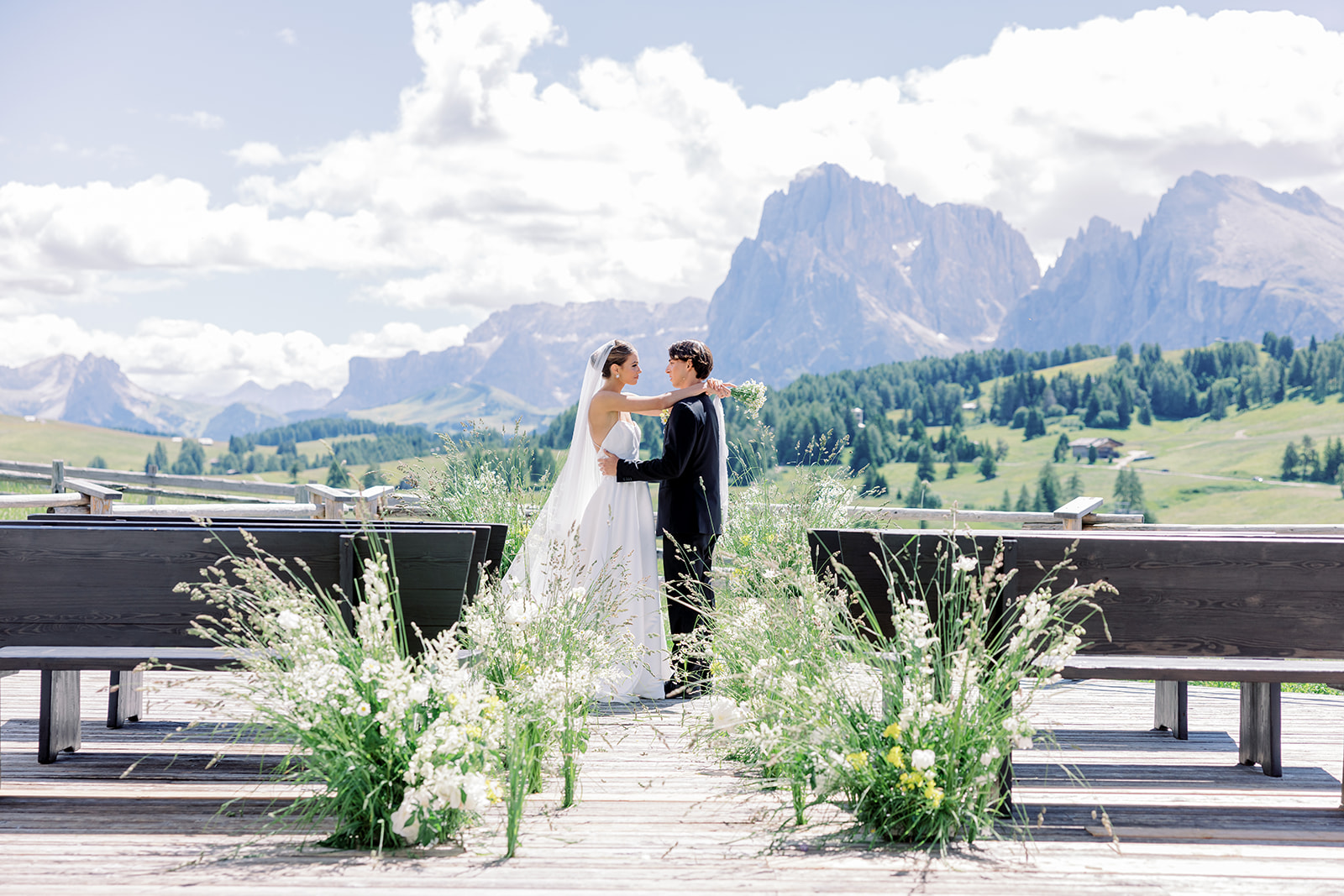 3 – Maldives
The ultimate R&R&R destination – Rest, Relaxation & Romance -the Maldives are a romantic travel must. With its tranquil translucent waters, crystal-white sand, and luxurious overwater villas, the photo-worthy backdrops are endless.
The properties you'l find at this destination are jaw-droppingly stunning. When booking, take into consideration  the wonderful options that different properties offer. They can either include a European Plan (only accommodation is included), a Continental Plan (only breakfast is included) or an All-Inclusive plan (everything is included!).
For an intimate, bespoke experience and beautiful dreamscapes of shimmering waters, golden sands and breathtaking architecture, Wedaways recommends Joali Maldives! 
And not to mention the unique experiences you can capture. Snorkeling, kayaking, enjoying a sunset cruise, swimming with sharks… The adventures awaiting on this Indian Ocean Paradise will accompany you forever, especially if you snap some fabulous pics to share with your loved ones!
4 – Las Vegas, USA
Let's move gears a bit and talk about an Instagrammable destination that may be a little more unexpected. At first glance, Las Vegas may not seem like the most romantic destination, but Sin City will prove you wrong! Vegas will take you on a photoshoot around the globe to the most romantic places on Earth. Witness (and photograph) the mesmerizing dance of the Fountains of Bellagio. Head to the Venetian Hotel and snuggle in close on a gondola ride down the Grand Canal. Soar above the strip and capture the vibrant Las Vegas lights. Experience the awe of Paris without flying to France by snapping a cute couple pic with the Eiffel Tower as a romantic backdrop. The photos will be iconic, and the memories will last forever!
5 – Lake Como, Italy
Known for being a tranquil escape for A-list celebrities, Lake Como is luxury personified. Plus, as far as romance is concerned, Lago di Como is famously near the top of the list. Your Instagram will definitely level up a notch if you post some romantic photos capturing the recognizable lake landscapes, charming pastel-colored houses, and narrow cobblestoned streets. And make sure to snap a few images traversing the lake on a luxury yacht or driving through the scenic winding roads. You'll have a unique collection of spectacularly inspiring backgrounds that will make your romantic trip photo album a beautiful collage of unforgettable memories.
6 – San Miguel de Allende, Mexico
One of the most underrated Instagrammable destinations in the world, San Miguel de Allende is a beautiful colonial city full of fascinating history, vibrant architecture, and friendly culture. Located in the central highlands of Mexico, the colorful metropole will surprise you with Instagram-worthy spots on every corner.
From off-beat details, like an unexpectedly charming old gas pump and the traditional dancing Mojigangas, to pretty locations such as beautiful fountains and inspiring botanical gardens, to street art masterpieces in the neighborhood of Guadalupe. With so many shots waiting to be taken, you better never leave your camera at home!
7 – Santorini, Greece
One of the most Instagrammable destinations in the world, Santorini is bound to show up on your feed. With its pale-blue rooftops, stunning mountain-top views, deep orange sunsets, and clear Mediterranean waters, the picturesque island is one of the most recognizable places on Earth. And for good reason.
The magical fairytale-like ambiance of Santorini makes for amazing couple photos and unbelievably romantic moments. Capture the strolls through the perched hills, the private moments in intimate quaint villas, and the vibrant sunsets. The photos will come out stunning; there's no doubt about that!
Browse through more Instagrammable destinations on Wedaways!