Wedding Gown Shopping: The Number One Question Every Bride Asks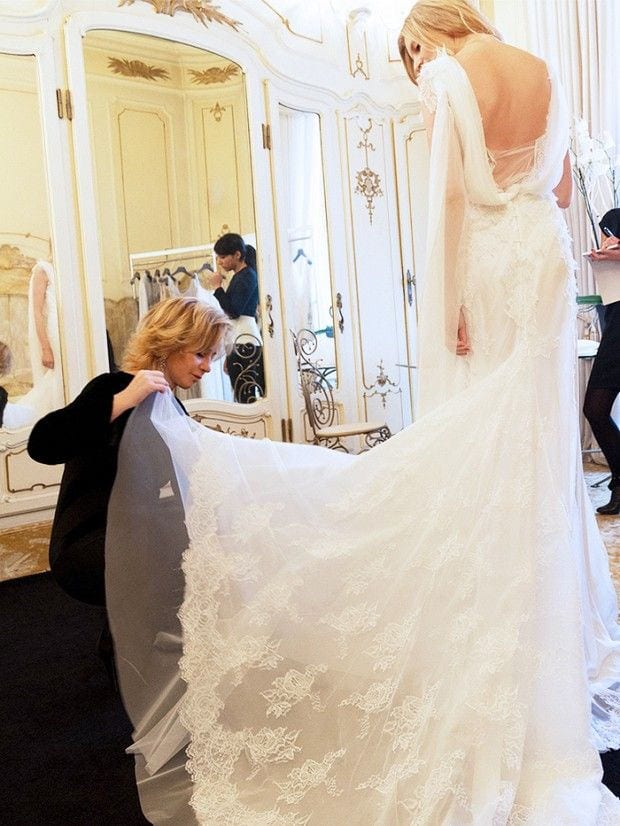 The number one question brides ask when wedding gown shopping may surprise you.  This unique shopping experience can be exciting, overwhelming, or sometimes both and there are more things brides have in common than not.
The number one question I've been asked probably more than a million times in my career as a bridal stylist is: "What wedding gown is best for my body-type"?  When I was new to bridal, I would think about the question. Look the bride up and down and all around, and pull gowns according to the physique standing in front of me. But over time, as I became more experienced, the expression "more than meets the eye" became clear to me. Yes, it is true that one style may flatter a physique more than another.   But what is equally true and almost more important is: Who you are, how you see yourself and the way you carry yourself is of greater importance than the style that you wear.
Expert tips
Here's a starting point for a bride-to-be wedding gown shopping and looking for that special wedding gown.  These are some of my suggestions for best gown styles for specific body types. Just keep in mind the fact that your personal "brand" – who you are, what you've dreamed of, how you feel…will completely determine how you look!
HOURGLASS:
Highlight your curves with a mermaid gown. Keep in mind you'll probably need a secure foundation garment, so something on-the-shoulder will work best. Leave the spaghetti straps for the less endowed.
"FULL" HOURGLASS:
An on-the-shoulder "A" line gown will look beautiful on you. If you are on the short side, you will appear taller. Try an empire style (the skirt begins at the seam just under the bust) that has a drop waist skirt (the center bodice is its own section) without shirring for an overall slim look. Or a "Princess-cut" A-line: The gown has vertical seams running the entire length of the gown with no horizontal seams, or the skirt begins at the seam under the bust and continues all the way to the floor. Whether smooth or with some asymmetry and shirring, a secure foundation garment applies here, as well.
"APPLE":
On the shoulder.  A deep "V" neckline that cinches in at the smallest point on the waistline, then flares out into a gradual A shape.  This will be most flattering. Try a 2 piece with a bodice that has texture…Think a well-fitted bodice (over a well-fitted corset) with an overlay of draped Chantilly lace (very delicate and not bulky) detailing―that will camouflage and fit snugly, with a very flat A-line skirt (no shirring).
"PEAR":
Show off your neckline "décolleté" with a bit of cleavage, if you dare! Off the shoulder, short or long sleeved, with a snug-fitting waistline and billowing ballgown or A-line skirt will be stunning on you.
"INVERTED TRIANGLE":
An on-the-shoulder gown with a well-fitted corset again is a must. The open neckline will draw the eye in and a full skirt will also balance the physique. If you have great legs here is a chance to show them off with a sexy short wedding dress.
"COLUMN":
With a more athletic build, you can wear sheath gowns of silk charmeuse and look amazing. A draped neckline will add volume and softness to the overall look and even create the illusion of curves.
"RECTANGLE":
Ball gowns will look gorgeous on you. A narrow waistline will balance your physique.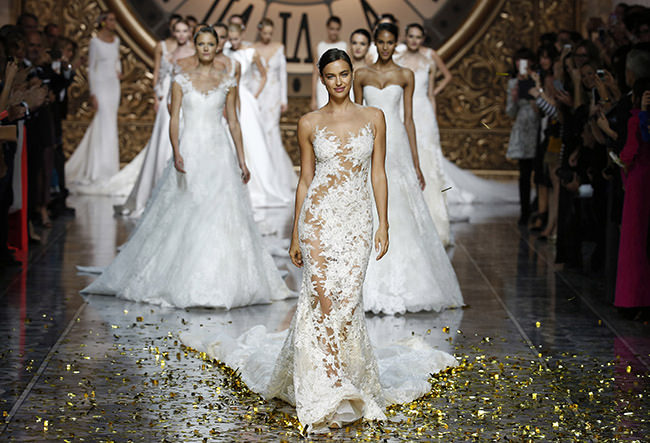 While you are wedding gown shopping, imagine yourself just as you are ready to walk "up the aisle". That's the inspiration you need to keep in mind when wedding gown shopping. Oh and don't forget: A wedding gown is like your fiancé: once you fall in love — stop looking!
Congrats & Happy Shopping!