When The Father Of The Bride Is Your Wedding CFO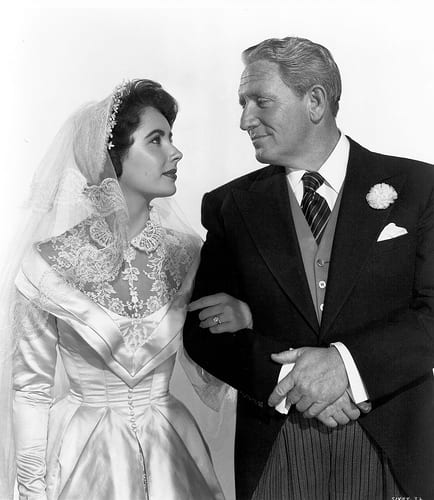 Often, producing a wedding feels similar to running a corporation—but with the added stress of emotion, of course.  When the father of the bride is paying for the event, he essentially becomes the wedding CFO. And, like all CFOs, he needs to have a clear understanding of why the expense you are presenting him costs what it does.
Most dads funding their daughters' weddings are more than happy to pay the bill and make their little girls' wedding dreams come true. But many need a bit of convincing—understanding, if you will—as to why many aspects of the big day cost so much. And, of course, why all of those little details you want are even necessary.
It's one thing to get Mr. Wonderful to relate to the importance of all the details that create the perfect wedding day. But how about convincing the Father of the Bride (slash wedding CFO) that this is the gown (for example) you absolutely must have?
When I used to sit and chat with dads in my salon, they would ask me: Why is a wedding gown so expensive? And you only wear it once?! I used to smile and answer in a slow and soft voice: "But oh…What a once!" And then I'd patiently go on to say that a gown may seem expensive. The venue, the flowers, and the food may seem so, as well. But think about it: Didn't his daughter start dreaming about her wedding as a little girl? Now, if you pro-rate the cost over however many years it has taken for this day to come to fruition, then it's not really that expensive after all!
First off, dad deserves to be educated on why it's important to throw a fabulous event. With family and friends quite possibly traveling from afar to come together and celebrate, this is the perfect opportunity to show them your hospitality. Your wedding is truly a cultural celebration for your loved ones as they watch you cross a threshold into one of life's most beautiful milestones. Explain this in the most logical, and least emotional way to your dad, if you can. And then sprinkle in the emotion by adding that you've waited all your life for this.
You may also consider sharing your Pinterest board with him, as it will open his eyes to an entirely new way you've been investing your heart in realizing your dream. After all, most men are visual creatures and this will definitely be an eye-opener. Once you have really gotten the conversation started, invite him to join you on some of the vendor appointments so he sees what things actually do cost.
Wedding CFO – Board Meeting!
Now, most board meetings have refreshments of some sort, right? So, it's important that you dazzle dad with the fun aspects of planning like your food tastings, cake tastings, and listening to the musicians. This way, he gets to watch the pros work and enjoy the fruits of their labor. At the very least, he'll have fun. And he just may find himself requesting a fifth passed appetizer for cocktail hour!  Or, extra time for the band to play when he discovers how much he is enjoying himself.
At the conclusion of these meetings—which were filled with food and sweets and music—you'll be able to illustrate the end result of your wedding. Talk to dad about the lasting ROI of phone calls, letters and emails from those who attended and had their fill of delicious food and exciting entertainment. Remind him of your (and your mother's) gratitude and pride. These, in the end, are priceless.
Finally, as the momentous occasion fast approaches, everyone's genuine excitement will be contagious. Brainstorm an ideal way to express your gratitude for his involvement (and his wedding CFO financial contributions), whether it's a father-daughter outing or a thoughtful gift. What matters most is that you make sure he knows how happy you are for everything he is doing. It's one thing to think he knows how much his involvement means to you, but it's another to express it verbally—and often!