5 Amazing Benefits of Planning A Wine Country Wedding in Napa Valley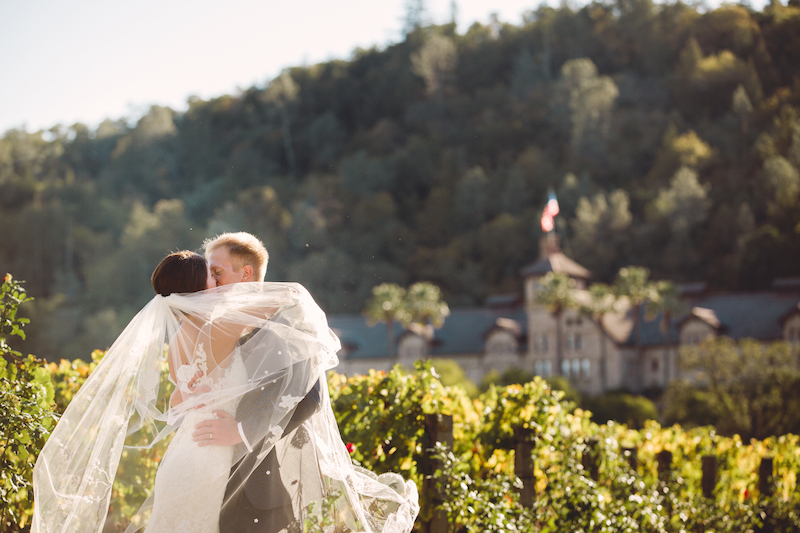 One of our favorite wine country region happens to be right here in the United States. If you're dreaming of a wine country wedding, then may we suggest you consider the iconic Napa Valley.
Reasons to Love Napa Valley for a Wine Country Wedding
Wine and weddings really go hand in hand, which makes any wine country an excellent choice. Plus, wedding venues surrounded by vineyards make such pretty locations for your big day. It's the perfect blend between a garden and country wedding and this comes with many benefits. The Napa Valley Wine Country is synonymous with luxury, class, and elegance, making it one of the finest regions in the United States for weddings. Regardless of which venue you choose, a wedding here will be an absolute dream come true for any couple. Need a little confirmation? Here are 5 reasons why you'll love a Napa Valley Wine Country Wedding:
Vineyards are stunning and aesthetically pleasing destinations with plenty of natural lighting for gorgeous wedding photographs.
The drinks will be plentiful and delicious, which means refreshed and happy guests.
The romantic setting in relative privacy among the rows of grapes and grand buildings is hard to beat; especially at sunset.
The cuisine in Napa Valley is simply divine and since the area is mostly farmlands you'll be dining on the freshest fruits and veggies from nearby lands for your wedding.
A vineyard wedding in Napa Valley will have you feeling like you're far away from it all, a true destination wedding without the expensive travel abroad.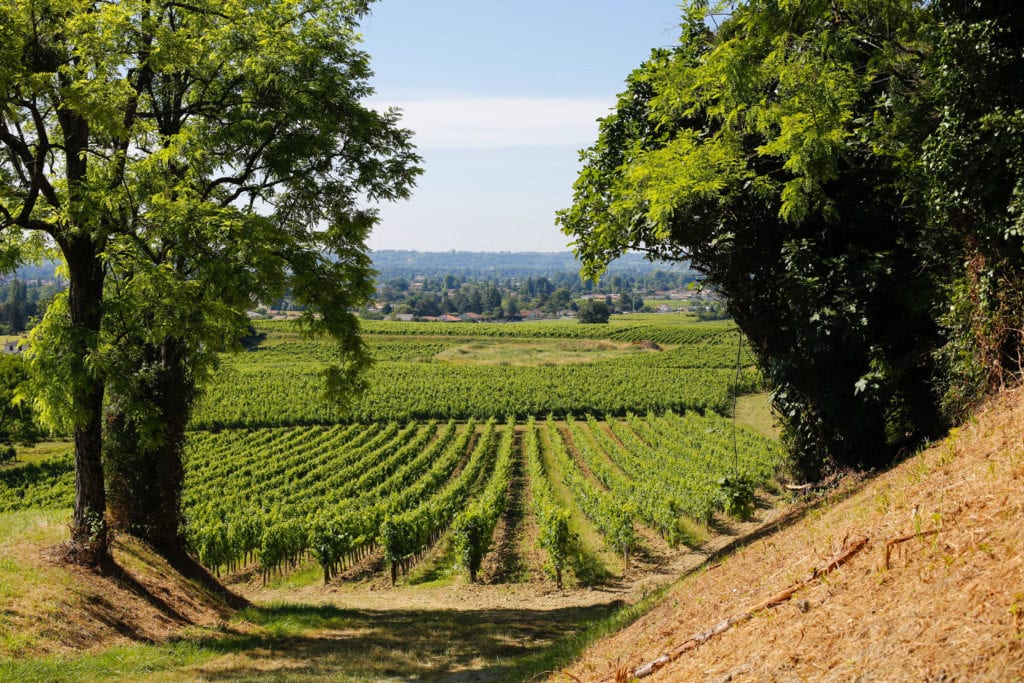 Napa Valley Wedding Venues
Between the romantic setting and abundant flow of wine, you can't go wrong with a wine country wedding in Napa Valley. Although we love exotic wine countries around the world as well, Napa Valley has a special place in our hearts. This is truly the perfect spot for any couple who wants the thrill of a destination wedding while remaining in the United States. Best of all, Napa Valley has some of the most luxurious and stylish wedding venues in the country. And delicious, award-winning wines!
With rolling hills and bubbly in hand, here are some of the best places to plan your wine country wedding. After all, your big day deserves a setting every bit as splendid as you are. In Napa Valley, you can host your ceremony outdoors amid the rolling vineyards and then party inside grand vineyard estates. You can also stay in Napa Valley for your honeymoon too. Whether you are planning your own wedding or a wedding planner looking for ideas, a wine country wedding is all about the senses and makes for a magical experience. If you need more reasons to love a wine country wedding in Napa Valley look no further than the excellent properties available for weddings. We just know you'll fall in love with these dreamy wine country venues.
Vintage House at Estate Yountville
Dreaming of a quaint country wedding? Discover Napa Valley at its finest – Vintage House. A village within a village known as Estate Yountville. The estate boasts gourmet restaurants, award-winning tasting rooms, art exhibitions, and beautiful natural surroundings. It's a beautiful balance of rustic elegance and modern sophistication. Your wedding will be the talk of the town.
Each guestroom has a fireplace, and the venue includes lofts and bungalows for your guests to stay in style. Vintage House offers a rich backdrop for a wedding. The venue has a romantic 19th Century ballroom, a garden gazebo, and a palm-shaded terrace. Your nuptials will be breathtaking along with the views of the Mayacama and Stag's Leap Mountain ranges. Family and friends will be welcomed with a wine tasting reception. You can also treat your bridal party to a spa pampering.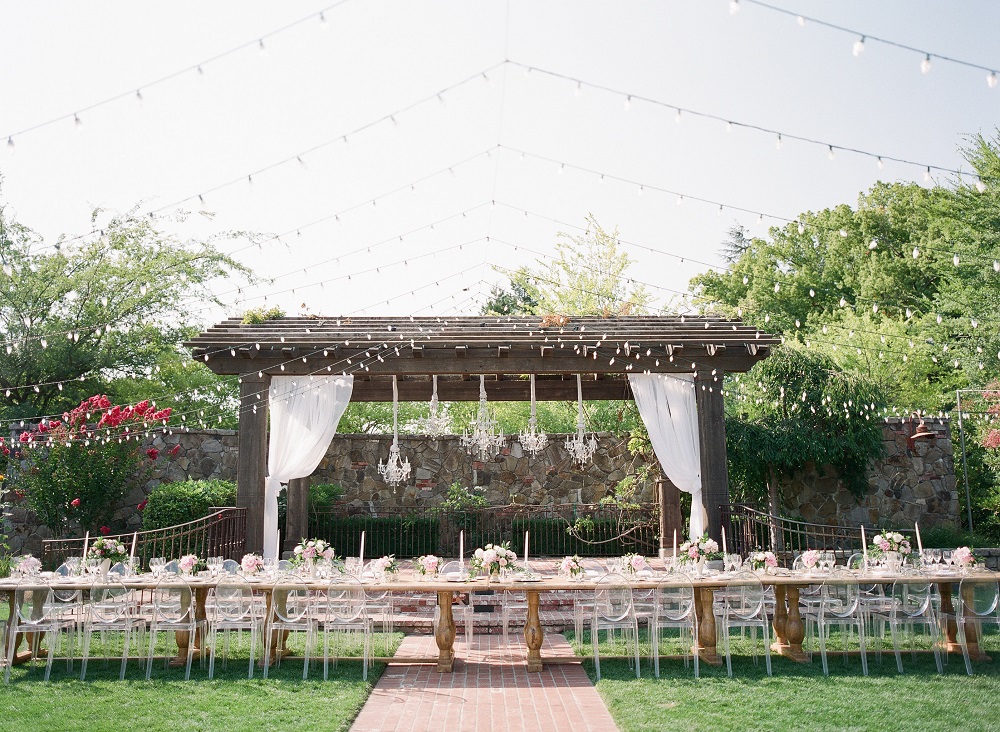 Hotel Villagio at Estate Yountville
The Hotel Villagio is also nestled in the charming Estate Yountville. This new lifestyle destination is set in a lush and alluring village but with a modern twist. Here, the wine country wedding experience meets tranquil sanctuary. The village offers boutique shopping, hot air balloon rides, and the finest dining imaginable.
Host your wedding to the easygoing rhythms and the long-standing rituals of wine country vibes. Hotel Villagio is a unique Napa Valley wedding venue with sensuality and senses at the heart of it. With such a vibe, it allows for sexy pre-wedding gatherings but elegant ceremonies and receptions. An outdoor fireplace ensures the sensory experience is kept burning after celebrating a formal affair in the romantic vineyard surroundings.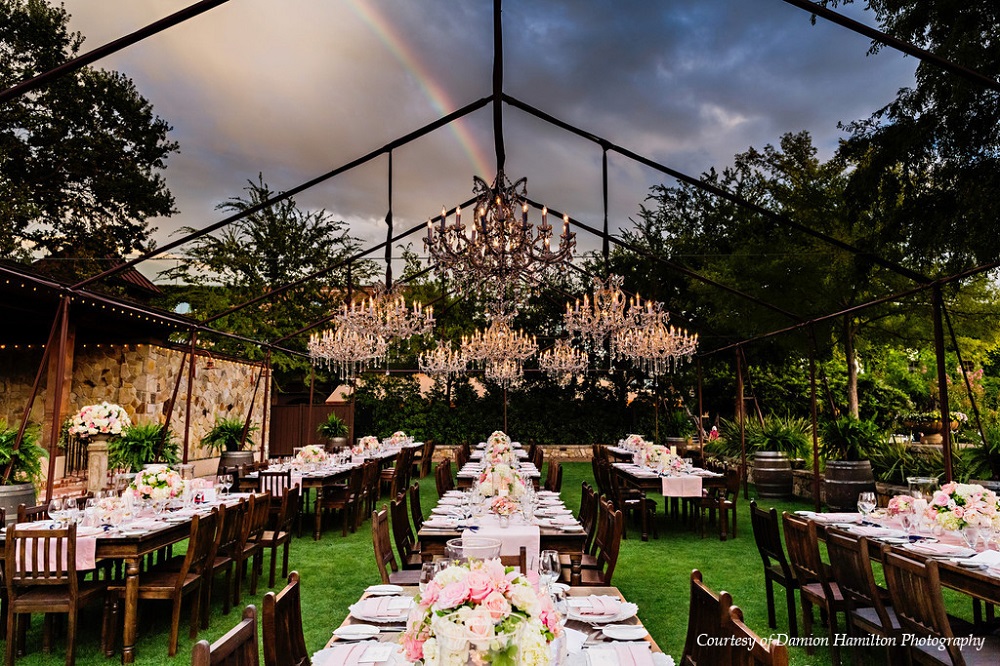 Calistoga Ranch, an Auberge Resort
Calistoga Ranch is a private canyon retreat that boasts Napa Valley's hidden gems of privacy and tranquillity, far from the hustle and bustle of city life. A wonderful place to celebrate your marriage away from the wine tasters and tourists. Its rolling hills are covered in misty forests & bubbling creeks and the freestanding guest lodges embrace the natural surroundings of the peaceful canyon.
You and your guests can enjoy a personal wine-blending session in the wine cave, collect honey from the local beehives, gather eggs from the private chicken coop, and even harvest produce from the ranch's gardens. The entirely private canyon is a beautiful backdrop for your wine country wedding. The private 157-acre canyon is lined with ancient oaks and a serene lake. A majestic wooded setting for exchanging your vows. Host your ceremony on the banks of Lake Lommel or any of the inspiring wine country wedding settings for a romantic experience.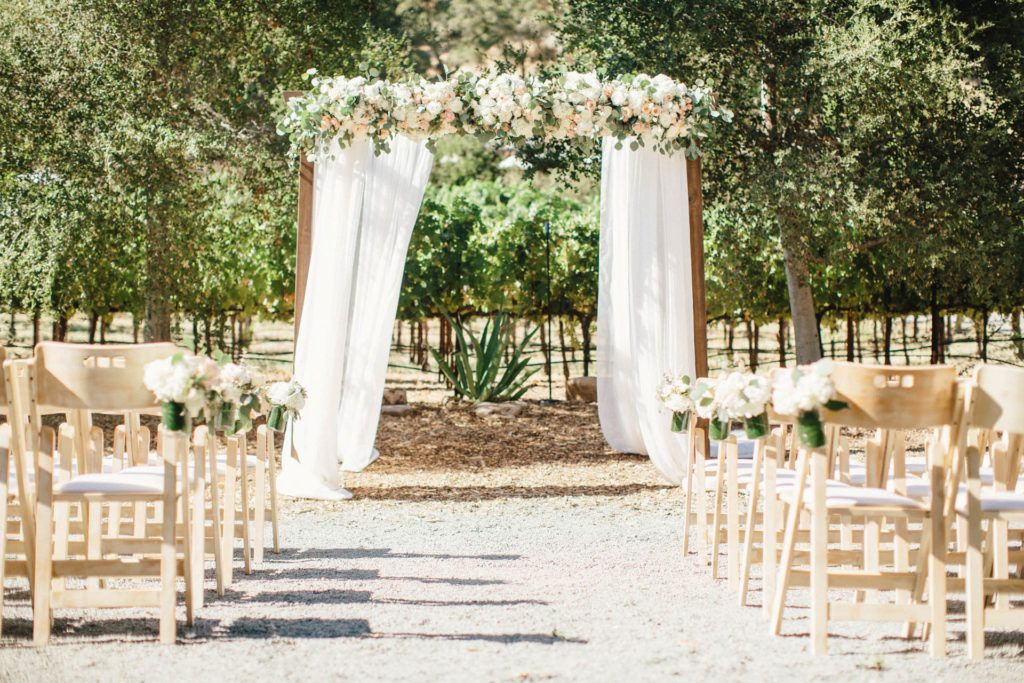 Charles Krug Winery
Tucked away in St Helena is Charles Krug Winery which is Napa Valley's oldest wine estate. Established in 1861, it has more than 157 years of winemaking expertise, making it a wedding venue for royalty. It is home to California's very first tasting room. The heritage alone is enough to make this your first choice for a wine country wedding.
The Redwood Cellar will not only enthrall your guests but be the finest place you can get your wedding wine. The vintage feel, sights, and tastes will make your big day that much more special. You can host a grand outdoor wedding for up to 800 between April and October on The Great Lawn under the property's oak trees. Or you can choose the renovated carriage house, which dates back to 1881. The Charles Krug Winery, named to the National Register of Historic Places in 1974 is a wonderfully decadent and romantic place to say "I do".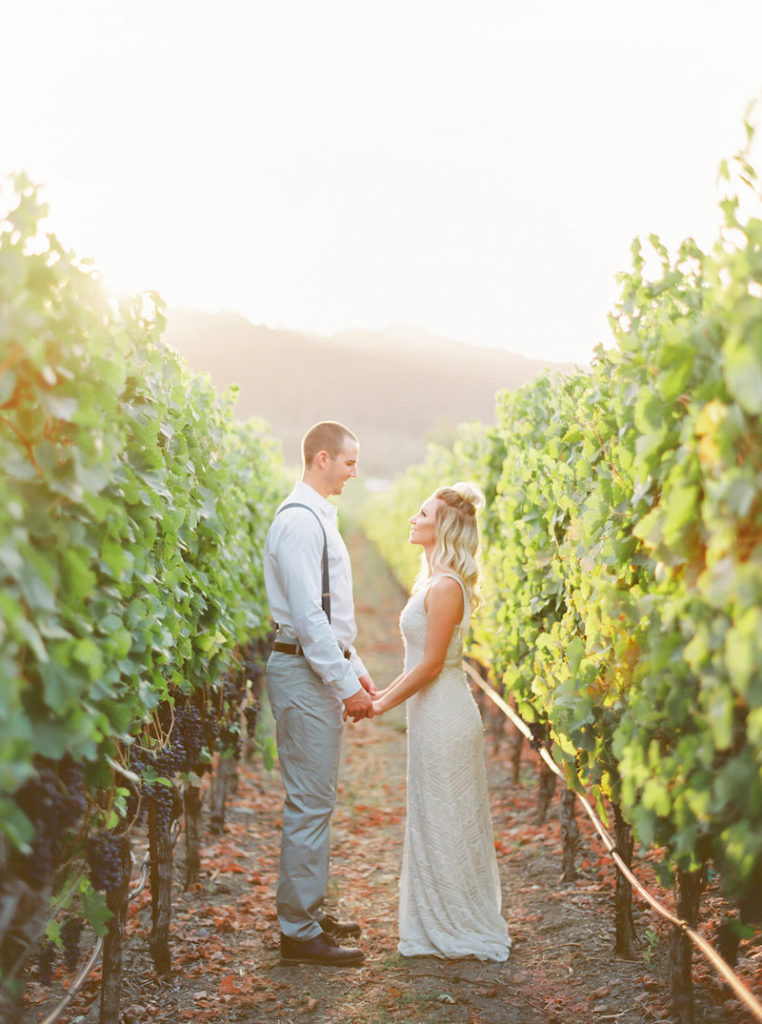 Solage, an Auberge Resort
It was a hundred years ago that Calistoga was a town centered around a bubbling natural hot spring. Today, it's so much more, especially for ardent wine lovers. Solage reflects the vibrant spirit of the area. And here, your big day will be so much more than a wedding. It will be an adventure.
Surrounded by nearby vineyards, you can step into a world of food, wine, relaxation, and celebration as you come together to recite your vows. Here, you can enjoy extensive menu options and modern lodging in stand-alone cottages. The feeling it evokes is warm, intimate, and magical with grand indoor-outdoor affairs at Solstice. The dramatic sliding window walls that open onto two terraces can make for an out-of-this-world affair. However, if intimacy is your goal, there are secluded smaller venues that may better serve you, including the bocce courts and surrounding patio.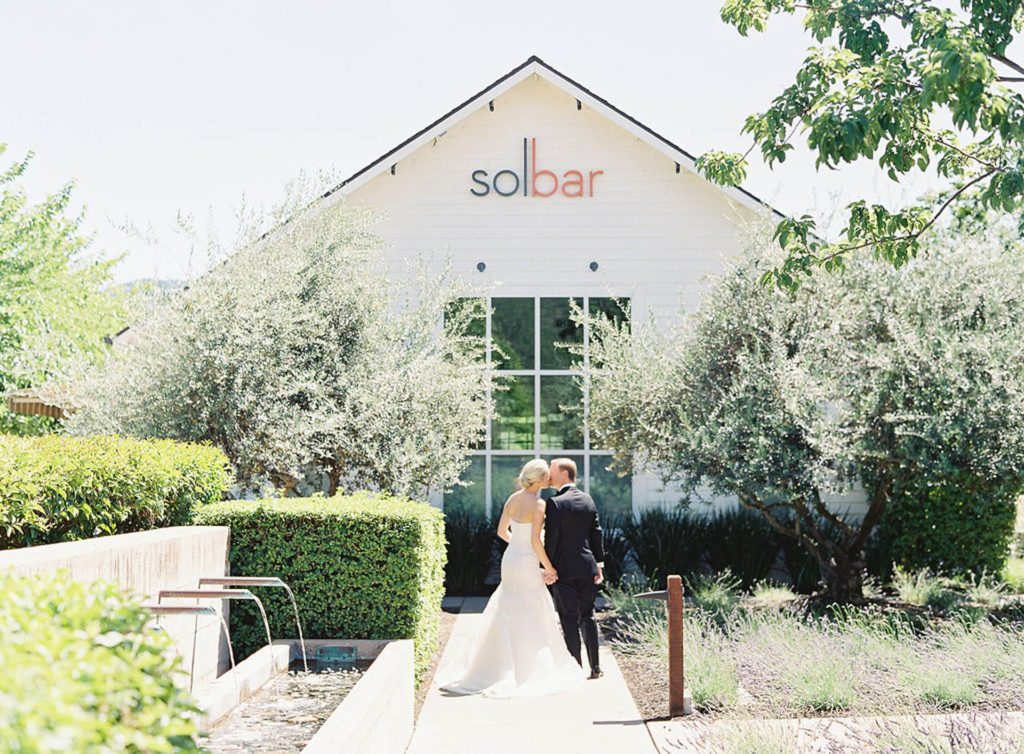 Choose Napa Valley for Your Wedding
As you can see, Napa Valley has numerous offerings for those looking for a unique wedding experience. You just can't go wrong with a Napa Valley wedding! With gorgeous natural surroundings, superb food, plenty of great wine vintages, and a wide selection of luxury venues, Napa Valley should be your destination of choice!