6 Dreamy Wine Country Venues for Your Perfect Wedding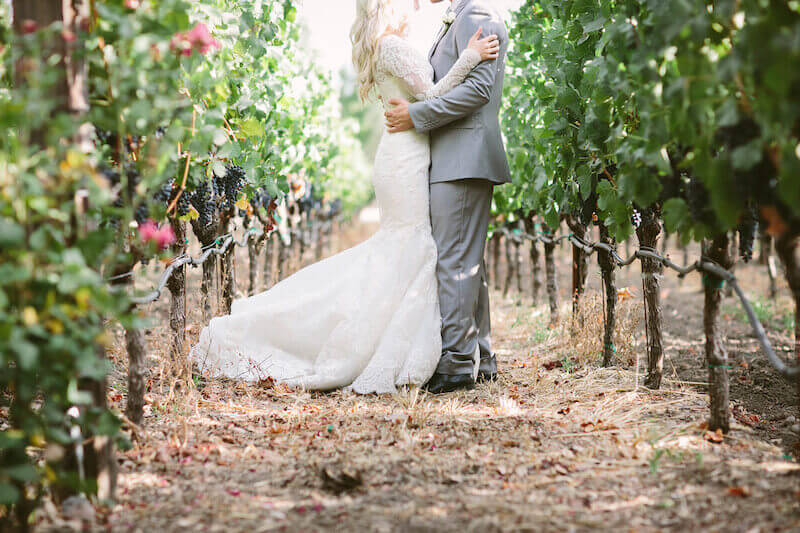 Wedding planning is the one task that can make you go from chilled to stressed in about five seconds. We know you already have plenty of ideas for your perfect day, but the execution part can be a little tricky. We totally understand your need to have a good idea of what your dream wedding should look like. Therefore, we have compiled this guide to the perfect Wine Country venues for the perfect wedding! Think Rosé and a perfect sunset, along with some yummy tapas, and a walk along the vineyards with your fiancé! Wine Country refers to the Northern California Bay Area. Which is known for its vineyards, wineries, and fantastic restaurants. This is the perfect destination to have a fall wedding for a couple of oenophiles, or better yet, a family that loves their chardonnay!
Wine Country Weddings
Having a wedding at a winery gives you a few options. The wedding ceremony can be held between rows of grapevines. Or the reception can be thrown in a wine cave. Even better, the event can take place on a winery patio terrace or a lawn. These weddings are versatile, as you and your partner need only to make the reservations. Then leave the planning up to the staff to create your dream wedding. The hassle with planning an outdoor wedding usually leaves any bride feeling overwhelmed to the point of exhaustion. But if you choose to have your wedding at a winery, you have already cut your planning in half. You needn't worry about a venue, or food and drink. Think Sonoma County or Napa Valley in Northern California for your wine country wedding. Wedaways will help you find the best venue and an exceptional wedding planner.
Why Wine Country?
Wine Country sounds like a dreamy Pinterest page come to life. The vibe of a wedding at a winery is both romantic and aesthetically pleasing. Picture walking down a vineyard after your vows, fingers interlocked with your partner, a glass of your favorite wine in hand, and the sunset behind you. It sounds like a moment right out of a cheesy romantic movie. However, a scene we are sure you would like to recreate with your love. Wine Country in California is your best bet for this ideal setting, and we are here to tell you why.
Pleasant Weather
The weather in Northern California is nothing short of perfect. It is balmy all year round. As a result, it caters for outdoor and indoor weddings alike. The average temperature in the region is quite high all year round. One of the best times to visit wine country is during the harvest season which is from August to October. This is why we love wine country for fall destination weddings. The wonderful weather at this time of the year will allow you to wear an elegant wedding dress without overheating. But in the evening, you can also sport your groom's coat to beat the light fall coolness that will settle as it gets dark.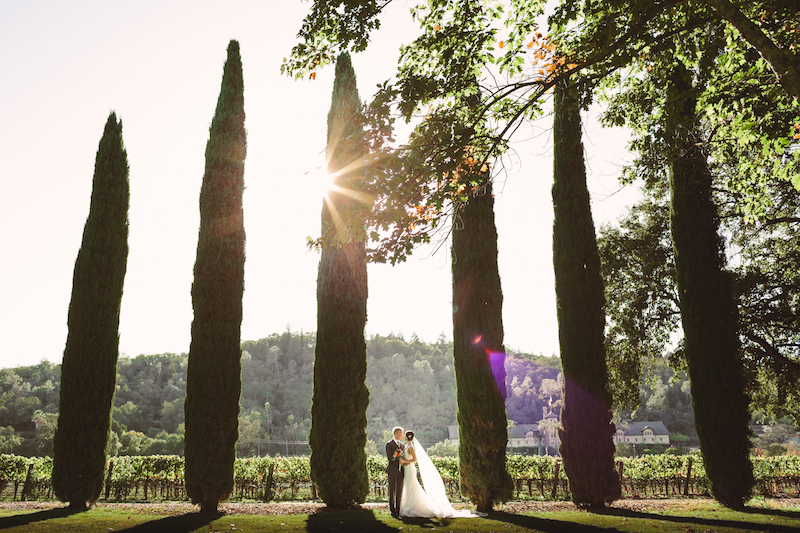 Stunning Scenery
The Northern Californian landscape is something to marvel at. It is all hills and hillocks around, with large, billowing trees that shiver in the cool Californian breeze, and rows upon rows of grapevines. This could be the most serene setting for an outdoor wedding. Northern California's wine country spans diverse landscapes, people and flavors of Napa and Sonoma Counties. The landscape delivers surprises around every corner. This unique setting is both peaceful and relaxing yet vibrant and exciting.
Dual Location
In Wine Country, you can choose from a few properties and boutique wineries that serve as wedding venues. However, almost every venue is so versatile that you can forget the hassle of looking for another location for the reception. You can host an outdoor ceremony in the vineyard, and opt for a reception at the wine terrace, or in a gazebo in a large garden. Most vineyards have the perfect rustic back-up option to move your wedding party in case of wet weather as well. With so many options all at one venue, the wedding planning will be much smoother than usual. As a bonus, most venues provide exclusive accommodation for your guests at the venue as well. As a result, there are no delays, and no traffic to hold you up.
Photo Opportunities
A vineyard is full of scenic backdrops and numerous options for having a wedding photoshoot. The beautiful sights and sounds of the wine country will have your guests in a tizzy to get photographs clicked everywhere. The best part – your wedding album will look straight as it came straight out of a luxury magazine. There are just so many beautiful places amongst the vineyards, throughout the gardens and within the venues for absolutely gorgeous wedding shots.
Great Food & Fantastic Wines
Picking a venue in Northern California means you and your guests get to sample delicious food. Not too mention the wide variety of wines! Make sure to schedule a menu tasting day before the big event. This allows you to taste the offerings in advance before deciding what food and wine to pair together. Most vineries have an in house kitchen which provides an elegant spread for your big day.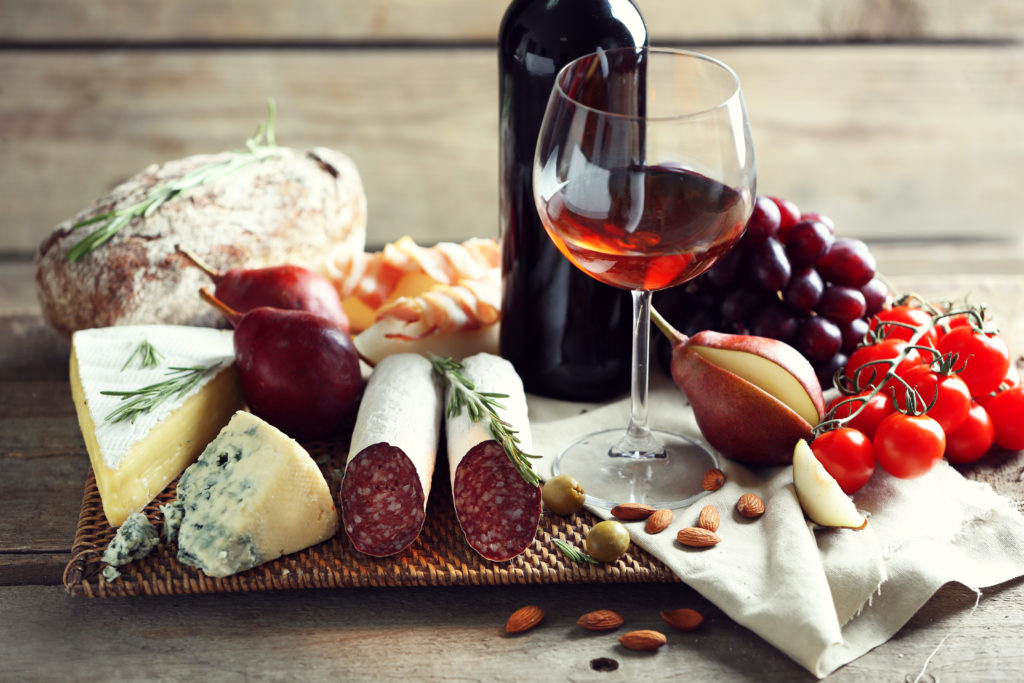 A Fall Wedding in Wine Country

Fall is the only time in the year when you can actually bring out your best summery outfits for the day, and still layer it up for a cozy evening. If you are someone who prefers comfort over extravagance, a fall wedding is for you. Here are some reasons to choose a fall wedding – especially at one of our dreamy wine country venues!
An Outdoor Wedding
Not everyone likes to get married in a church, with their family sitting around, and the organ playing the bridal march. Sometimes, going the unconventional way can make all the difference. Try walking down the aisle surrounded by rows of grapevines, while the air is crisp with that fall chill, and the sun shines down in its golden glory. Think of a Mediterranean alfresco reception. Then consider cozy evenings in the company of friends and family sitting around a blazing fire. Sounds idyllic to us.
Elegant & Stylish Wedding Attire
A summer wedding can be a lovely event, but also extremely hot. When the weather is too warm, the wedding attire can quickly feel uncomfortable. A fall wedding in the temperate wine country region offers the perfect climate. It is still warm enough for an outdoor ceremony and reception, but not so hot that the wedding party fades. This allows more options for elegant and stylish wedding attire such as high neck dresses, or long-sleeved dresses that just look so graceful and flattering.
Beautiful Fall Colors0
The scenery in Wine Country is already gorgeous. To add to this beauty, all the colors of fall would make for wonderful additions to the wedding party. You can include rustic looking wildflowers for centerpieces, or you can carry a bouquet of auburn down the aisle. Fall hues bring out the chicest rustic ambiance to any wedding. Maybe a wooden outdoor dining table and decor to match the scenery.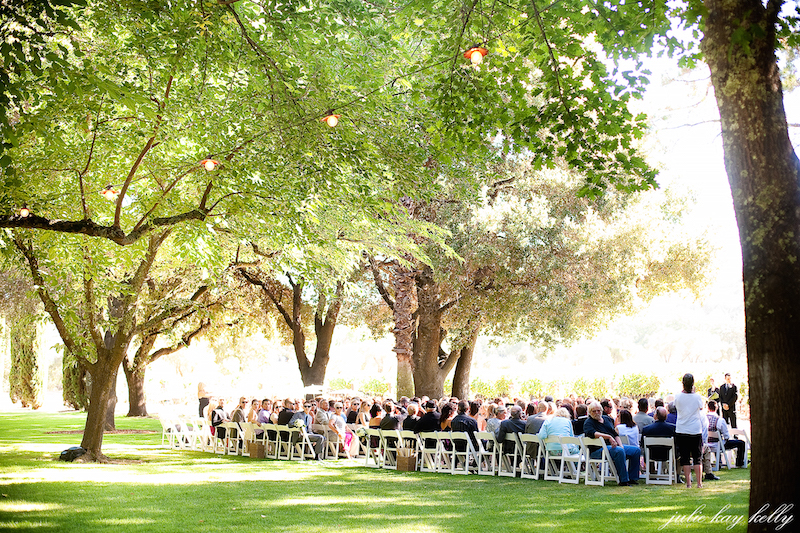 Why Choose Northern California
For those who enjoy European architecture Mediterranean sceneries, a wedding in Napa Valley, or Sonoma County, can be the perfect substitute. The charming architecture of  Wine Country, coupled with a great winery that keeps the wine flowing and food served – may just be the vacation of a lifetime for your guests. Fall is really the most idyllic time to host a wedding. In Wine Country, numerous venues for hosting weddings can be found. Most of these venues allow the bride and groom to add some personal touches to the styling and decorating, making this the most wonderful time of the year, indeed. Our team at Wedaways have just the venues in mind, to make your wine country wedding unforgettable:
Calistoga Ranch
Calistoga Ranch is part of the Auberge Resorts Collection in Napa County. The resort itself is 27 miles from the Napa Town, at the north end of the Valley. This resort is a 157-acre area on the banks of stunning Lake Lommel. The area is known for its healing waters and spas, making it a complete escape from the outside world. Calistoga Ranch offers a personalized experience with unique planning options. The Ranch has 50 guest lodges to accommodate your wedding guests and a 150 person capacity for your reception. You can look at their wedding toolkit to make a decision about the venue and reach out to us for the best deals.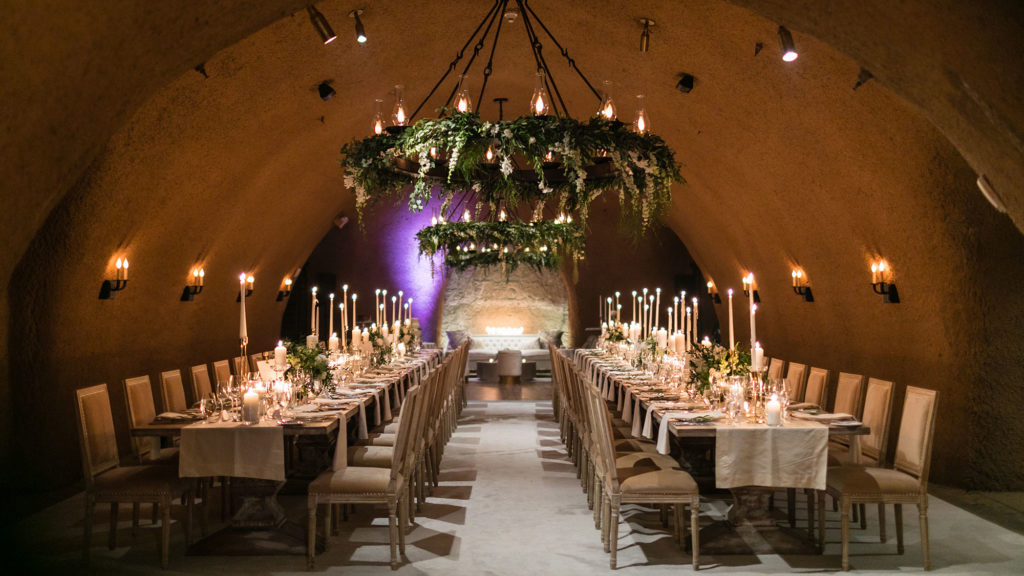 Charles Krug Winery
The Charles Krug Winery is one of the oldest wineries in Napa, going back almost a century. They are open to tastings and have a great heritage and rich history. Located in St. Helena, the winery is only 18 miles away from Napa Town. With wine tastings, artisanal cheeses, and a lot of wine to go around, this venue should be on the top of your list. The Charles Krug Winery can accommodate up to 300 guests from your wedding party and has space for 800 people for an indoor reception or party. The historic Carriage House and Great Lawn are the perfect settings for your wedding.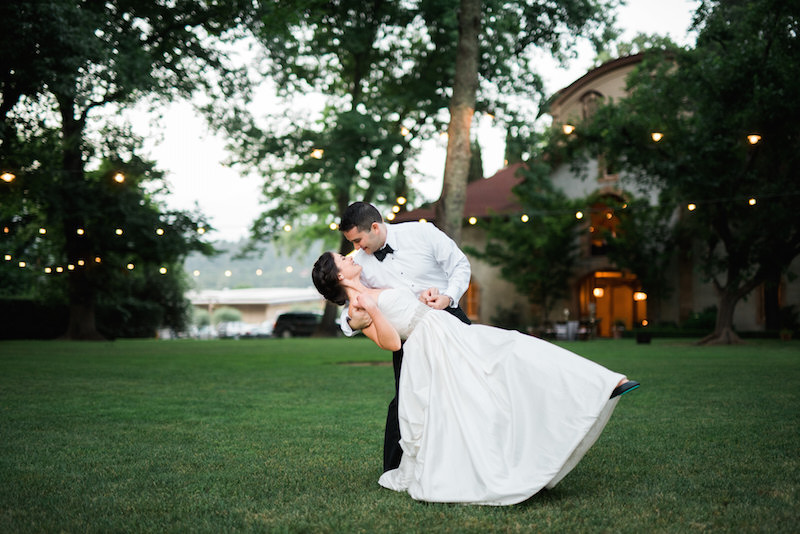 Solage Calistoga
Another one of the Auberge Resorts, Solage Calistoga, is a venue that will help you in accommodating local traditions in your wedding. They also specialize in personalized wedding experiences, aiding in the planning of the wedding day of your dreams. Solage is located in Napa Valley, across a 33-acre venue, where old oak trees line the horizon, and hills complete the scenic view. They offer numerous amenities like a wine tasting at the chef's garden or private yoga classes for your bridal party. With Michelin Star dining experiences, Solage can house your guests in their 89 cottages and 6 suites. Their capacity for hosting a reception is 260 people.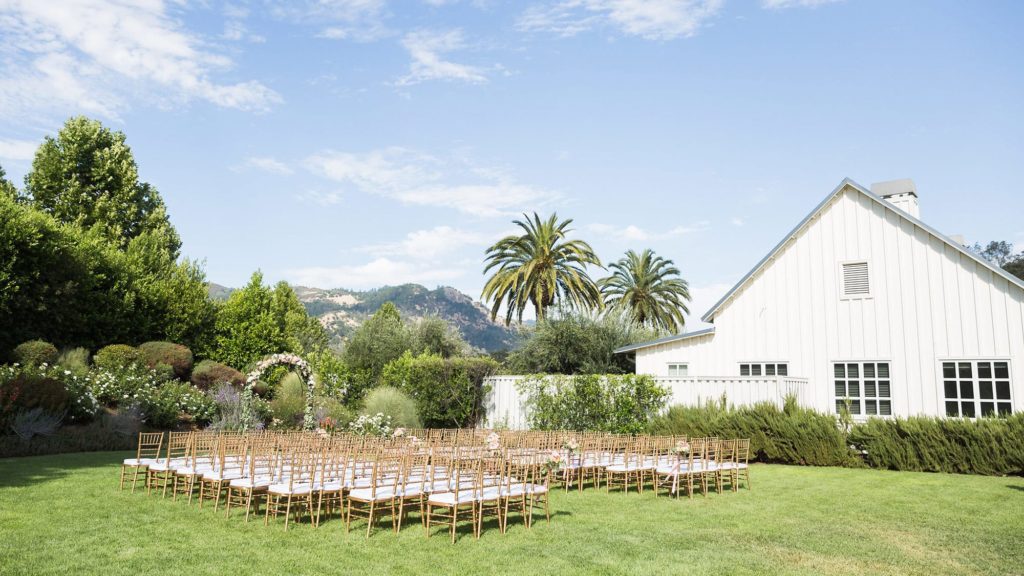 The Inn at Newport Ranch
The Inn at Newport Ranch is not exactly in wine country but is still within the lovely Northern California region. Located five hours north of San Francisco Airport (SFO), the 2000 acre property is right by the ocean. They have been featured in magazines such as the Conde Nast Traveller and Travel Leisure. At the banks of the Mendocino Coast, their 'Celebration Point' is open for wedding bookings, and receptions are held in the Newport Room. The reception room has a seating capacity of 49 guests. For an outdoor reception, the West Lawn provides seating for up to 100 guests. Newport Ranch also offers Council Buffs, which is a signature spot at the resort and comes with a fire pit.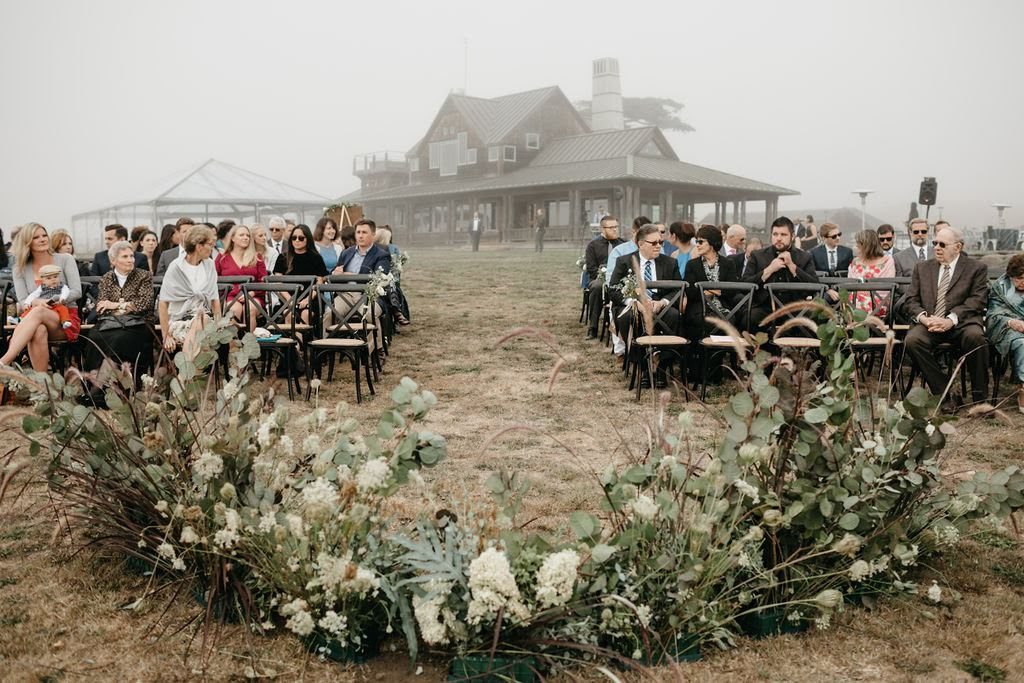 Hotel Villagio
On the gorgeous Estate at Yountville in Napa Valley, you will find the remarkable Hotel Villagio. This hotel is one of two on the property and exudes a contemporary yet sexy vibe that is complemented by their fantastic facilities. Hotel Villagio provides plenty of homey comforts that encourages guests to settle in and stay longer. There are numerous guest rooms, suites and even a 5-bedroom villa (The Villa) which makes it the ideal buyout venue for your destination wedding. Although all rooms and suites at Hotel Villagio are spectacular, The Villa with its private pool, Jacuzzi and other luxury amenities really stands out. Besides this, the venue spaces offered at the Estate at Yountville are superb. Choose between the various venue spaces they offer such as the picturesque Vineyard, The Grove Patio, the chic Social Farmhouse, The Barrel Room, and The Pavillion.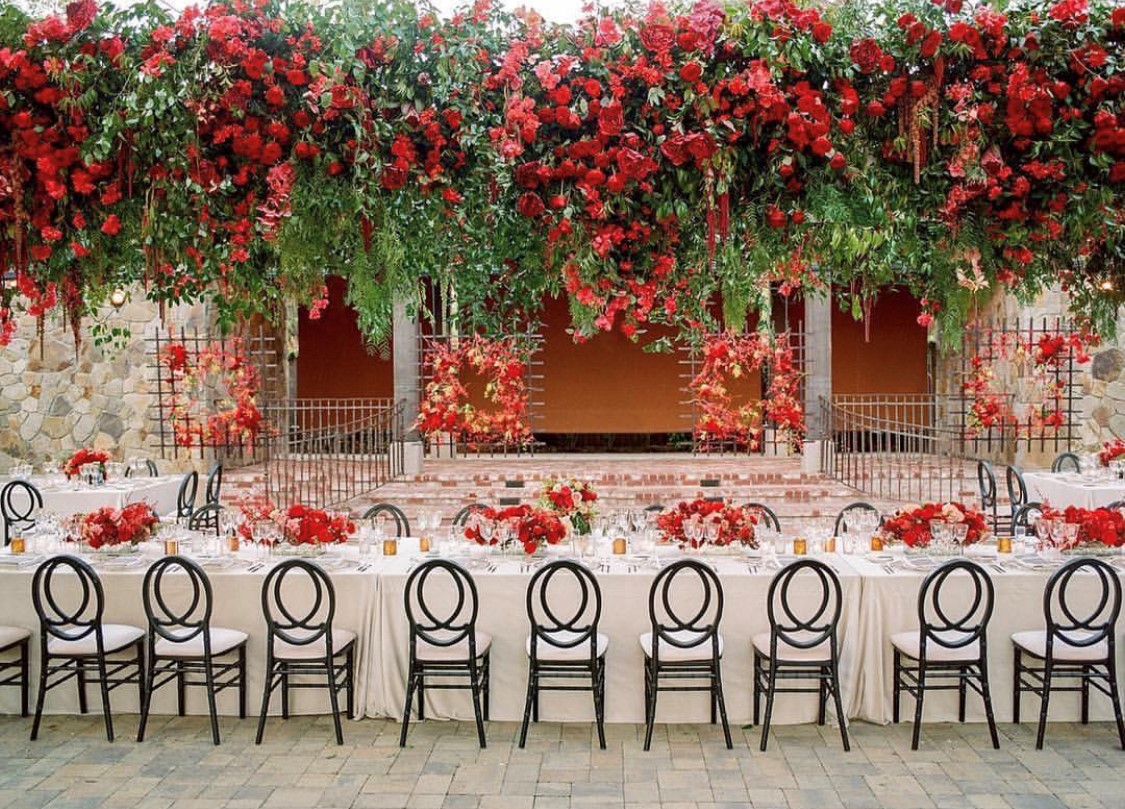 Vintage House
Another lovely property found on The Estate at Yountville in Napa Valley is Vintage House. Here you will find 80 luxury cottages set on the lush countryside landscape that includes the vineyard. The stunning setting will have you feeling as if you are in Tuscany or even Provence. As a result, Vintage House is also ideal as a buyout property for your destination wedding. With an intimate yet relaxing vibe, Vintage House is perfect for a destination wedding venue or even just for couples on a honeymoon. Vintage House offers an all-encompassing luxury experience that will appeal to even your most discerning guests. Nature is ever-present and the calming water-features in the public spaces adds to the peaceful energy. The property shares the same venue spaces as mentioned for Hotel Villagio but the actual accommodation has a distinctly different ambiance.