5 Most Popular Jewish Wedding Traditions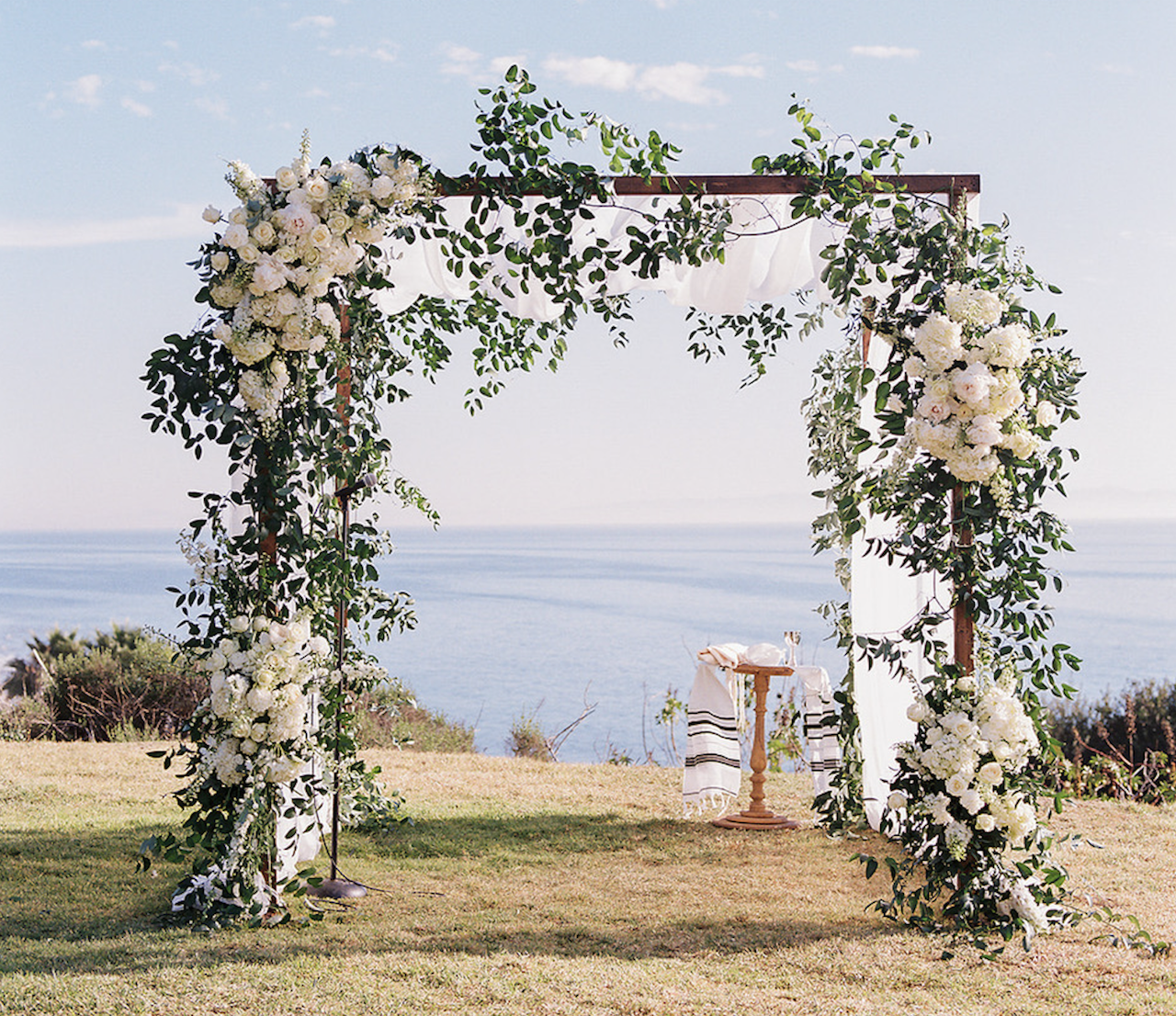 Destination wedding planners have the honor of working with couples from all over the world. They produce beautiful, memorable, unique, one-of-a-kind wedding experiences. With such diverse clientele, they've seen and worked with hundreds of couples who have different backgrounds, cultures, traditions, and religious affiliations. Seeing the rich heritage and traditions that so many families incorporate into their celebrations expands their knowledge and expertise. Jewish wedding traditions are often favorites among wedding planners, and of course, guests! There are some non-negotiables that are present in every celebration, and that promise goosebumps every time. The deep symbolism, the beauty, and the ancient traditions are rich and inspiring.
Often couples from different cultures or traditions come together in celebration of their love with blended ceremony attributes. They want to honor their heritage but not necessarily have a full-blown religious ceremony. It can be challenging to navigate different expectations surrounding a wedding day, especially regarding the ceremony itself. Often couples want to honor their past, acknowledge their presence, and celebrate their future in a personalized wedding ceremony. This personalization makes the experience unique to them. Hence the "hybrid" wedding ceremony. And while couples may not want a full, traditional Jewish wedding, there are common traditional elements that a majority of couples incorporate into their custom wedding ceremonies. Here are the 5 most popular Jewish wedding traditions celebrated by couples all over the world.
The Chuppah.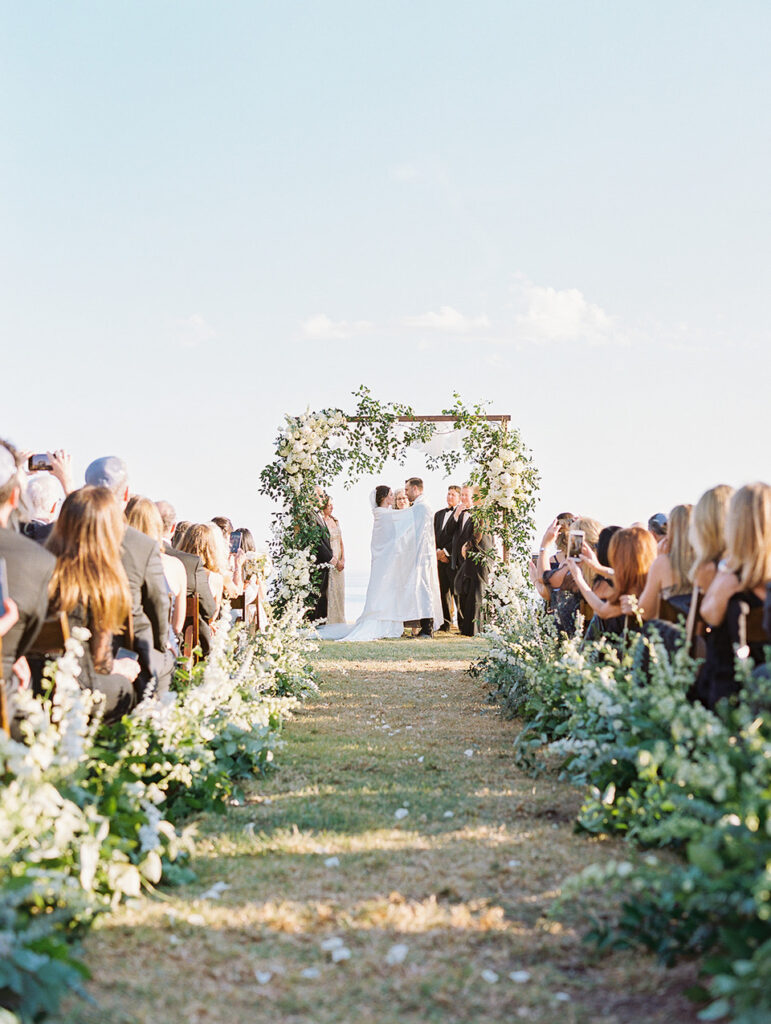 Symbolizing the home, the chuppah, or wedding canopy under which the couple stands, in one form or another, is a staple in almost all Jewish wedding ceremonies, from reformed to ultra-orthodox. It is a central focal point of the ceremony and often a favorite element for the wedding planner to design.  Not only is it beautiful, but the symbolism of starting a new home together, open for hospitality, is such a beautiful tradition!  Some couples invite their parents to stand under the chuppah alongside them; others choose to stand alone with their rabbi or officiate.
The Ketubah.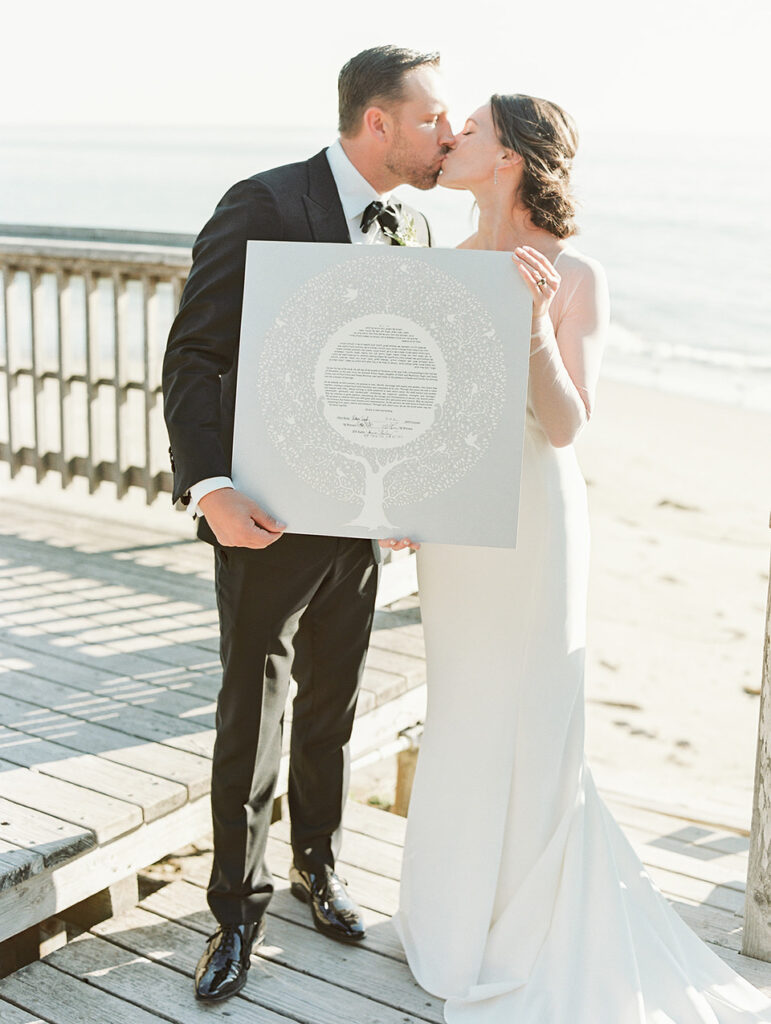 The Ketubah is the Jewish marriage contract. They are often signed before the ceremony surrounded by the couple's closest family and friends. Couples may choose to incorporate this tradition into their wedding ceremony, reading it in part or in full under the chuppah. The Ketubah can be and often is a beautiful custom work of art. Many couples frame it and hang it prominently in their home.
The Kiddush Cup.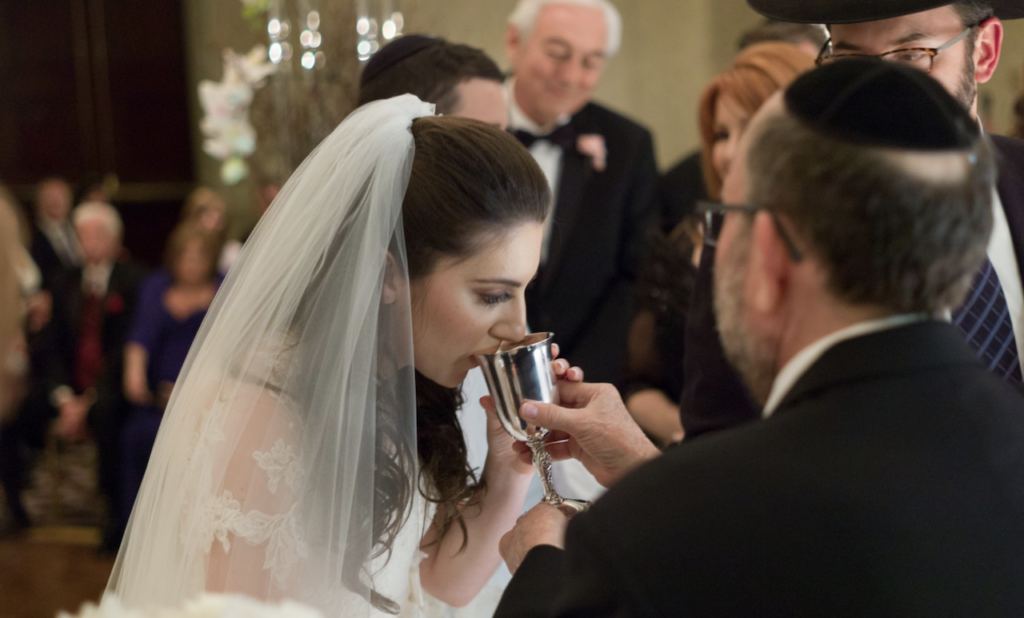 A Kiddush cup is a ceremonial wine glass. From simple crystal to ornate silver, it is often considered an heirloom item passed down from generation to generation. During a Jewish wedding, there are two times a couple will drink from the Kiddush cup filled with wine after a blessing has been said by a relative or friend given this honor, or by the officiate. Some couples choose to just do this one time.  
The Seven Blessings (The Sheva Brachot).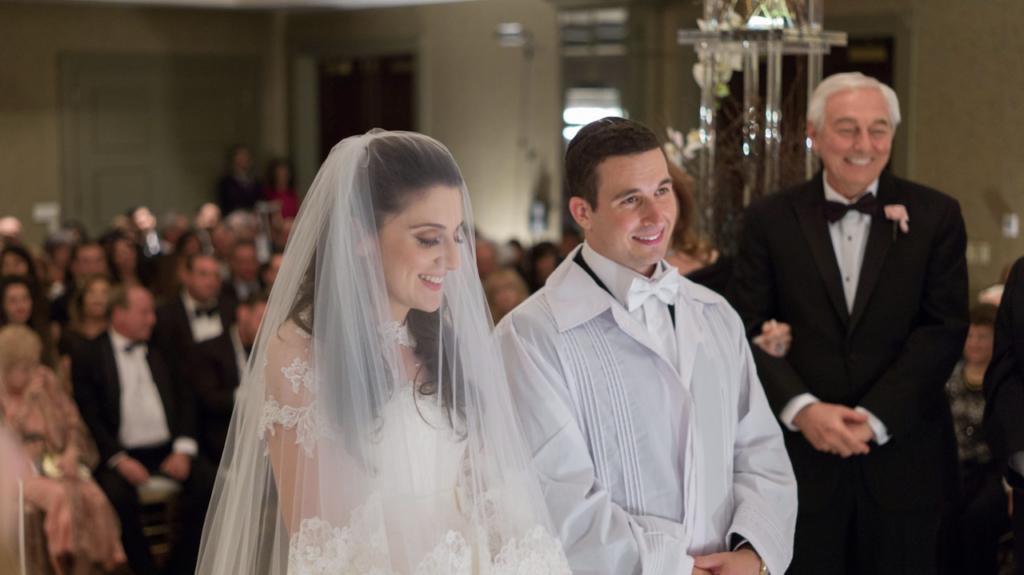 This is another favorite tradition. The Rabbi (or officiate) and the people under the Chuppah (sometimes all the guests in unison) sing or read these beautiful blessings over the couple. These melodic blessings are beautiful when sung in Hebrew. Sometimes couples choose to have them read in both Hebrew and English. The prayers praise the Almighty and his presence in the relationship between God and man.  
The Breaking of the Glass.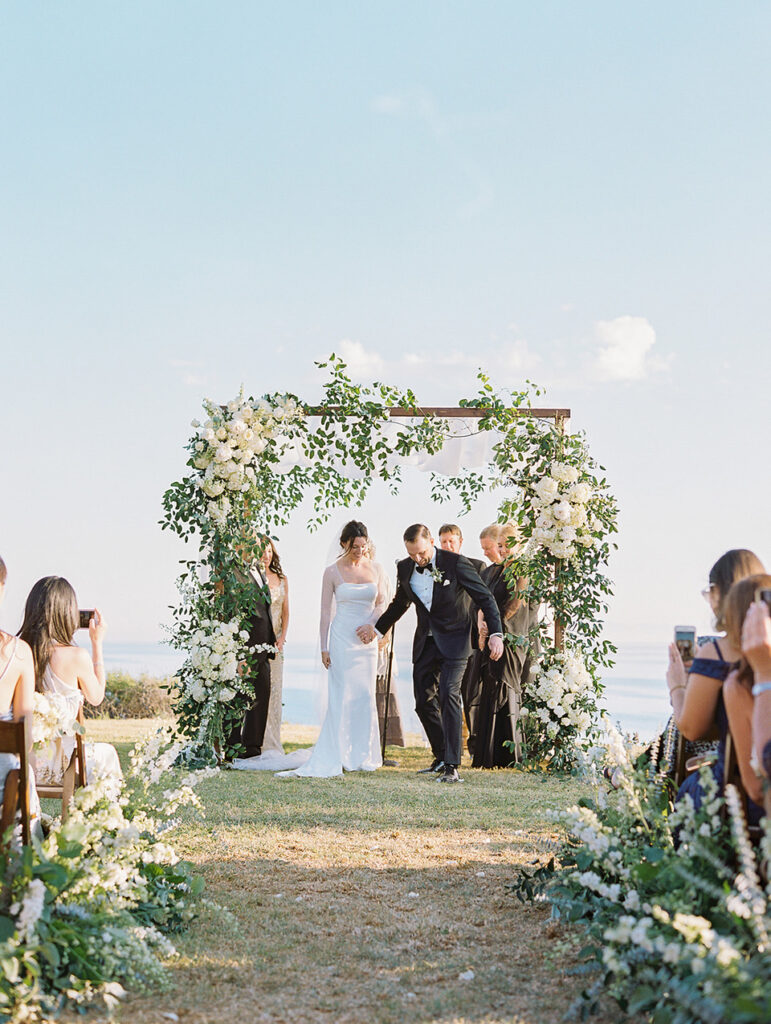 At the end of the ceremony, the breaking of the glass symbolizes the destruction of the Jewish Temple in Jerusalem and also the finality of marriage. The groom is the designated person to break the glass. However, some couples may choose to modernize this tradition by both the bride and groom stomping on a glass! We've heard it said that it's the last time he'll (or she'll) ever put their foot down!
The Jewish wedding ceremony is so rich and full of beautiful tradition – there's so much more detail we can write about than the five customs we've listed above! We'll save it for another time.
For many couples, having a full, traditional religious ceremony is a significant part of who they are and where they've come from. We stress the importance for couples to pursue the ceremony they envision. For those who would prefer to honor their heritage but create a hybrid ceremony that is more reflective of who they are as a couple, incorporating some traditional elements along with the less-traditional ones, will create a special, unique wedding ceremony. It's important to honor your past and celebrate your future as you dream of and plan your wedding ceremony. As more couples come together from different backgrounds, it's ok to incorporate traditional elements from your upbringing into a wedding ceremony that is the right fit for you both.
Read more about wedding customs & traditions.
Sentimental Wedding Traditions From Around the World
Each heritage has their own set of wedding customs & traditions they incorporate into their celebrations. Read about the world's richest in our collection of articles on the subject.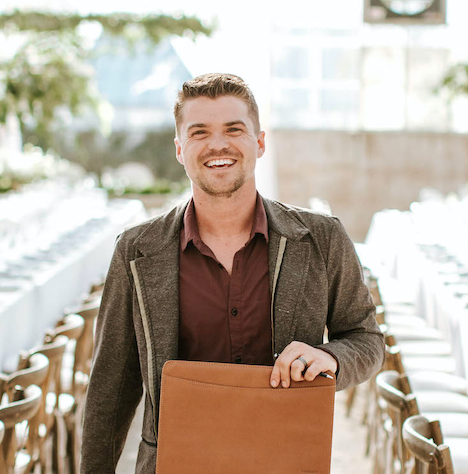 This article was contributed by Tyler Speier, a luxury destination wedding planner, designer, and florist based in Santa Barbara, California.