An Italian Dream Destination Wedding Styled Shoot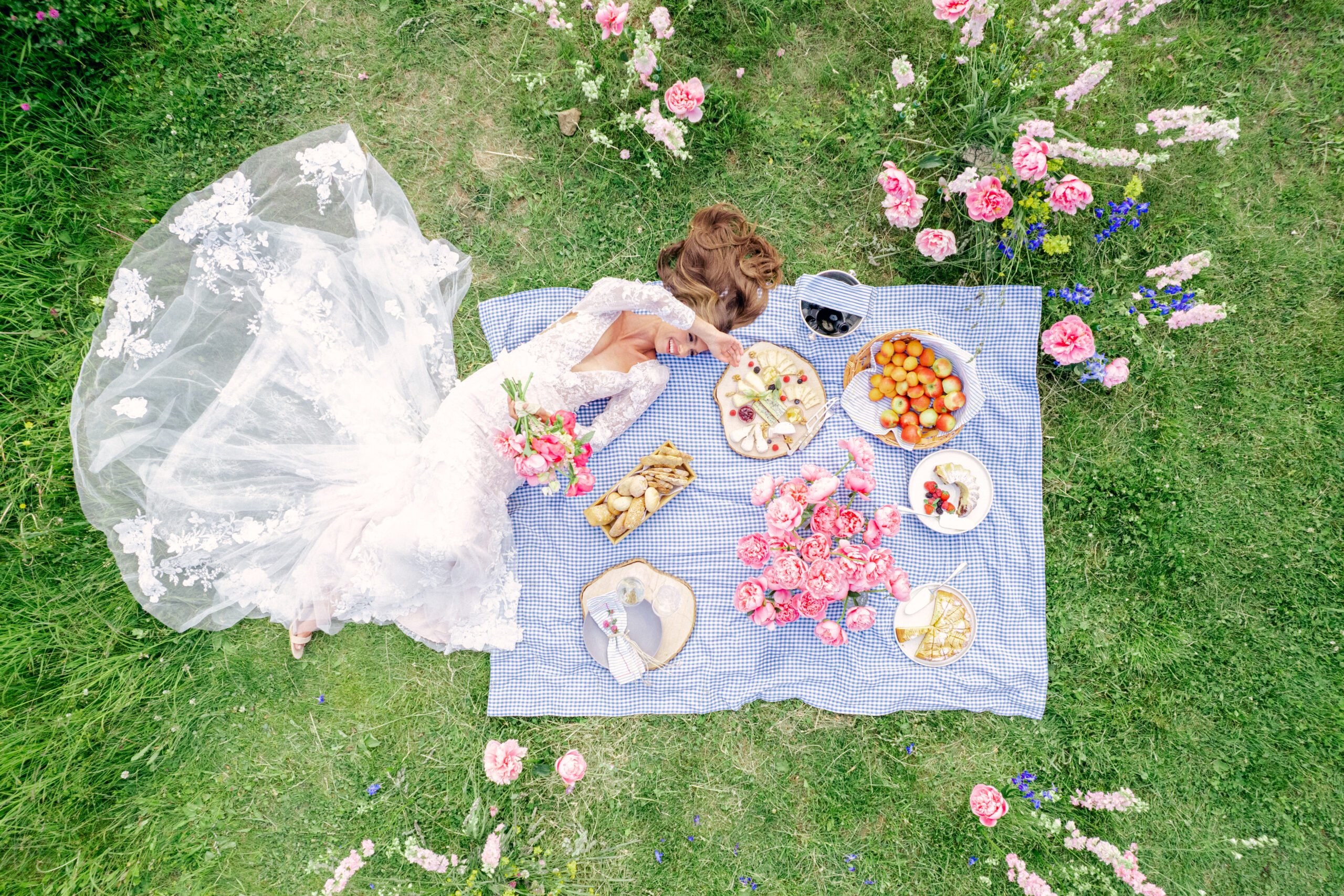 We told you all about Wedaways Wedding Styled Shoots, what they are, and why we do them before (if you missed it, here it is: Destination Wedding Styled Shoots: What They Are and Why We Do Them).
Since then, Wedaways ventured on its biggest and boldest Styled Shoot to date. Twelve days, one faraway country, two beautiful cities, and three magnificent properties. As a Wedaways team member, I was lucky enough to be part of this wonderful experience. And, of course, I have to tell you all about it. Strap in!
A Team That Became a Family
With a belly full of flutters , I looked down at the jaw-dropping view of enchanted Venice. I was finally in Italy, a few hours away from starting one of the best experiences of my life!
I was excited to officially meet the first two members of what would become our big "Italian" family. Shaye and Aaron, photographer and videographer extraordinaire at Redamancy Photo and Film, accompanied me on an exciting trip to Asolo, filled with laughter and discovery.
As soon as we arrived at our destination, Renée, our wonderful CEO at Wedaways, and her amazing husband, Michael, were there to welcome us with the most cheerful greetings and warmest hugs. I then met the powerful Watters force, a trio of truly inspiring women from our fabulous fashion partner: Maria, Xay, and Sydney.
After a quick one-night stop at the spectacular Hotel Villa Cipriani, we started our journey up the mountains into the imposing Italian Alps. But before making our way to the Dolomites, one more member of our A+ team joined us: Nicole, the exceptionally talented destination hair and makeup stylist at Samara Beauty.
Full of excitement and a bit fearful of the winding, cliffside road, we embarked on our journey to the very first property, Ciasa Salares. Upon arrival, we met our last (but certainly not least) Styled Shoot family members. With Pina Cate, a creative genius and top wedding florist, along with her beautiful team and family, Wax, Ligia, Maru, Luis, and little Lorenza, our team was now complete!

Finding a Home at Ciasa Salares
The Start of a Wonderful Journey
The first sight of Ciasa Salares was striking. The homey chalet-style hotel, enclosed by the majestic Alpine mountains, blended perfectly with its surroundings. As soon as we arrived at the property, we were enamored by the outstanding hospitality of the owners. The Wieser family made us feel instantly at home while thousands of miles away.
We took the afternoon off to explore the hotel and the countless awe-inspiring views. And, of course, we started to unpack and gush over all the dreamy dresses that Watters had designed. Plus, everyone went down to the garage to take a little peek at the immense array of colorful, lush flowers. Seeing all these little elements for the first time left a sense of inspiration and eagerness in the air.
As the sun went down, we moved to Ciasa Salares' Michelin-starred restaurant to experience our first family dinner. While enjoying the most unbelievably delicious cuisine, we got to know each other better and went over the plans and hopes for the next day.
The Styled Shoot Hustle and Bustle
We woke up refreshed and ready to start building a dream Dolomite wedding, even with a 5 AM call time! The sun was not out yet, and everyone was busy. Dresses were being steamed, models were getting glammed, and beautiful, flowery picnics were being set up. Once the gorgeous morning light surfaced over the mountain, we were ready to capture the charming wedding set-up.
The remaining time at Ciasa Salares went by in a heartbeat. Filled with wonderful tabletops and floral creations, heart-stopping wedding dresses, and other-worldly shots of stunning models, our days were spent running around trying to perfect the captured images. From endearing shots of the wonderful Wieser family and their precious little dog to romantic shots of the wine cellar and even gorgeous shots of a couple of friendly alpacas, the styled shoot at Ciasa Salares blew away our expectations.
Even so, when it came time to say goodbye, there was a sense of sadness mixed in with the excitement of discovering our next thrilling destination, Alpina Dolomites.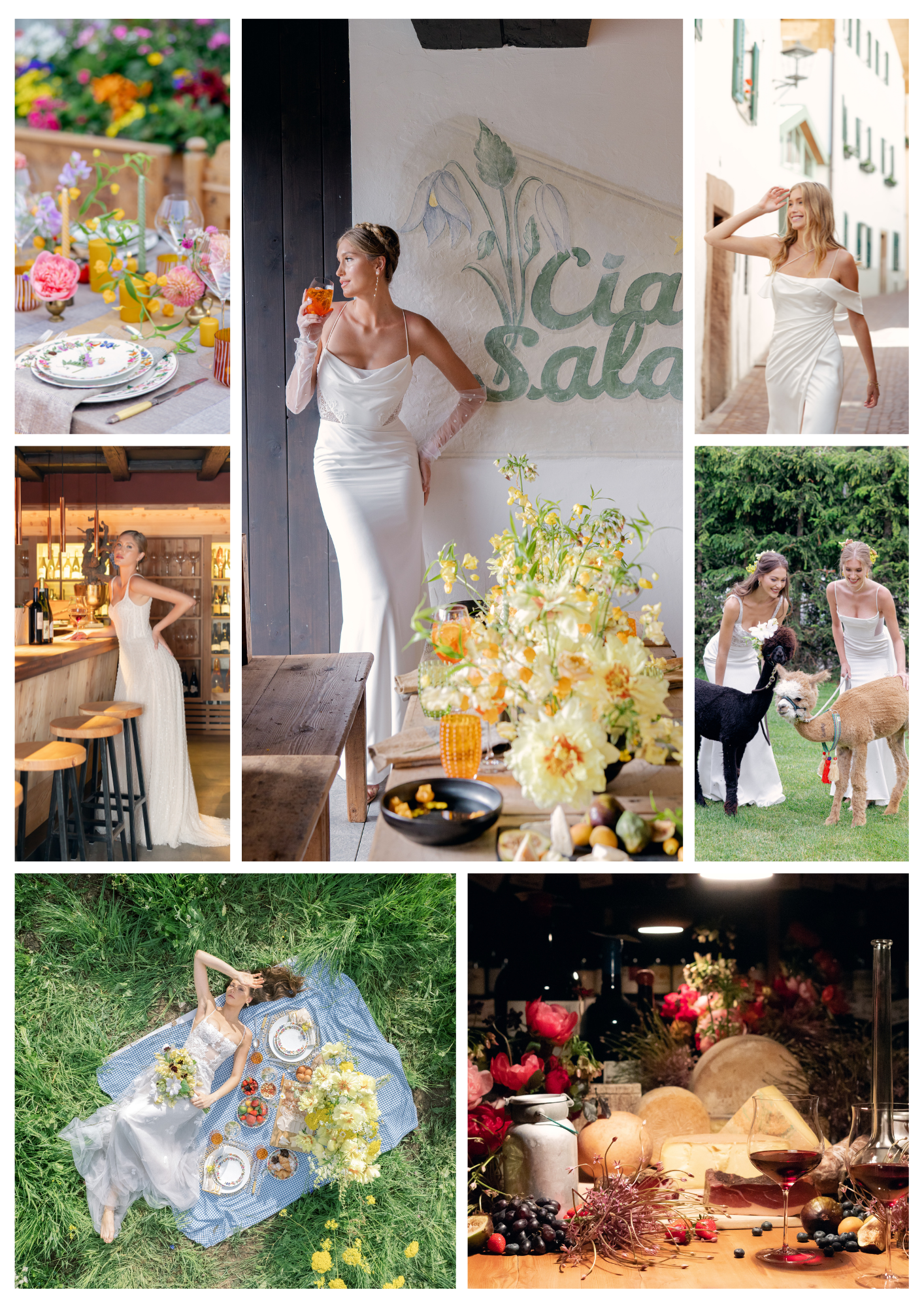 Alpine Grandeur at Alpina Dolomites
A Striking First Impression
After only a couple of hours, we saw Alpina Dolomites for the first time. We were awe-struck. The imposing round building and the grand architectural entrance, in conjunction with the majestic mountain background, left the group speechless. A feeling that only increased while we continued to explore the property. From the elegant furniture and rich décor elements to the grand floor-to-ceiling windows and refined atmosphere, Alpina Dolomites is the location for a Dolomite ultra-luxurious experience.
While some wandered around the property, finding inspiration in every corner, others unpacked dresses, beauty supplies, and flowers. We were getting ready for the magic we all knew was about to be created. After a lively family dinner – and some superb food, may I add – we went up to our new lavish rooms to rest before another big day in the Dolomites.
A Sophisticated Feel
The styled shoot at Alpina Dolomites felt very different than the one we had just experienced. Our Ciasa Salares dream wedding was all about passion, warmth, and a feeling of home. However, the vision for Alpina Dolomites, required a grander, more sophisticated touch.
Elegant brides contrasting towering angled facades; sophisticated couples in flower-covered swings; floating veils in ethereal wedding ceremony set-ups; romantic, adorned chariots driven by gallant horses; graceful models in steamy, lake-like pools. These and many more beautiful wedding moments were captured in three days filled with hard work and non-stop running around, but also with laughter, celebration, and friendship.
As it came time to say goodbye to the Dolomites, we were feeling nostalgic. The region and the two stunning properties we visited – along with our wonderful hosts – provided us with boundless inspiration, outstanding hospitality, and the dreamiest backdrops for wedding splendor.
With only one more property to visit, the end of our Italian dream was in sight. But what a location to end it on! We took the cable car down the mountain for a final view of the Alps, waved goodbye to the stunning Alpina Dolomites, and headed to Villa La Massa in captivating Florence.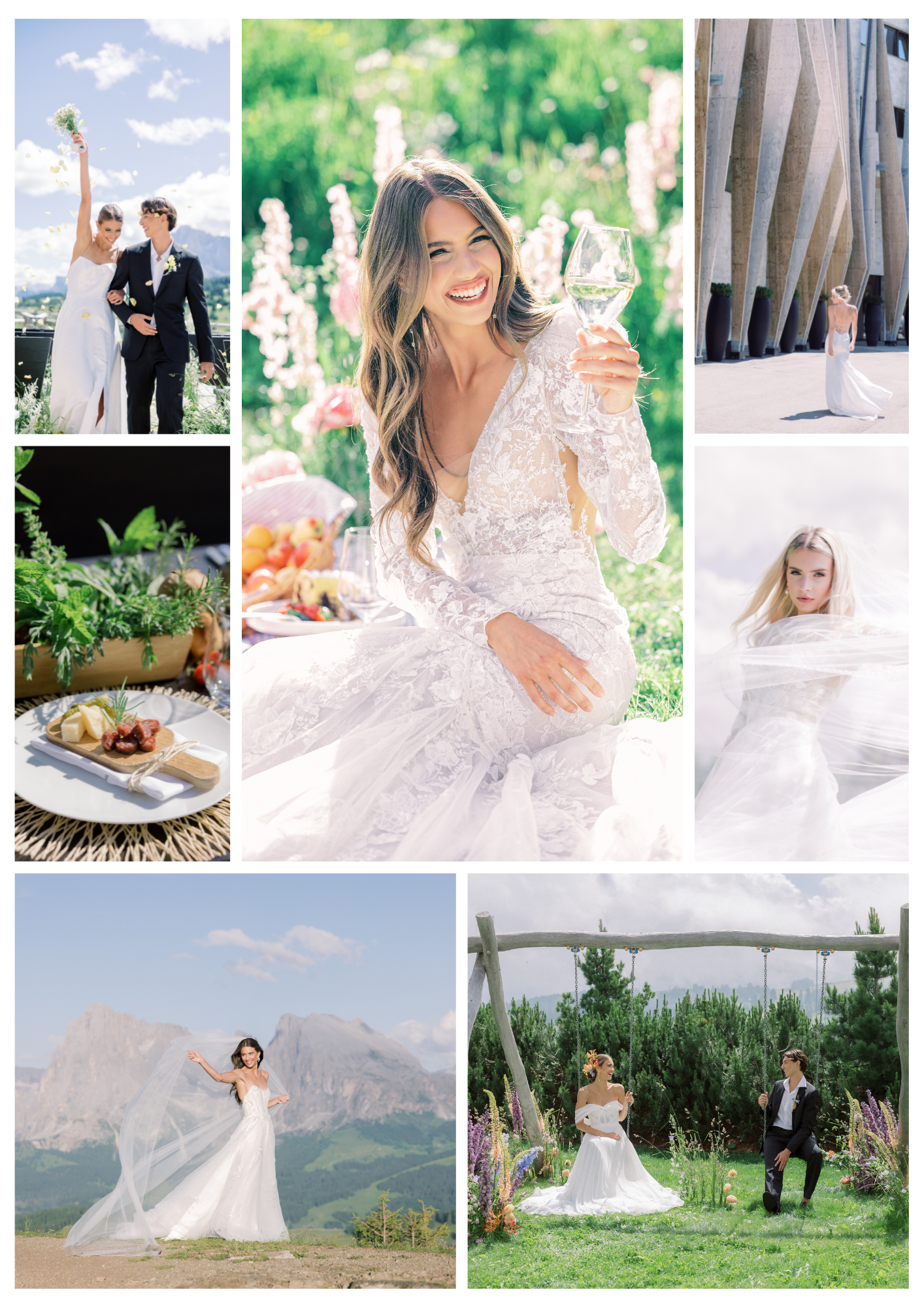 Embracing Heritage at Villa La Massa
A Fairy-Tale Location
After a long 5-hour drive, we finally arrived at the exquisite Villa La Massa entrance. The soft tones of amber, the serene echo of the running river, and the vibrant greenery struck us. We felt as if we were in a beautiful scene in a romantic movie.
Our journey in the majestic Tuscan country home started with a delicious poolside lunch. Conversation flowed with the excitement of experiencing the property and the dreams of what the next days would bring. The anticipation deepened as we explored the various wistful settings, each more inspiring than the one before.
Once we were settled and acquainted with the Villa, some took the shuttle to the city and delved into the magic of Florence, while others enjoyed the warm sun and the crystalline pool water. Later that day, the family came back together for our first Florentine dinner, complemented by the fantastic view of the Arno River.
Beauty, History, and Heritage
The styled shoot frenzy started the next day at dawn. A new set of stunning dresses, a fresh batch of vibrant flowers, and a refreshed enthusiasm on everyone's mind marked the start of the shoot.
Villa La Massa had a very different feel than the other two properties we visited. The hotel's blend of Renaissance aristocracy and contemporary Tuscany inspired us to create a more classic, traditional Italian wedding concept. With big flowy dresses, chic hair and makeup looks, and extra floral (and fruity) set-ups, our dream for Villa La Massa was built on the property's unparalleled beauty, history, and heritage.
Colorful tabletops surrounded by a sea of greenery; elegant models holding dramatic flower bouquets; breathtaking views of the Tuscan countryside; majestic climbing florals embracing the warm-toned building… Each shot captured the exciting and fantasy-like essence of the property.
On our final shoot day, we visited the center of Florence to depict the region's magnetism. The images were striking. Shots of brides walking down the beautiful streets, admiring the imposing Duomo facade, smiling at a charming vintage carousel, and many more were captured. And witnessing these moments, we could feel the dream of a Florence wedding.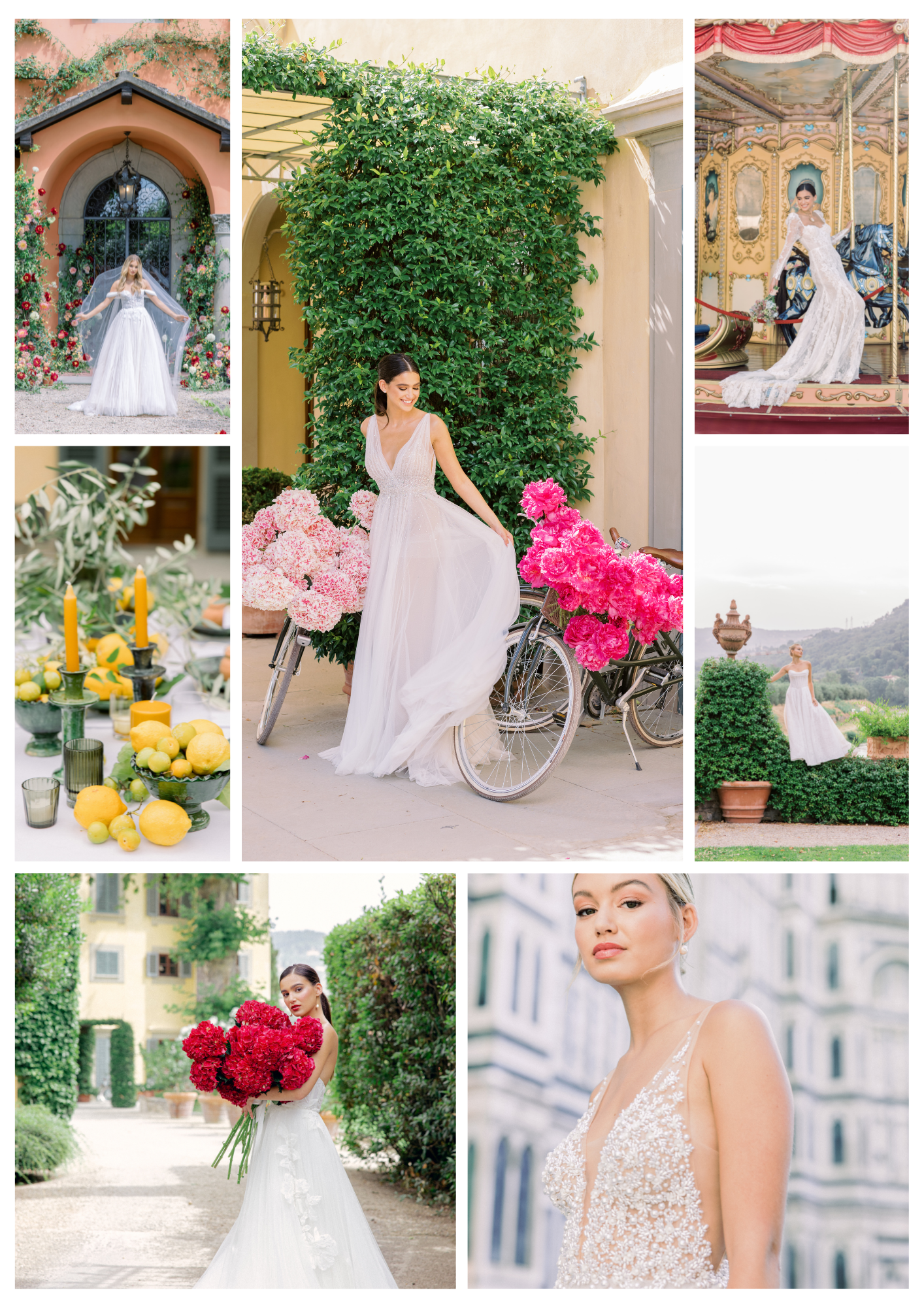 Saying Goodbye
We spent two fantastic weeks in two vastly different but stunning Italian regions. There, we built friendships and lifelong connections. We visited inspiring properties that opened their doors and trusted us to capture their soul in the best light. We created outstanding wedding imagery that blew away our wildest expectations.
When it came time to say goodbye, the weight of what we had accomplished was apparent. After exchanging teary hugs and kind words, each of us returned to their corner of the world, a little more sparkly than when we had left.