10 Reasons Thailand is The Perfect Destination for A Dream Honeymoon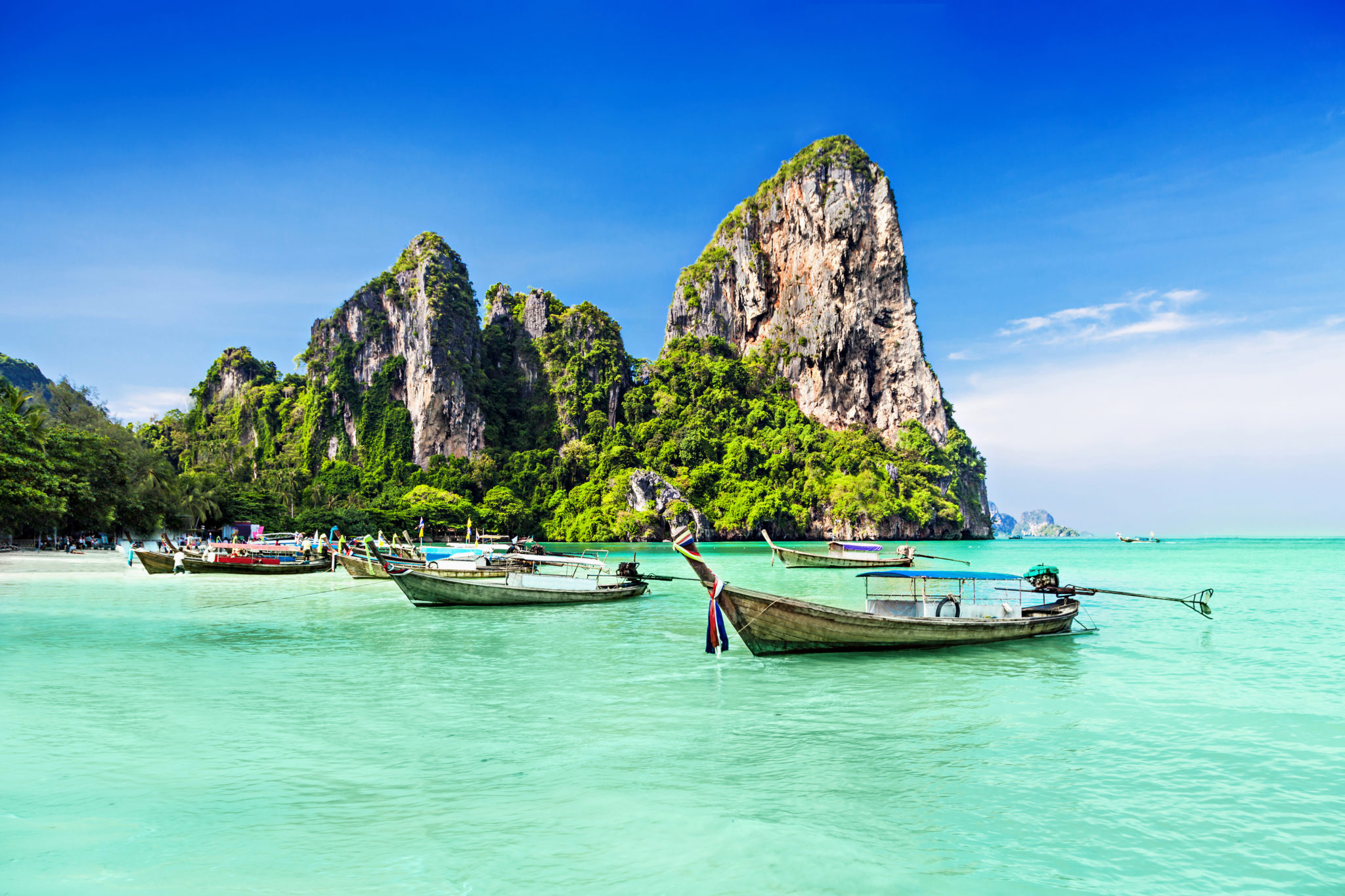 A honeymoon in Thailand? Yes, please! Thailand is a tropical country with a rich heritage and vibrant landscapes. Surrounded by the South China Sea and the Gulf of Thailand. The country also has an archipelago of small islands. This makes it the most romantic place to spend quality time with your better half away from all the everyday distractions. It is such a well-balanced place to visit for your honeymoon. Because it has a lovely mix of both traditions, history, beaches, and adventures! Whether you visit for a week or a month, Thailand will prove to be the best memory you both ever make.
The Thailand Honeymoon of Your Dreams
A honeymoon is one of the most anticipated trips in a couple's life. After all, you make memories and gather stories that last for your lifetime together. You are likely to remember each and every detail of your honeymoon. It is a trip which you both can cherish for many years to come. As you go through the ups and downs of life, memories of your honeymoon will serve to keep you bonded and in love. Therefore, you should consider your destination carefully. Choose a location you both will love. And, make sure to enlist the help of professionals such as our Wedaways team. We can help you pick your dream destination, get the best deals on your accommodations as well as some added extras. The benefits of working with Wedaways are unlimited, so reach out to us today to plan the honeymoon of your dreams in Thailand!

Why Choose Thailand as Your Honeymoon Destination?
There are many reasons to choose Thailand as your honeymoon destination – most of those reasons are places. Almost every part of this country is unbelievably gorgeous. Sure, you may have had some other countries on your list to visit. But, you just can't go wrong when choosing Thailand. To help you make your mind up, we have created our personal list of reasons why we love Thailand as a honeymoon destination. Trust us, we know what we are talking about such as all the criteria needed for a perfect honeymoon. So while choosing a honeymoon destination for yourselves this is why you cannot strike Thailand off your list.
Rich Heritage & Culture
For a couple who is interested in history, architecture, and traditions this nation is an excellent place for a honeymoon. It is filled with temples, Buddhas and historical monuments that have a story to tell. Even though Thailand is Asia's primary travel destination its cultural integrity remains undamaged. The rich cultural heritage is evident all over the country. You will marvel at the quaint fishing villages, ornate Buddhist Temples, opulent royal palaces, ancient ruins and everything in between. Most of all, visitors are enchanted by the friendly locals in their colorful clothing who have stories to tell and places to share. The landscape ranges from ultra-modern cityscapes to quiet canalside communities interspersed with famous ruins, iconic temples, and stunning beaches.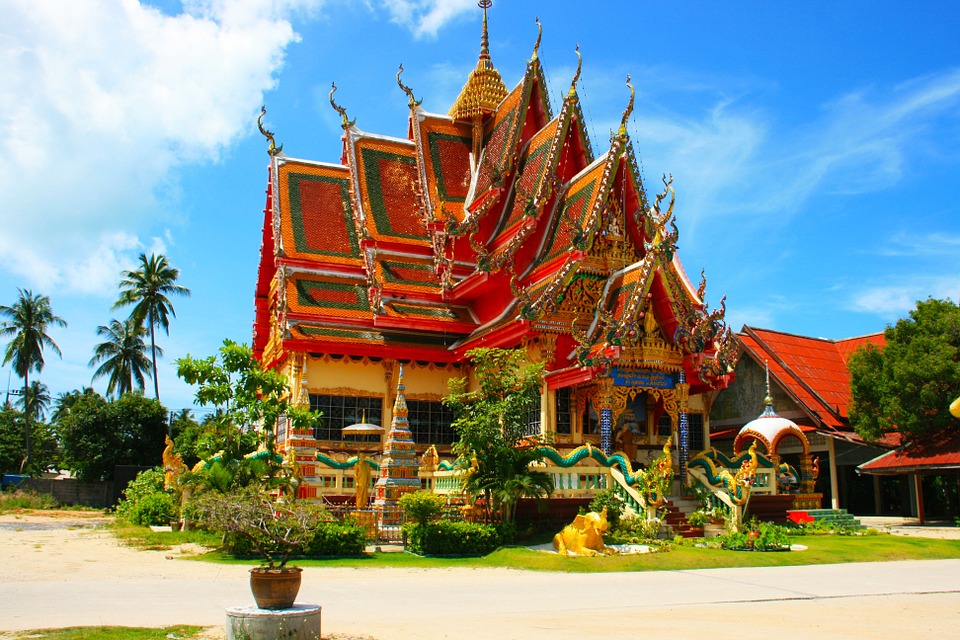 The Ocean & Watersports
Oh, there is nothing quite like spending time in a warm clear-blue ocean. A gorgeous ocean view may just be the universal requirement for a honeymoon. We totally agree with this sentiment. That is why it is one of our top reasons for heading to Thailand for your romantic vacation. The abundance of beautiful coastlines and a warm ocean makes Thailand the ideal place for splashing around in the water with your loved one. This also makes it a great option for adventurous couples who want to try some watersports. Take the time to go swimming, snorkeling, scuba diving, sea kayaking or even stand up paddleboarding (SUP). Together you can learn a new skill and enjoy some exciting water-based activities that you may not be able to back at home. This brings us to our next point:
Beautiful Beaches & Caves
As we mentioned, Thailand is full of clean beaches and azure oceans. Honestly, this may be the main tourist attraction – although the country has so much more to offer. However, the beaches are of great importance, especially for newlyweds. Whether you want to enjoy romantic sunsets or crazy beach parties at night, you will find it in Thailand. Another romantic, yet fun option is to go kayaking in the sea and watch the sunrise and sunsets. There is nothing quite like getting a different perspective of the beauty of this world while in the company of the love of your life. Another unique experience that Thailand has to offer is the cave dining inside caves at Krabi (more about Krabi below). This is definitely something that will appeal to a couple who wants romance but with some excitement.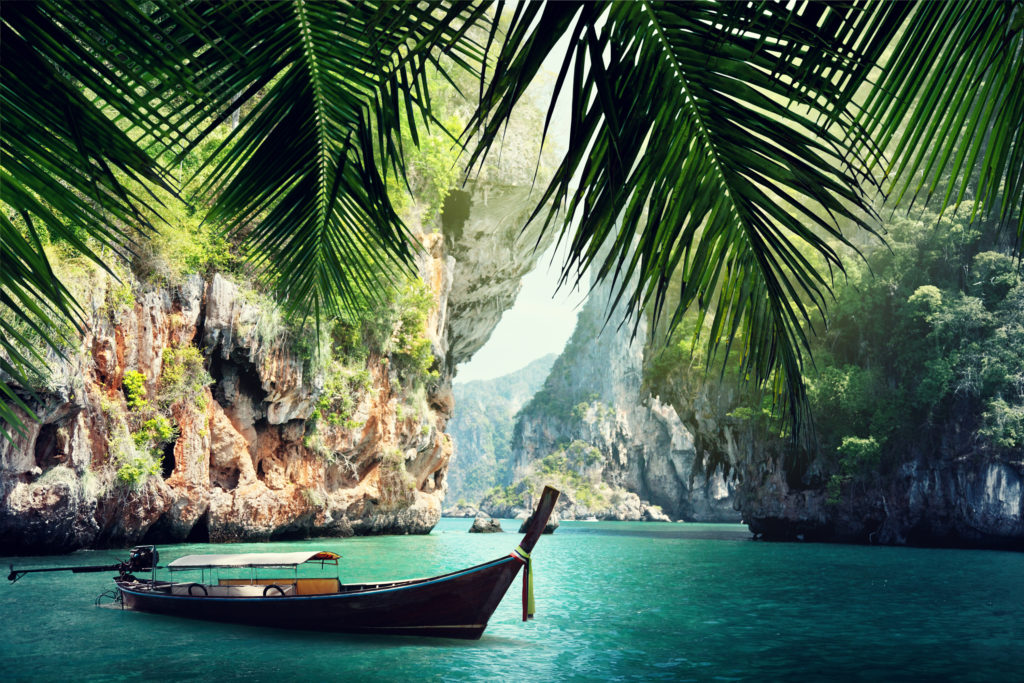 A Thailand Honeymoon is Affordable
You want to get the most out of your honeymoon, don't you? Then, you will want to consider affordability when choosing your destination. Thailand is most definitely a pocket-friendly honeymoon destination. Thailand has evolved over the years as it gained popularity, but one thing has remained the same – you will get amazing value for your money. Just like other destinations, you will find a wide selection of options ranging from budget to luxury. However, with the favorable exchange rate and great prices, you can easily opt for luxury. This means that you can have a longer vacation and possibly a truly extravagant honeymoon at a really decent price. Now that is a wonderful reason to love Thailand!
Thailand is Instagram-Worthy
Yes, we agree that this shouldn't be your main consideration but it's worth mentioning. If we haven't said it enough, let's say it again; Thailand is absolutely gorgeous! So if you are a couple who likes to #doitforthegram then you have to visit Thailand immediately. Everything in the country has a pleasing aesthetic. Each picture you take and every memory you make will leave a lasting impression. The vibrant landscape, bright colors, lively atmosphere, and friendly locals were meant to be photographed. Since everything is so affordable you will really be able to splurge on accommodation, dining, activities and more. Which means you will have plenty to share on Instagram.
Bangkok
Now we get to the great part of Thailand – its varied destinations. Bangkok is the most lively and vibrant city in the whole of Thailand. Bangkok is known as the city of angels and it truly comes alive at night. You can take long romantic walks at the Promenade and visit the Reclining Buddha. Another attraction there is the Chatuchak Market. This market has over 8000 stalls and cheaply priced goods. Spend an evening eating in Chinatown or pick up a snack from one of the many street vendors as you explore. Treat yourselves to a Thai massage to relieve stress and stary your honeymoon relaxed. Also, make sure to take a romantic stroll through Lumpini Park and watch the locals practice Tai Chi. We suggest staying at Banyan Tree Bangkok for the most incredible city honeymoon experience. The hotel is a romantic sanctuary in the heart of bustling Bangkok.
Chiang Mai
The Old Walled City of Chiang Mai is the main attraction and a fascinating destination. It is filled with heritage sites and temples where you can wear a traditional floral dress and get your pictures taken. The Old City is the heart and life of Chiang Mai. After a busy day of exploring you can retire to the radiant local cafes and bars. Visit Sunday Walking Street; here you can find little trinkets, great food and have some fun. Or you can opt to visit at night for the huge Night Bazaar of Chiang Mai. It is similar to the day market but you can also dance and sign in the street with local performers. Other fun activities include visiting the Cat Cafe, Elephant Nature Park or taking a Thai cooking class together. Stay at the luxuriously romantic riverside sanctuary of Anantara Chiang Mai Resort for an unforgettable honeymoon.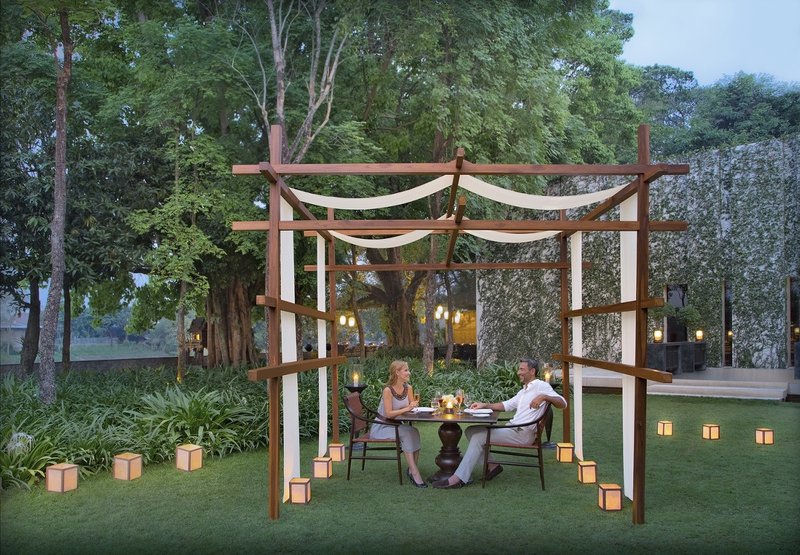 Koh Samui
Koh Samui is probably the most popular honeymoon destination in Thailand. It is a perfect place for newlyweds to spend some quality time together. Since Koh Samui is an island it offers a more secluded and intimate honeymoon experience. The island has an azure sea, coral reefs, waterfalls, and lush coastal landscapes all just waiting to be explored. Visit the Chaweng beach or the Lamai beach for a swim, water-sports or sunset drinks. Mornings in Koh Samui are blissfully calm, but at night the whole island comes alive. For young couples who want crazy beach parties, loud music, cocktails and dance the night away, Koh Samui is the place to be. We suggest staying at Belmond Napasai for timeless luxury and special attention. Another great option is Nikki Beach Resort for a more relaxed exotic yet romantic stay and unbelievable sunsets.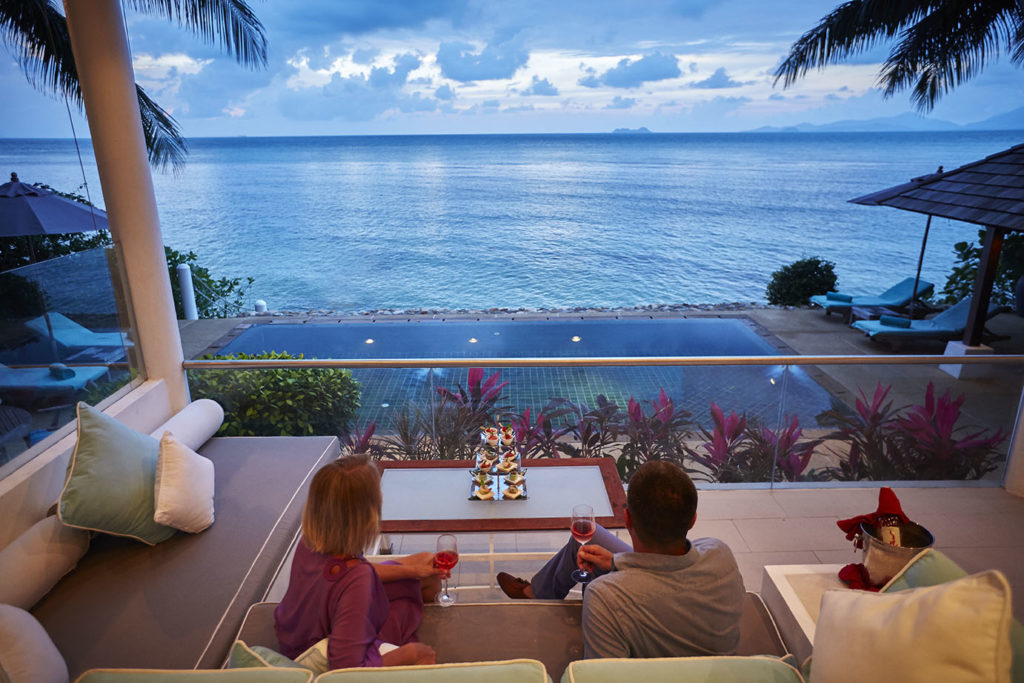 Krabi
Thailand is well known for its beautiful beaches and one that truly stands out is Krabi. Not only is Krabi beach a romantic location but the entire area is perfect for exploration and outdoor adventures. Another plus is the incredibly vibrant nightlife scene which makes it another great spot for young couples. Make sure to kayak out to sea to watch the sunrise or sunset with your love. Or make a reservation for a romantic dinner inside the sea caves for a once-in-a-lifetime experience. There is also the option of taking a dinner cruise out into the open ocean between all the islands. The Krabi Night Market is also rather enchanting and a wonderful place to find local crafts or souvenirs of your trip. We suggest that you stay at Rayavadee in Krabi for your honeymoon. The luxury resort is framed by picturesque beaches and limestone cliffs.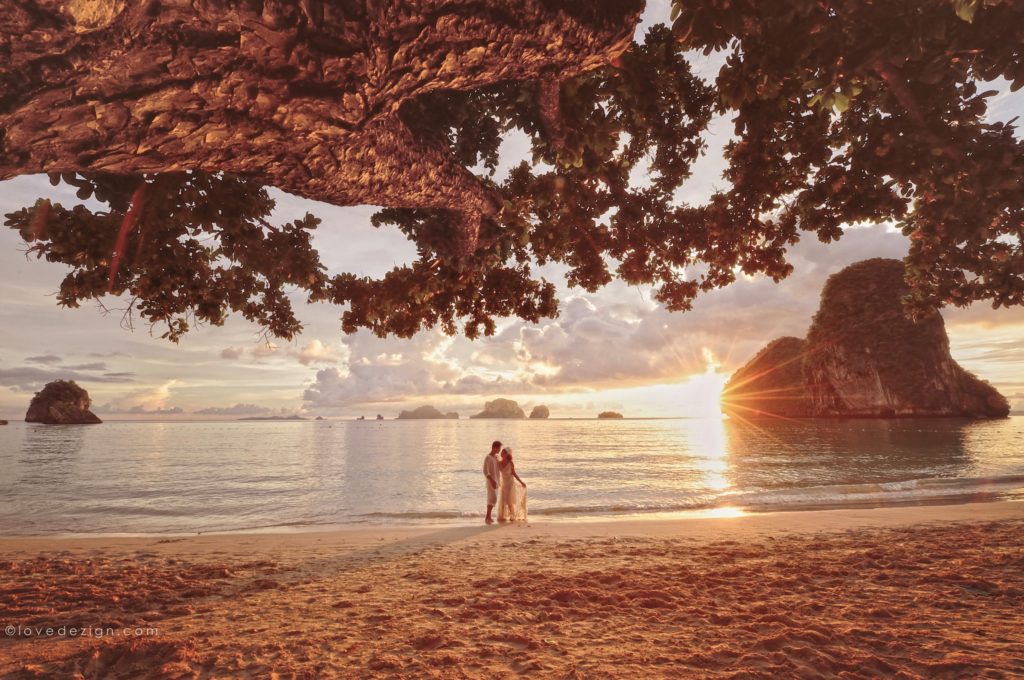 Chiang Rai
Chiang Rai is a beautiful yet quiet village near Chiang Mai that offers a peaceful vacation. It is ideal for those couples who want to just relax and eat good food. In Chiang Rai, you can easily go temple-hopping as there are just so many to explore. Start with the White Temple or Wat Rong Khun. This magnificent structure is traditional and has hints of pop culture. Following which you can head to Back Temple known for its submarine-like looks. Then make sure to visit Blue Temple which is known for its vibrant colors and modern structure. After a day of temple-hopping, have your meal at the Night Market which serves the best food in Thailand. Stay at the famous Anantara Golden Triangle Elephant Camp & Resort for a unique experience. The luxury resort is a peaceful sanctuary that allows for ethical elephant encounters in their natural habitat.