Indian Wedding Traditions & Customs We Love! Part 1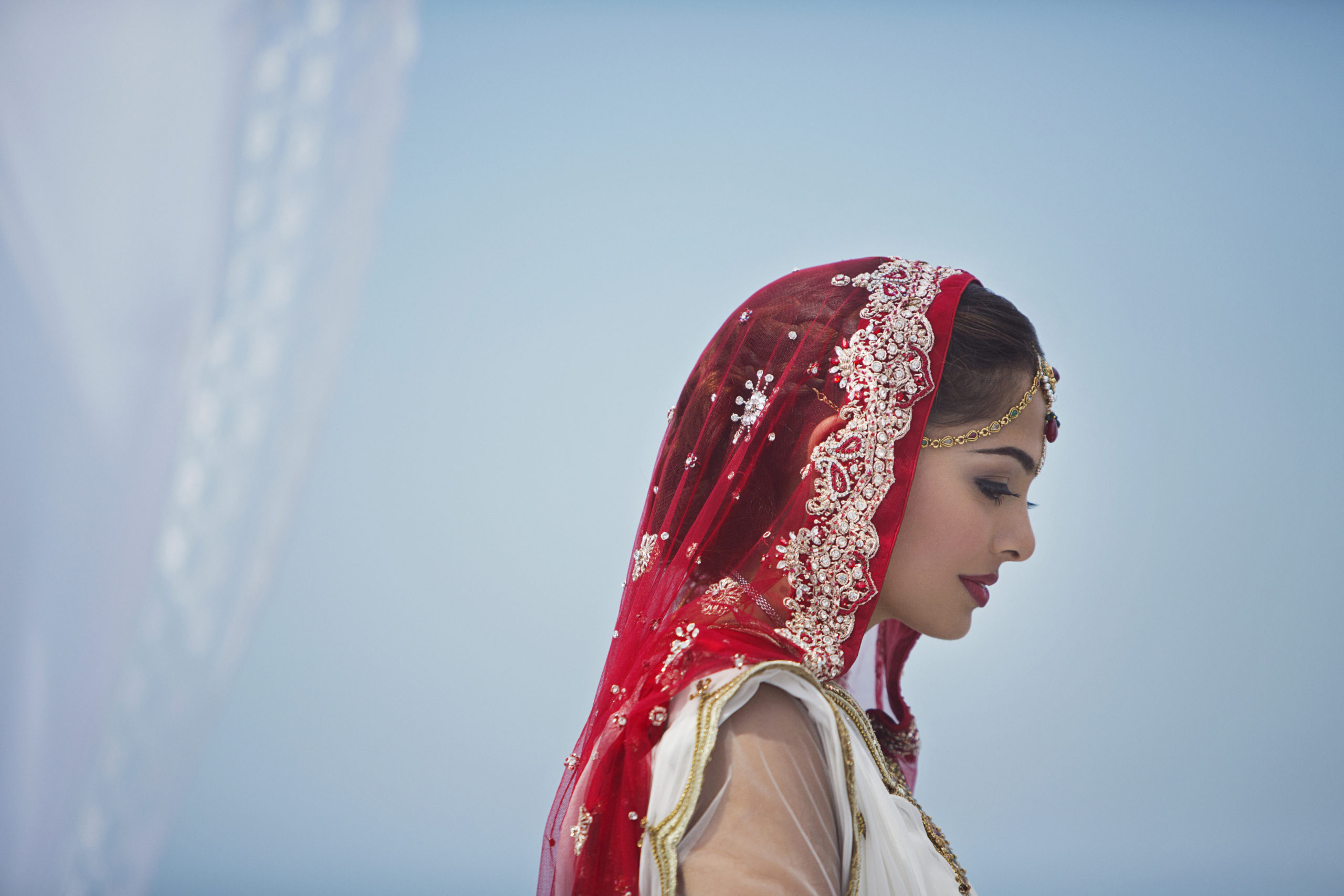 Discovering the traditions and customs of Indian weddings is like opening a treasure chest. One ritual is more sparkling, colorful, and symbolic than the next. Celebrating the joy of uniting two families takes place in a series of events that, in some cases, can take up to a full week to complete! The variety of activities requires expert planning and choreography, and wedding planners that specialize in Indian weddings are called upon to run the show. Some Indian weddings are huge, so the bride and groom's families and friends may initially celebrate separately. Then come together en masse for the Sangeet and Mandap (the big day). Come along on this two-part journey with us, as we share Indian wedding traditions and customs we love. And if you're considering an Indian wedding for yourselves, Wedaways has excellent wedding planners in our international network that specialize in Indian weddings. We're happy to make an introduction for you.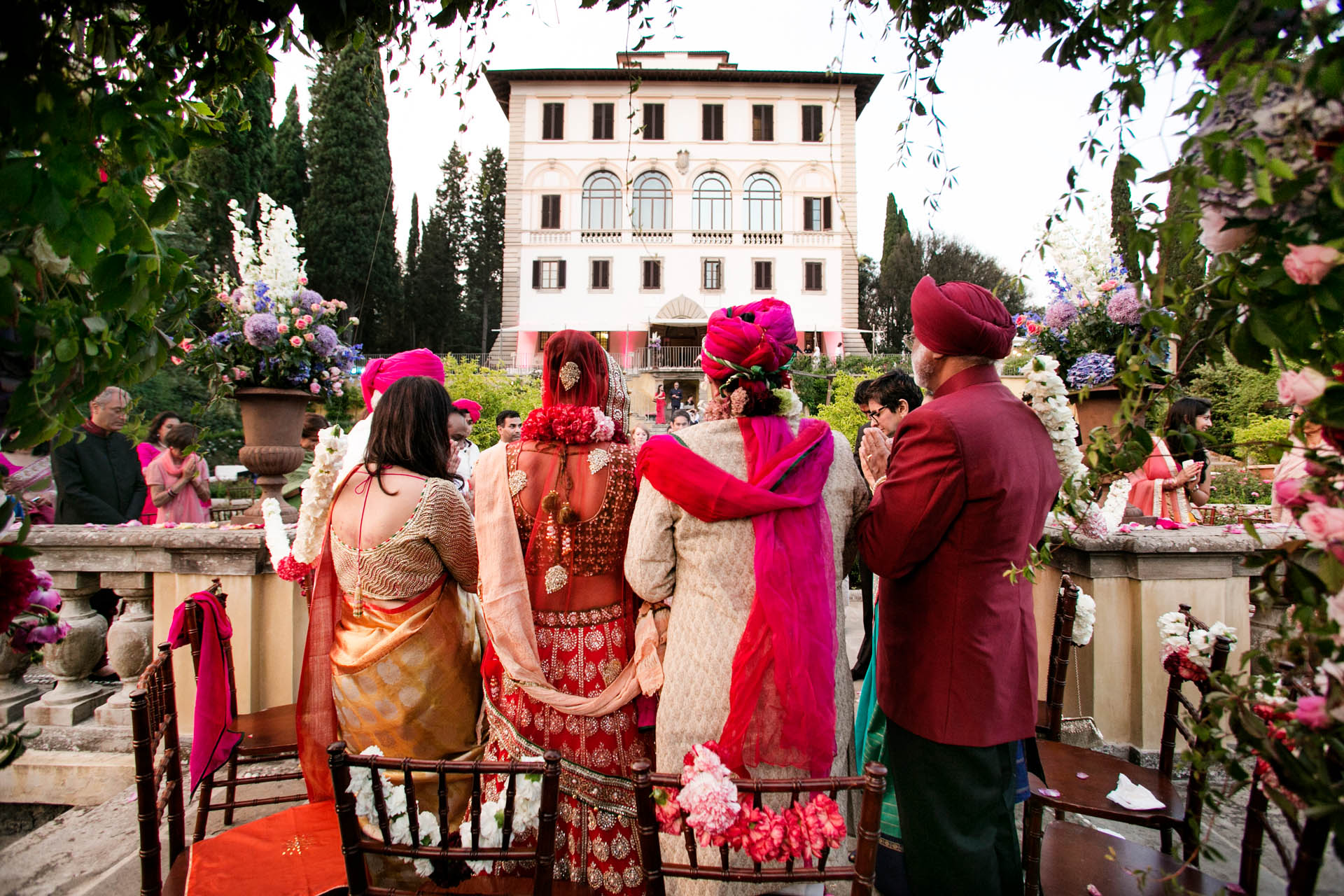 Many Indians incorporate the following when they plan Hindu weddings:
Astrology
Color
Ancient Rituals
Wardrobe
Ceremonies
Cuisine
Astrology
Choosing auspicious dates in the Indian/Hindu culture is based on astrology. Zodiac signs and the alignment of the stars and planets guide the decision of when and where the wedding should take place to ensure a prosperous marriage.
Color
Color has a deep significance in the Hindu religion and culture. Red, signifying both purity and sensuality, is the color most frequently used for weddings. Green represents life and happiness. Yellow is the color of knowledge and learning. Blue is the color that protects humanity. All of these colors, and more, are incorporated into the wedding wardrobe and decor of a (Hindu) wedding paying homage to tradition. A bride might also apply a dash of red kumkuma powder to her forehead for good luck.
Ancient Rituals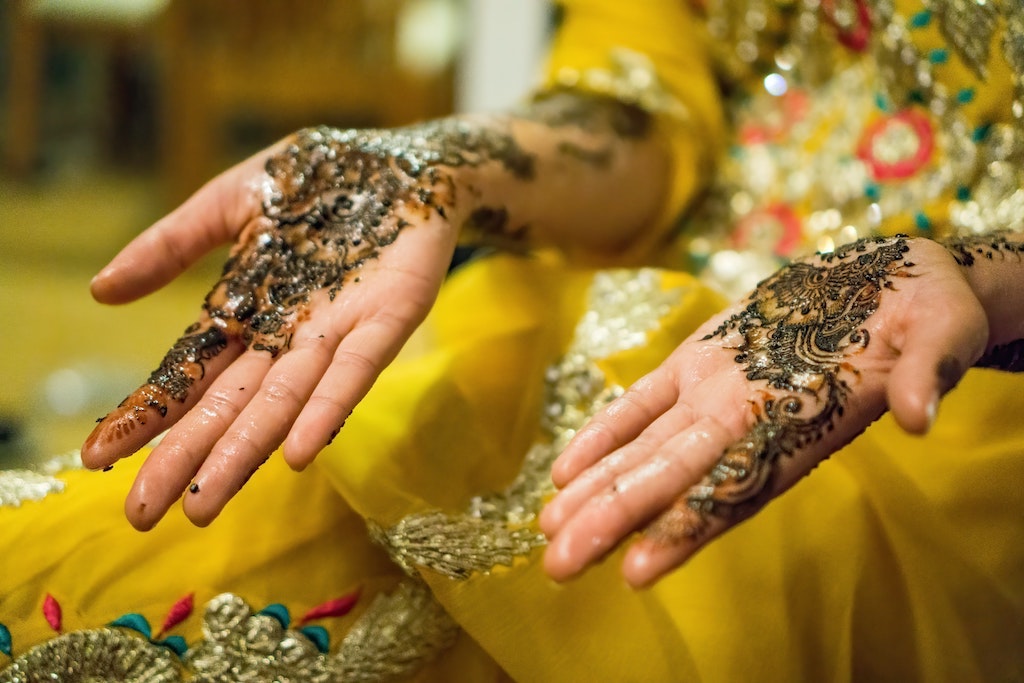 MEHNDI
Primarily attended by women from both the bride and groom's sides, this pre-wedding event may be the first in the series of celebrations. Mehndi or henna is an ancient form of body art. The red-orange Mehndi stain is applied in an intricate design (which may include the groom's name) to the bride's hands (palms & back of wrists) and feet, symbolizing blessings of luck, joy, love, prosperity, etc. According to some, the darker the stain, the deeper the blessing. Unlike tattoos, henna is temporary. So if you decide to partake, the stain shouldn't last more than seven days.
SANGEET
Sometimes preceded by the Mehndi, the Sangeet is a pre-wedding extravaganza. Families and friends come together and party, often designed with a theme, decor, music, and full catering. Many pull out all the stops when planning their Sangeet. Hiring famous musicians, entertainers, providing elaborate lighting, wardrobe changes, and more go into the planning of this elaborate celebration.
HALDI
On the morning of the wedding, relatives of the bride and groom gather around and apply Haldi or turmeric in the form of a paste from turmeric, sandalwood, and rosewater, to five specific body parts: the face/neck, arms, hands, knees, and feet. This ritual is to ward off evil spirits, bless and purify the couple. Once washed away, the skin glows.
Wardrobe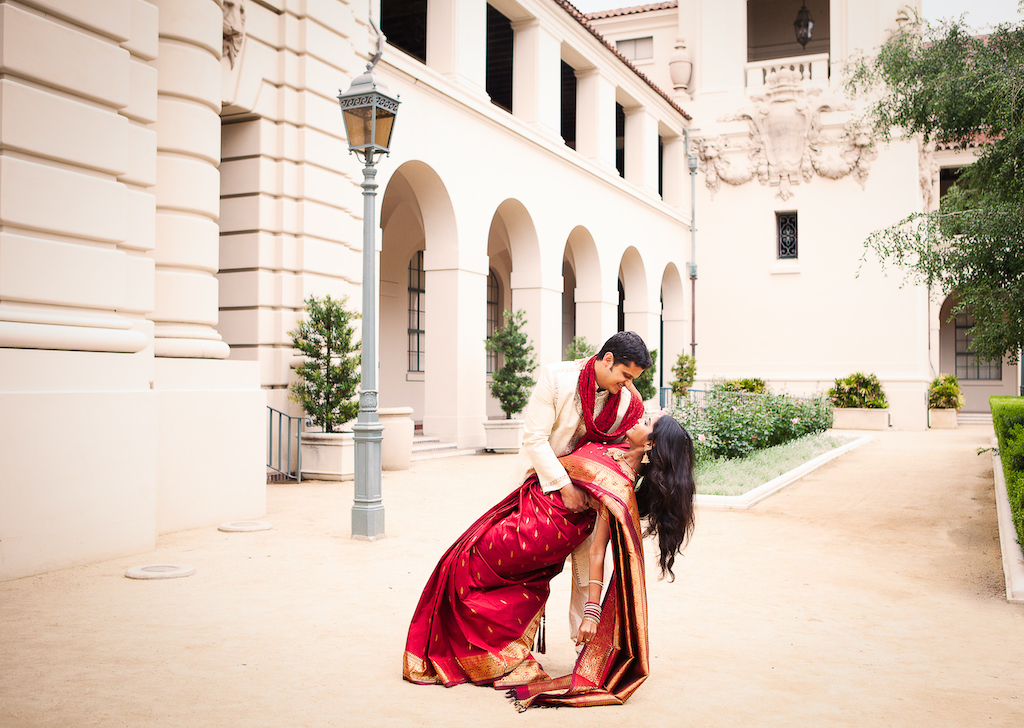 The wedding wardrobe is significant in every culture. These styles have been worn for centuries and remain a recognizable staple in Indian weddings:
LEHENGAS
An elaborate, full-length 2-piece costume for women that leaves the midriff bare. Intricately designed beading and embroidery, often in silver or gold (or both), adorn the outfit. A long matching shawl draped over the shoulder may complement the look. Lehengas are often women's garment of choice for the Sangeet and Mehendi in brilliant colors. The bride typically wears a Lehenga in red and gold.
SAREES
Also designed for women, the traditional saree (sari) fabric is quite long (6 yards) and often made of brightly colored silk, brocade, or embroidery. A blouse or choli is worn under the draping. Some women use part of the fabric to cover their heads.
BANGLES
Similar to a wedding ring in western culture choora, or 21 bracelets made of glass, gold, or other metals signify the long life of the husband, good fortune, and prosperity, are worn by the (Punjabi) bride. We'll go into this more in Part 2.
SHERWANI
The groom wears a sherwani or long jacket in a color and fabric to match the bride. Gold and white are the most popular.
CHURIDAR
Fitted trousers the groom wears under the sherwani.
Ceremonies (Hindu)

Mangni or Nischitartham
Depending on which part of India you are from, this event is similar to a formal western engagement party where rings are exchanged, and the betrothal is announced.
Graha Shanti
A pre-wedding ritual beginning with haladi, a purification ritual that involves married female family members massaging the bride and groom with fragrant oils and halad, a mixture of turmeric, oil, and water intended to bring peace, prosperity, and happiness to the couple.
Puja
The official and most auspicious of Hindu traditions, at this ceremony, both families offer prayers (pujas) to deities, and gifts are exchanged.
Tilak
This ceremony welcomes the groom into the bride's family. It may take place privately or as the groom leads his family processional to the ceremony. The tilak is a (sometimes red) paste placed on his forehead where it is believed intuition lies.
Cuisine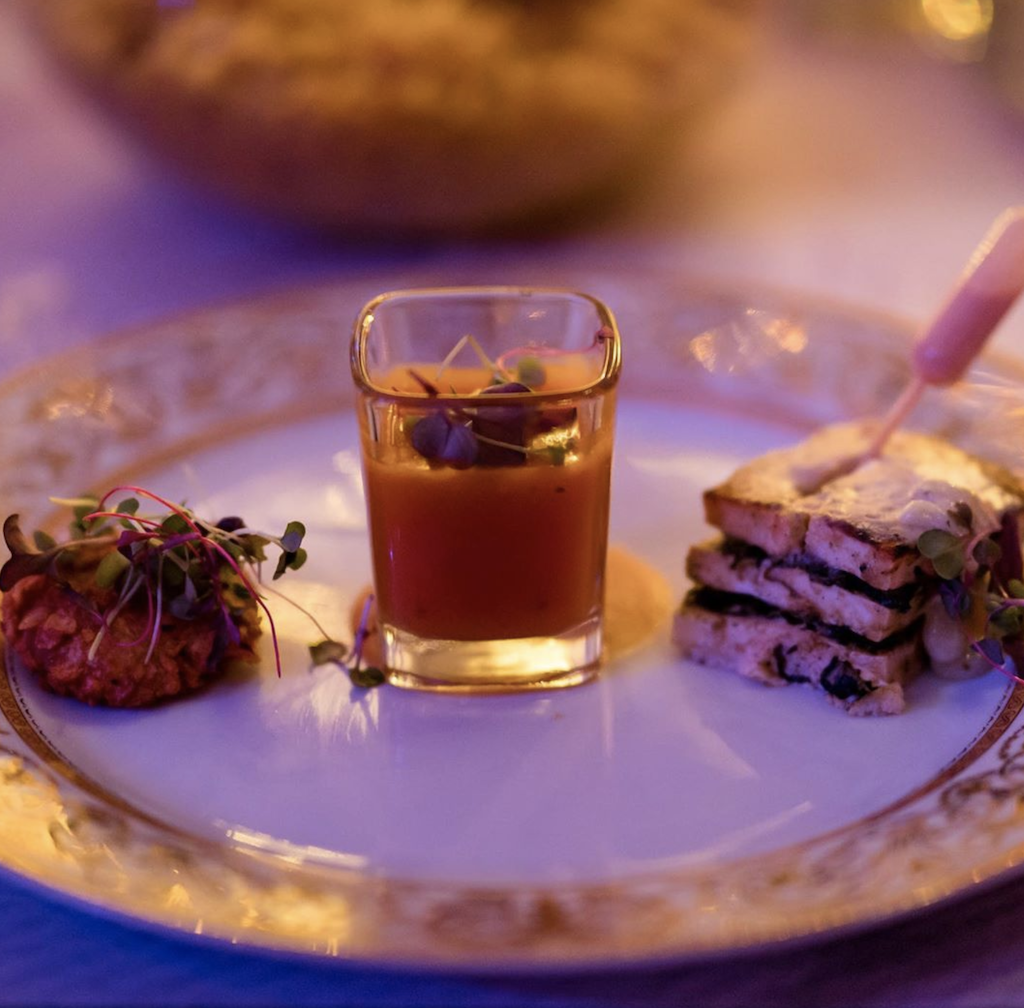 Expect to see the embodiment of the country's heritage and vibrant culture in all the menus when it comes to Indian weddings because, in Indian culture, food is a love language in itself. Indians make up most of the world's vegetarians, so you can always expect vegetarian delicacies at an Indian wedding. From buffets laden with street food to more formal and often international dishes, the food will be as exciting as the entertainment.
Check out Part 2 as we continue our journey of Indian wedding traditions and customs we love!
Author's note:
Ceremonies and traditions differ within Indian communities. We've referenced Hindu & Punjabi in this article.
More International Wedding Customs & Traditions We Love
Indian Wedding Traditions & Customs We Love! Part 2
There are so many magical customs and traditions in this complicated culture we bring you part two to explore more!
Sentimental Wedding Traditions From Around the World
Perhaps you've been looking for that special something you can include in your ceremony? Start with these beautiful traditions celebrated throughout the world.