Top 10 Moroccan Honeymoon Destinations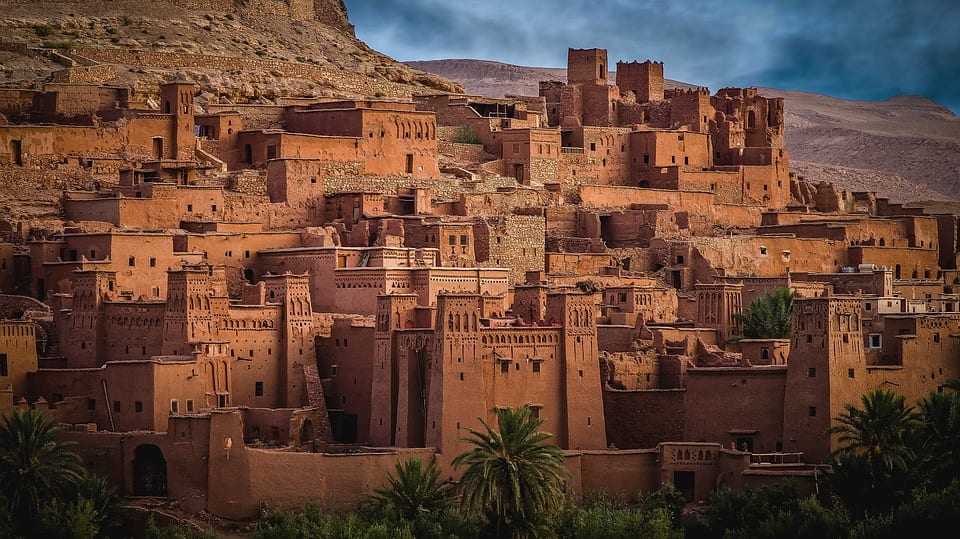 Morocco has some of the most dramatic and diverse landscapes found in any country. And it's so rich in history. In one trip it's possible to visit ancient cities and swim in two oceans. You can ski in the mountains and go camel trekking in the spell-binding Sahara desert. You can go glamping and attend a world-class cooking class. Imagine culture, cuisine, nature, and adventure sports all on your amazing honeymoon! It's no wonder Moroccan honeymoon destinations are so popular!
Here are our top 10 Moroccan honeymoon destinations for your once in a lifetime experience:
Casablanca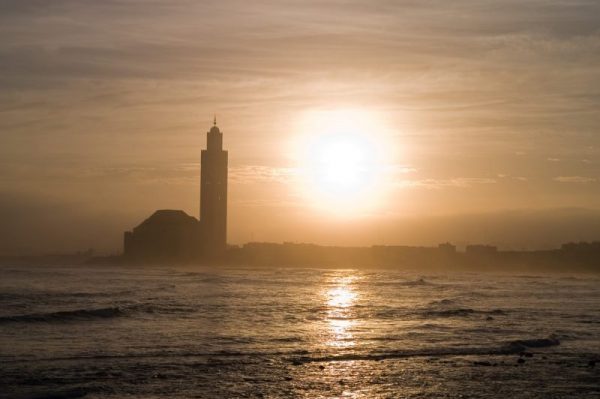 This vibrant and populous city, some say, has a likeness to Los Angeles. The architecture of this city is quite simply incredible. From Art Deco to modern, neighborhoods and buildings stand out as living testaments to talent. Whereas most Moroccans don't really like to dine out, Casablanca actually has a restaurant scene. There are art exhibitions and music festivals. We suggest starting your Moroccan honeymoon in this city. FYI: the movie Casablanca, shot in 1942, was actually filmed in Los Angeles.
Imperial cities
In the north of this African country, at the foot of the majestic Altas Mountains, is Marrakech. It's a bustling, noisy city filled with some of the most hospitable people you will ever meet. For the most authentic experiences, we suggest you stay in one of the city's traditional riads. As a matter of fact, luxury resorts here refer to their suites as riads. They feature traditional, garden open-air entryways that require stepping through another doorway to enter the dwelling.
Marrakech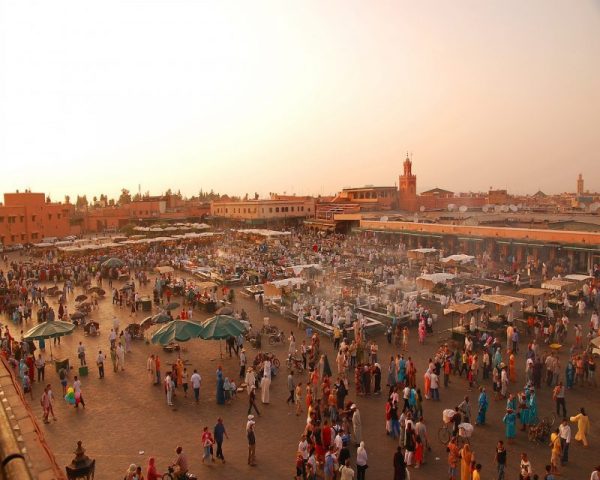 A trip to Marrakech isn't complete without a visit to the Medina (Old City). The frenetic heart of Marrakech is home to Jemaa el-Fnaa. This market, or souk, is to Moroccans what a shopping center is to Westerners. Food, clothing, and entertainment are all available in this labyrinth of streets and alleyways.
Fes (Fez)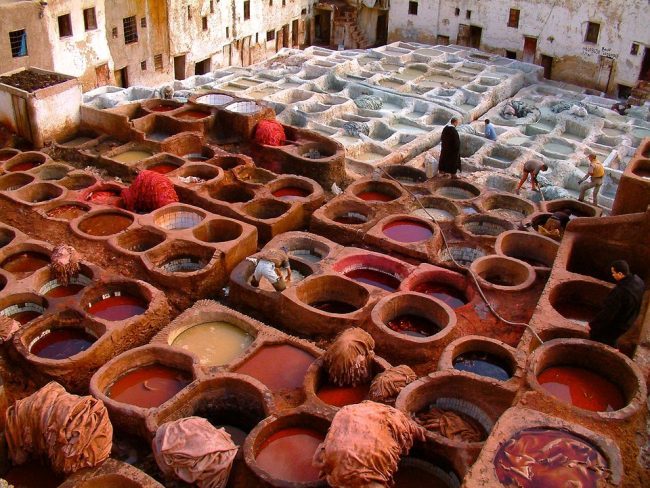 Fes is Morocco's spiritual and cultural center. It is also a protected UNESCO World Heritage Site and home to the world's largest car-free area.
Essaouira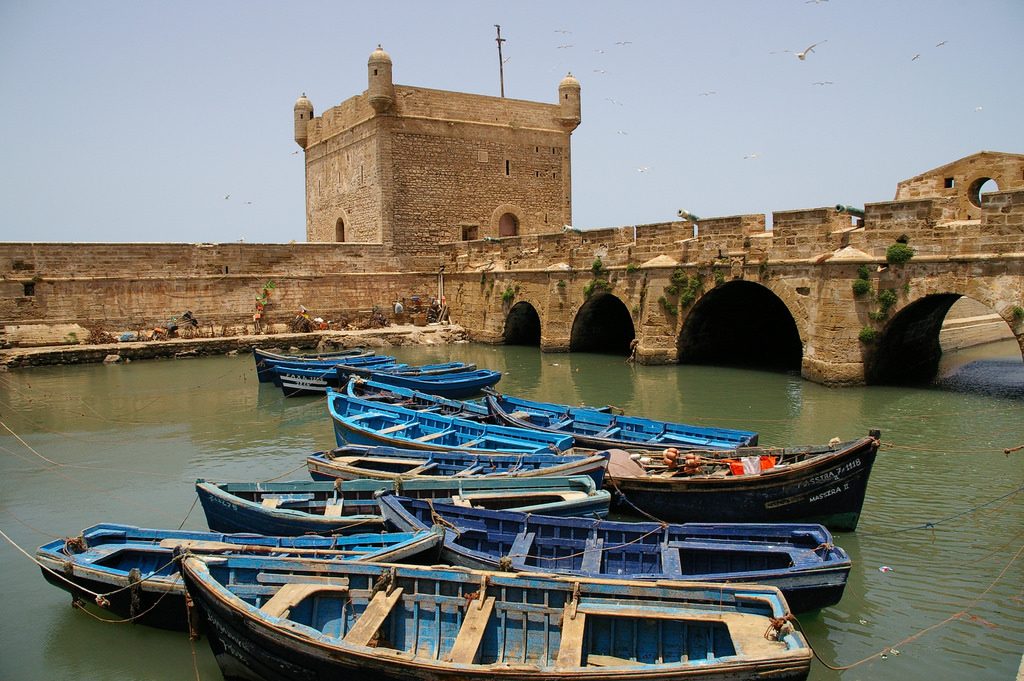 This lovely town on Morocco's Atlantic coast is a favorite of natives and tourists alike. The seaside town boasts freshly caught fish and lots of marvelous Bohemian art and collectibles. Horseback riding at sunset on the beach is a honeymoon favorite!
Chefchaouen ~ The Blue City

Chefchaouen is a mystical place nestled in Morocco's Rif Mountains. This is known as The Blue City. Religious rather than stylistic reasons are behind the design choice. Historical Jewish teachings suggest that by dyeing thread with tekhelet (an ancient natural dye) and weaving it into talitim (prayer shawls), people would be reminded of God's presence. Therefore the homage to this tradition lives on in the regularly repainted blue buildings.
Atlas Mountains

This mountain range is home to tiny villages that, until this past decade, had not been fitted with electricity and running water.  In fact, it is still considered a luxury by many. When you visit and explore these ancient villages, you'll find time is measured by how long it takes to get from one place to another. Hours and days are the markers of time here. These are the spots for skiing in the winter, and glamping in the summer.
Merzouga (Sahara Desert)
When I learned the difference between how to spell dessert and desert, my teacher told me: There are 2 s's in the word that you want more of.  This desert, however, is definitely one you want more of. You've seen the famous sand dunes (Erg Chebbi) in the movies.  Here you can experience Berber culture at its roots. Surely you'll understand why camels are one of nature's most fascinating animals.
Ouarzazate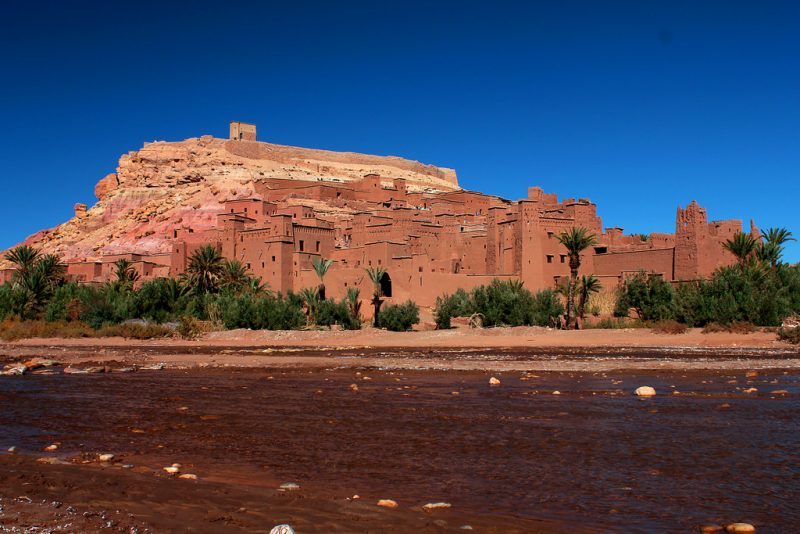 High in the Atlas Mountains, this city is known as the "doorway to the desert". Its vast, arid surroundings mark the beginning of Sahara desert. Thus, you will note a change in landscape, which in itself, is a spectacle to encounter. This Moroccan city is home to film studios and has hosted many of Hollywood's A-listers. The word 'Ouarzazate' means "noiseless" in Tamazigh, capturing its remote and serene setting.
Tangier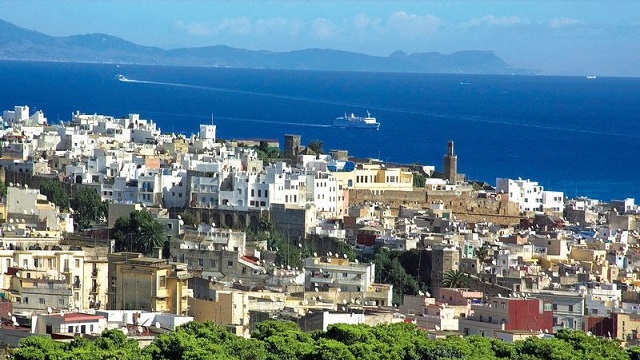 Tangier is often the first point of entry for tourists entering Morocco. It is a true port town with all of the international, cross-cultural mixings. Strolling through the Medina (Old City) you'll notice the differences between the Andalusian, Moorish, colonial and Moroccan architecture packed together. Enjoy the city's charm: the medina, the kasbah, and the new city, and continue on your honeymoon hop!
Meknes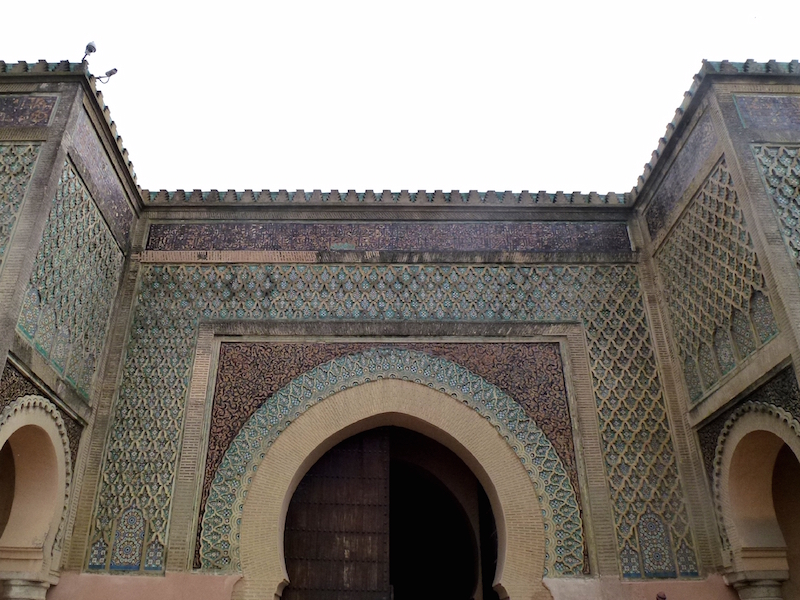 Meknes' Medina is listed as a UNESCO World Heritage Site. The imposing gateway of Bab el-Mansour is a chief attraction and popular background for fashion photo-shoots of world-class designers.