Unforgettable Bachelor/Bachelorette Parties On Virgin Voyages!
Bachelor and bachelorette parties are a signature part of the buildup to a wedding. Did you know this tradition's roots actually stem from the time of the Spartans? Then, friends took the groom out for one last hurrah before he got married and the family used to shower the bride with gifts! Times have changed, but the tradition has remained part of the wedding ritual. With a few updates here and there! The recipe for these events is usually the same – until now! If you want something unforgettable we have just the plan for you… Enter Virgin Voyages. Trust us, this is set to be a bachelor or bachelorette party trend for 2020! And beyond!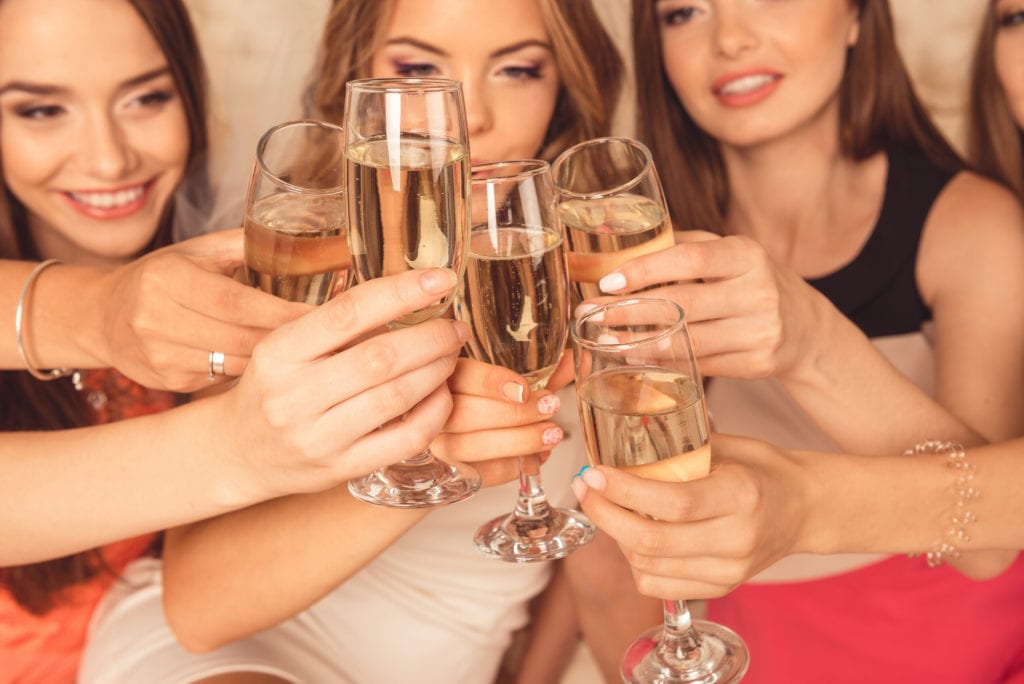 Virgin Voyages Packages
Bar hopping sounds great but you may be looking for a different experience for yourself. Virgin Vogayes, launching Scarlet Lady this year, brings the entire experience of the bachelor and bachelorette parties to one "very moving" place… a ship! The experience is unlike any other. Choose from four- and five-night itineraries all departing out of Miami, Florida. Virgin Voyages offers long weekend or weeklong getaways to exciting Caribbean destinations. Such as Puerta Plata, Cozumel, Key West, Costa Maya & Puerto Rico. Virgin Voyages is also creating a private beach club experience in Bimini, Bahamas. Relax with your bridal party during the peaceful mornings and restorative days. Then, party it up through the amplified afternoons at the DJ-led pool party. The club is designed to deliver!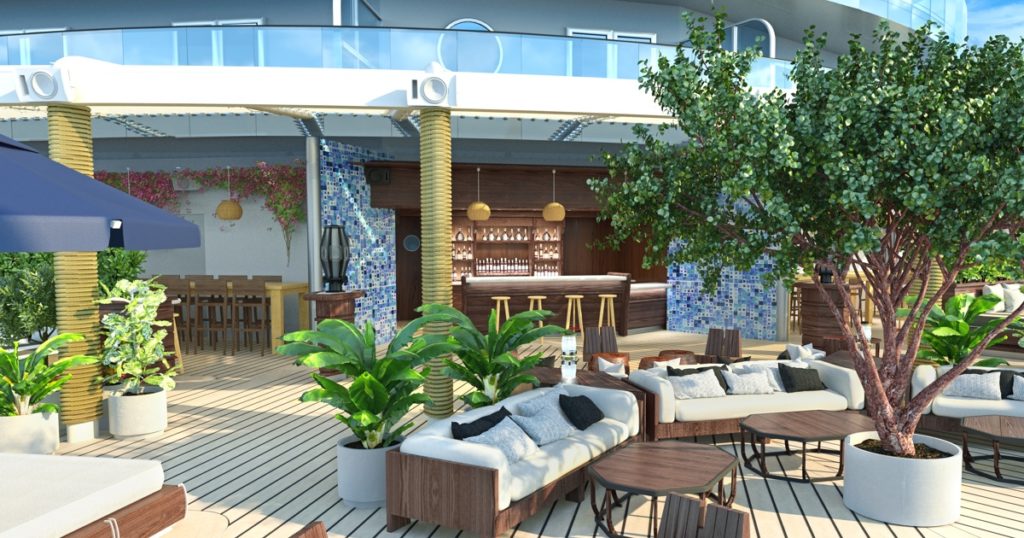 Being an adult-only (18+) cruise means you can take your drinks anywhere. No children running around or running into you, and you're not paying for amenities you won't use. No kids also ensure your party will be uninterrupted and free from kids' activities on board.
Virgin Voyages Ships
The ship itself, The Scarlet Lady, was created by designers who had never worked on ships before. Therefore, they didn't have any preconceived notions of what a ship should be. The result is a sexy and glamorous floating luxury boutique hotel. With yacht-inspired aesthetics, mood lights, a spacious bed in each cabin, and unlimited WiFi for Instagram stories. This is the perfect place for your pre-wedding celebration.
The second ship, Valiant Lady, offers three different seven-night Mediterranean itineraries from Barcelona, Spain, and debuts in May 2021. All cruises stop overnight in Ibiza. You can book for the exotic delights of Barcelona, Ibiza, Monte Carlo, Marseille, and Olbia. Or, a sampling of the Meditteranean featuring Barcelona, Ibiza, Toulon, Ajaccio, Marina di Carrara, and Cagliari. Otherwise, opt for Spanish immersion, stopping by Barcelona, Ibiza, Palma de Mallorca, Malaga and the British port of Gibraltar.
Foodies Festivities ~ All Inclusive!

Ditching the buffets and main dining room, the cruise ship has over 20 restaurants to choose from. With specialty kitchens to suit any taste and all included in your fare. From authentic Mexican to purely vegetarian. The different cuisines could keep you coming back again and again or restaurant hop to try them all. There's even a testing kitchen inspired by Escoffier's Ma Cuisine. This laboratory-like eatery is part cooking school and part restaurant. Enjoy classes or just the evolving tasting menus for curious, boundary-pushing tastebuds. Virgin Voyages brings city-like eating to sea and throws out the traditional cruise dining rule book.
Sailors (yes this describes you — the passengers) can dine at a table or opt to enjoy your meal at the bar. Nearly all restaurants onboard feature a bar. Each restaurant is helmed by a top chef who leads their kitchen with passion and artfulness. With a made-to-order philosophy around food, Virgin Voyages pledges to never have to sacrifice quality for a quick bite.
Especially for those naughty bachelor/bachelorette vibes, there's an old school ice-cream eatery, Lick Me Till Ice Cream. The eatery harks back to that magical home town, summer nostalgia with a Virgin Voyages twist. There are six seasonal homemade, artisanal flavors like the vegan Green Machine or Gianduiotto Chocolate. Then there's a featured daily flavor announced from the nearby record shop DJ booth.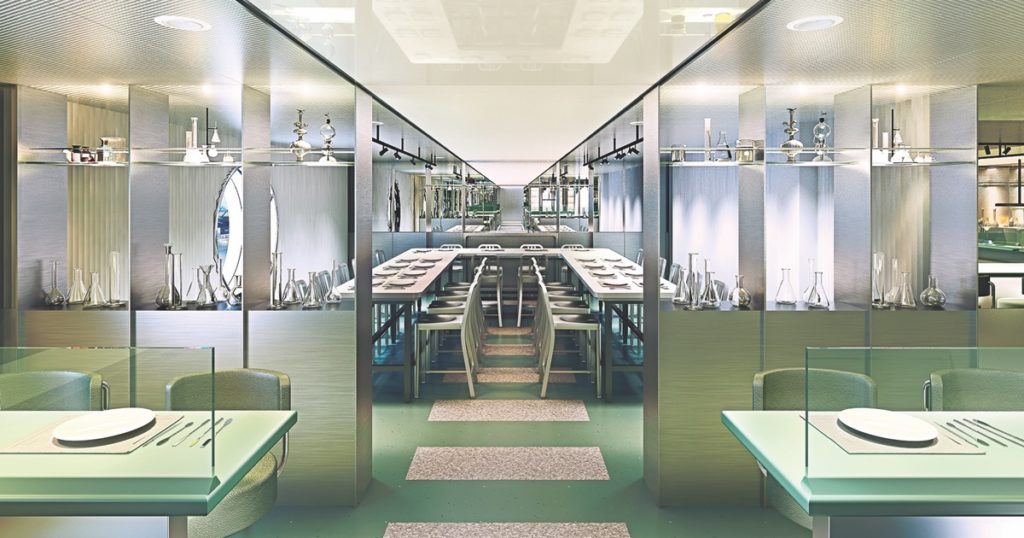 Drinks Delights
Basic beverages; filtered water, sparkling water, sodas, drip coffee, and tea are all included in your fare. And, are available on-demand, as are all meals. Yes, that's right. If your bridal party needs munchies at 3 am, food is available around the clock. And, no need to worry about tips and gratuities – they're all taken care of, too. There's also "Shake for Champagne"! Shake the special Sailor App on your phone to reveal a secret Champagne button. With just one press, a perfectly chilled bottle of Möet & Chandon Impérial will be delivered to you anywhere onboard. Instant celebration!
Sustainability is deeply entrenched in Virgin Voyages' operations and the sailor experience itself. The company has eliminated all single-use plastics onboard such as plastic straws, water, and other beverage bottles, stirrers, condiment packs, and other food packagings. So, you can enjoy your celebration with the knowledge that your trip is eco-conscious too.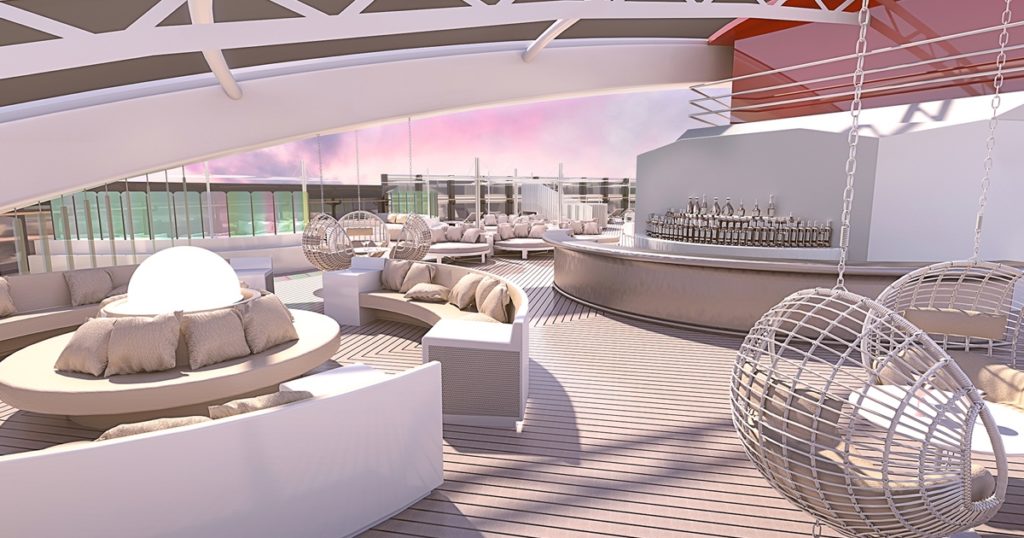 Get Inked on Virgin Voyages

If you permanently want to document your celebration or even get that little tattoo you've always wanted, you can! Squid Ink Tattoo Studio is an onboard studio with two full-time resident tattoo artists on board. Handpicked by ink industry legend Lou Rubino Jr, the visionary behind World Famous Tattoo Ink, Soho Ink, and Freshly Inked Magazine. Squid Ink will also feature a star-studded line-up of guest artists including the tattoo industry's most sought-after trendsetters and celebrity artists. Expect the likes of Spike TV's Ink Master star Sarah Miller, surrealist specialist artist Arlo DiCristina and illustrative specialist Jime Litwalk. These artists will not only give you and your bachelors or bachelorette party guests excellent service but all Squid Ink tattoos use vegan ink with no animal by-products or testing. In addition to tattoos, Squid Ink offers body piercings as well as permanent makeup treatments using vegan-friendly pigments.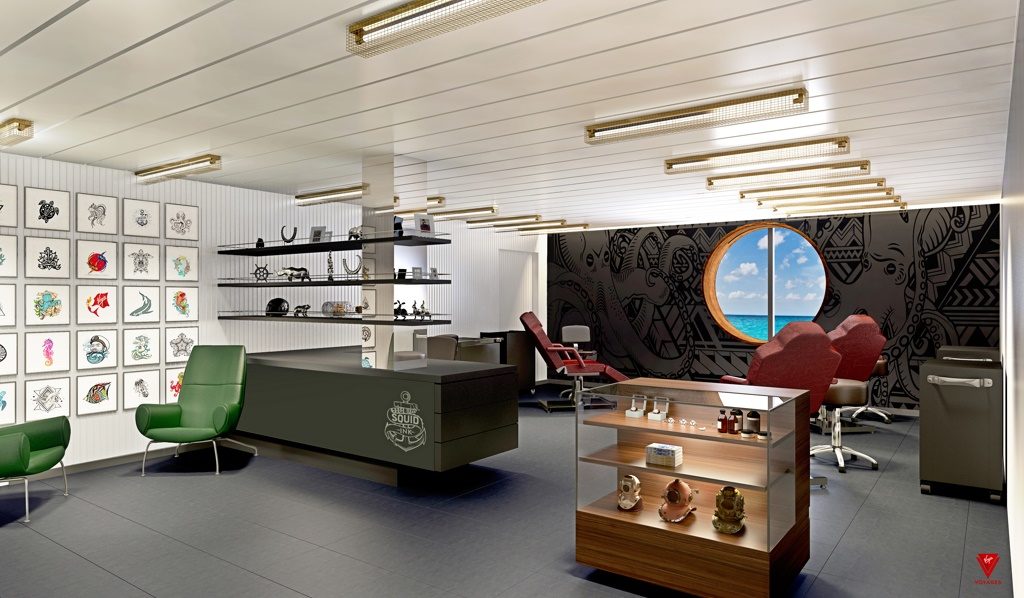 Magical Music Lineup
Virgin Voyages' residency program will include performances by the talent on the ship, in-port destinations, and at The Beach Club at Bimini. Grammy- and Oscar-winning DJ, songwriter, and record producer, Mark Ronson, will perform four times at The Beach Club at Bimini in 2020. Based on demand, the company has expanded the residency music lineup to include chart-topping artist, DJ, producer/ remixer, MK (Marc Kinchen). The Grammy-nominated electronic music duo Sofi Tukker, known for their hit Best Friend, will also join the Virgin Voyages residency program, as well as Diplo. As part of Virgin Voyages' new and exciting approach to music, the brand also announced the growth of its Creative Collective from design, food, and entertainment to now include musical synergy and theatrical twists and turns. The Scarlet Lady's events aim to transform your pre-wedding experience beyond your average off-Broadway (and floating at sea) show.
The record shop aboard Scarlet Lady, Voyage Vinyl, will be available for cruisers to experience music from all eras and genres. Voyage Vinyl features personal listening stations for cruisers to enjoy their favorite albums just like an old school record store. Guests can shop for limited-edition curated albums and special editions of classics, along with music magazines, headphones, and – of course – record players. Voyage Vinyl will also double as a performance spot for live sets mixed by Scarlet Lady's resident DJs.
The Groupie, Virgin Voyages' karaoke, gaming, and movie lounge can be privately booked. Ideal for your bachelors or bachelorette as a unique way of breaking the ice with your party. Designed by filmmaker Roman Coppola, The Groupie was designed as a modernist take on a Japanese-style karaoke room.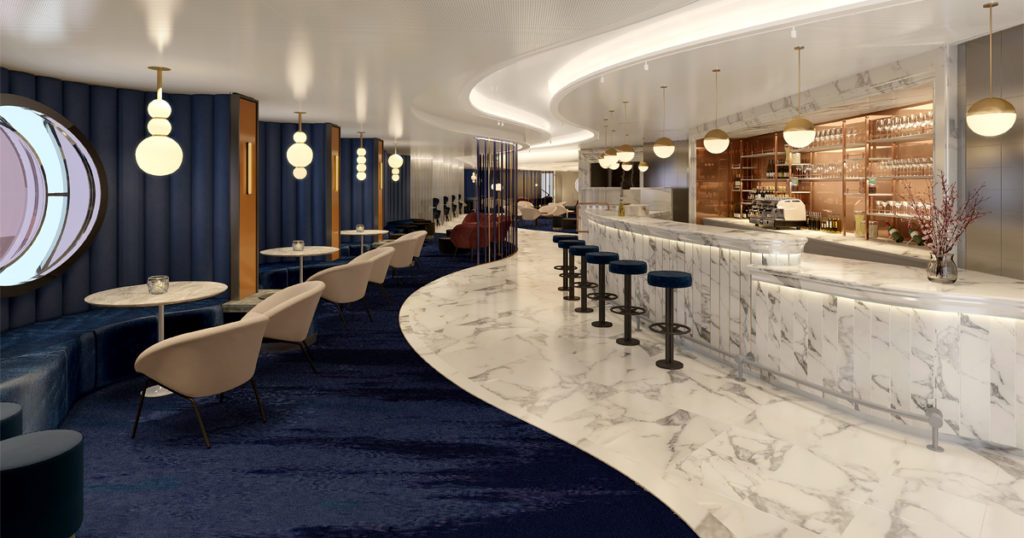 Live the Rockstar Lifestyle
The Scarlet Lady has 78 Rockstar suites designed by British interior design guru, Tom Dixon where yachting meets rock 'n roll royalty. These suites give you or your clients exclusive access throughout the ship. Personal RockStar style riders, upgraded marble-clad bathrooms with premium amenities and spaces. Two of these rooms have their own music rooms, which seconds as an extra bedroom, stocked with guitars and an amplifier with a vinyl turntable in the adjacent living room.
RockStar Suites Sailors can primp for an appearance aboard the Scarlet Lady in the suite's primping area. Inside is a hot tub, vanity area, two wardrobes and a marble-clad bathroom with a Peek-a-Boo shower area that overlooks the bedroom and out to the ocean. Each has an expansive terrace that your entire bridal party can enjoy. With a private hot tub, a Peek-a-View outdoor shower, circular conversation pit, a lookout point with stargazing loungers and two full-length hammocks as well as a runway outdoor dining table for six, where a staircase will help sailors make their way on top of the table for dancing. You might not want to leave the room for your party!
Before you head out, Virgin Voyage's Mega Rockstar Suite Sailors will have a hair and makeup team arrive in your suite to finish off the night's looks with a Glam Squad at your service. Imagine coming back from a day at sea and having a personal artist descend upon your suite to get you rockstar ready for the night as your pre-wedding celebrations kick-off?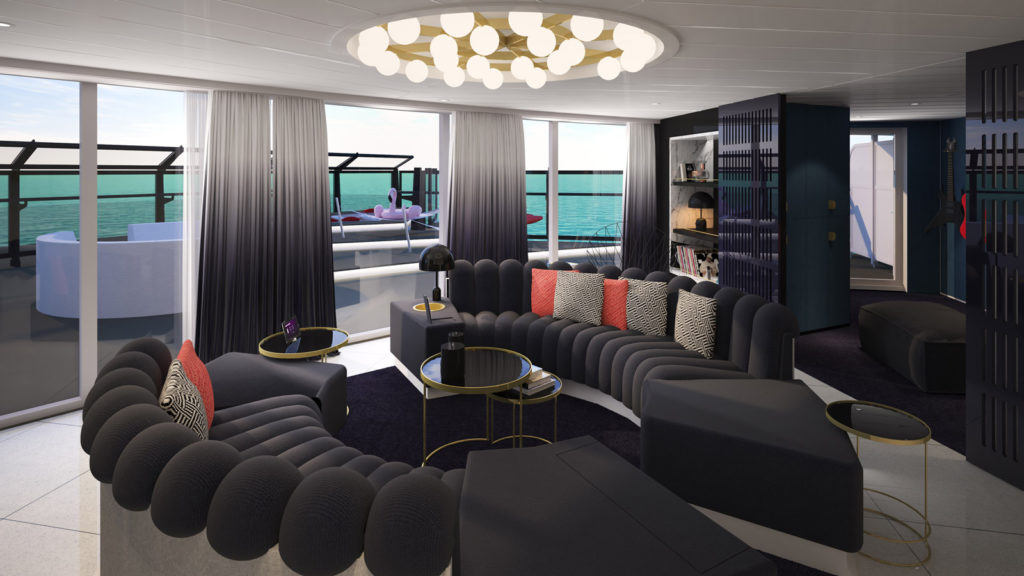 Virgin Voyages Activities
And finally, when the hangover hits, there are group fitness classes. The Virgin Voyages fitness team not only provides the same quality we have come to expect from the likes of Virgin Active gyms but also an outdoor running track, a variety of weights so you leave stronger than you arrived, outdoor yoga to balance your chi and cycling classes that rival any studio back home. And, you and your crew can indulge in the ultimate form of self-care with a spa providing massages to relax and a mudroom to revitalize your body and soul.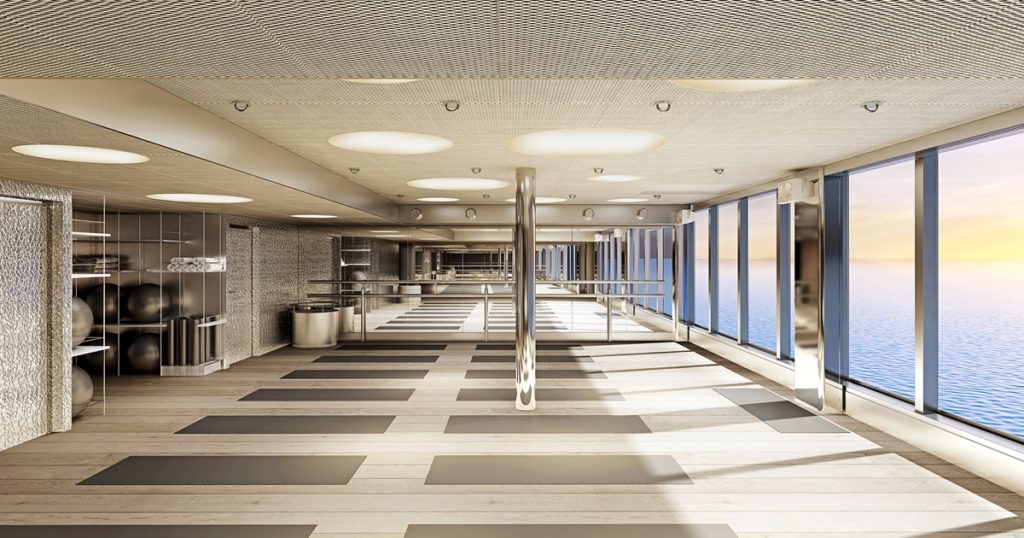 The Perfect All-in-One Party
Whether you're thinking of hosting your bachelor or bachelorette party or planning one for someone else, this truly is a one-of-a-kind experience. You have a minimum of three nights so there's time to relax and time to party the night away, and your spacious cabins give you the perfect place to escape when you need to. All the food is included and you're not in charge of the drinks so it takes away the stress of catering. Entertainment? As we've explained, it doesn't get any better! So Ahoy, mates! Let's party!