The Best Wedding Destinations in Tuscany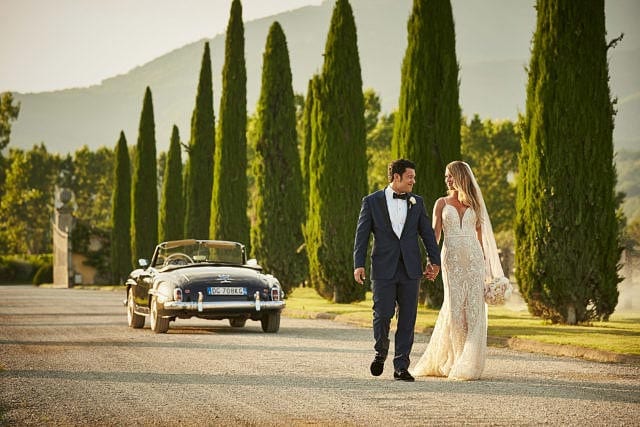 From chic hotels, quaint villas to luxurious resorts, the best wedding destinations in Tuscany can be found in many of her lively hamlets, medieval villages and charming towns.
Imagine your wedding on a terrace laden with banquet tables overlooking rolling hills blanketed in vineyards. Or on a sprawling, landscaped villa with fountains and romantic lighting. Tuscany offers so many gorgeous venues and arguably some of the best vistas and cuisine in the world. We've got the best wedding planners to design, plan and produce your destination wedding. All you need to do is choose your favorite property!
The best vendors include videographers, photographers, caterers, rentals, florists, musicians, DJs, lighting, bakeries, invitations, favors and many, many more. If the property doesn't offer full planning services, you can count on us to recommend the best in the regions.
We know each of these marvelous venues personally and you'll love them as much as we do!
Relais La Corte Dei Papi is a beautiful and refined country house, dating from the late eighteenth century. Since then, it has been wonderfully renovated with love and passion. Surrounded by a beautiful park, rich in flowers, olive and pine trees, it is the perfect place for an elegant wedding — indoors as well as outdoors — dedicated to an authentic Italian experience.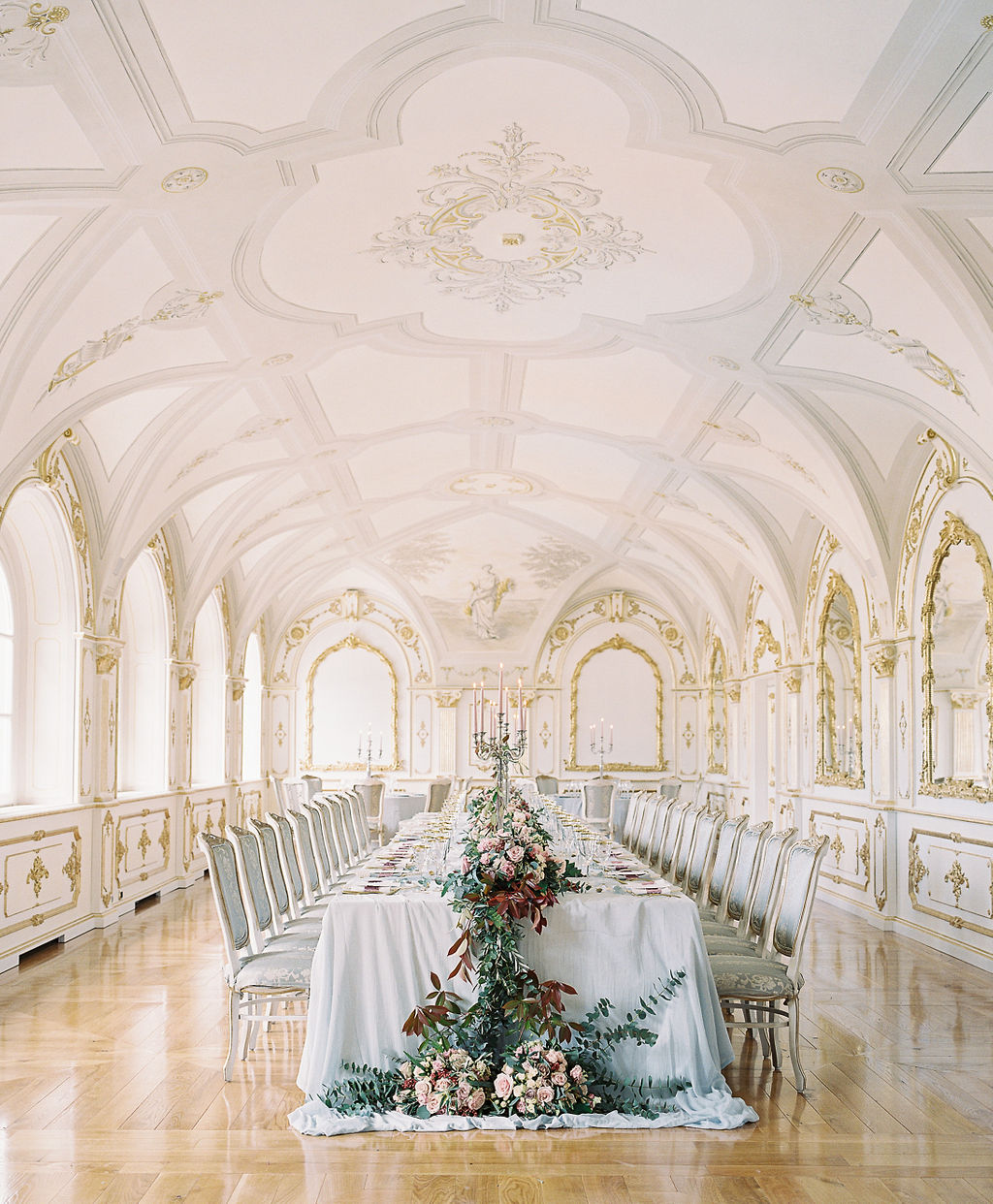 Host your wedding ceremony in the gorgeous private church, your reception on the castle lawn, and your after-party in beautiful settings with music and theatre. And for the day after: enjoy a tasty lunch at the on-site restaurant, offering the best Tuscan cuisine complete with a superb wine-tasting experience. Stay a few extra days on your honeymoon and swim in the stunning pools surrounded by extraordinary views, enjoy the luxurious spa, and soak up the sun.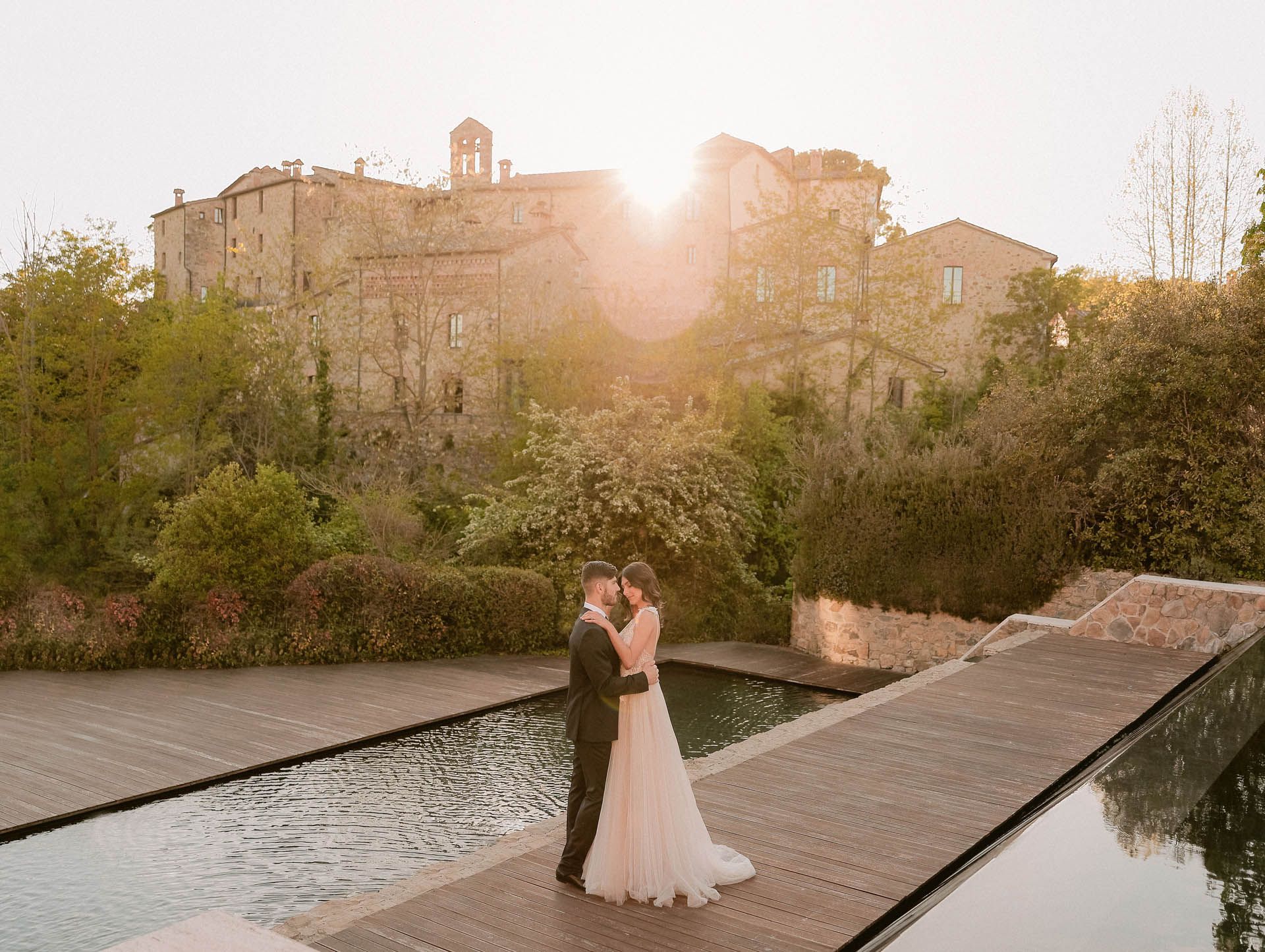 Strategically located in the Province of Siena, you are close enough to charming towns for day trips, yet far enough for you to enjoy complete tranquility. A magical experience, in an intimate, sweet, and romantic place, designed with all the care and attention necessary to ensure that couples enjoy serenity and happiness for their wedding, and newlyweds during their honeymoon.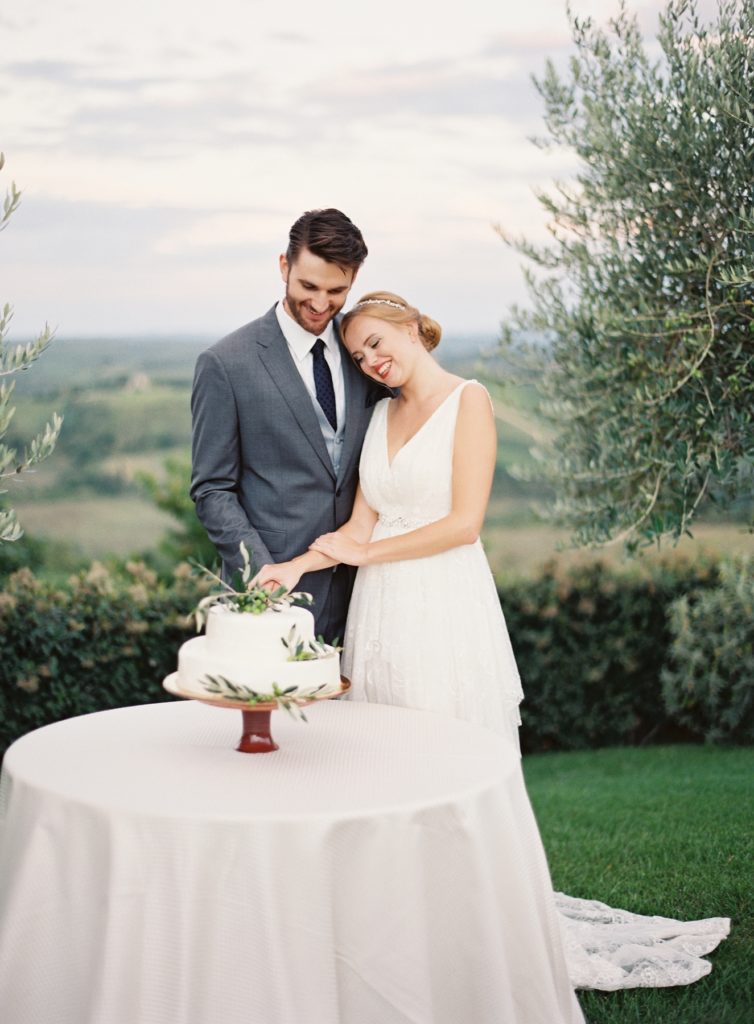 Hotelito Lupaia
The adventure of driving the winding gravel backroads through the heart of Tuscany doesn't prepare you for your arrival at this secluded country estate. Its charm will melt your heart. From the gates through which you enter to the vast grassy knoll overlooking amazing views of medieval villages, vineyards and olive groves (the perfect spot for your ceremony), to the boulder-laden swimming pool surrounded by chaise lounges, you will feel like you are living in a fairytale.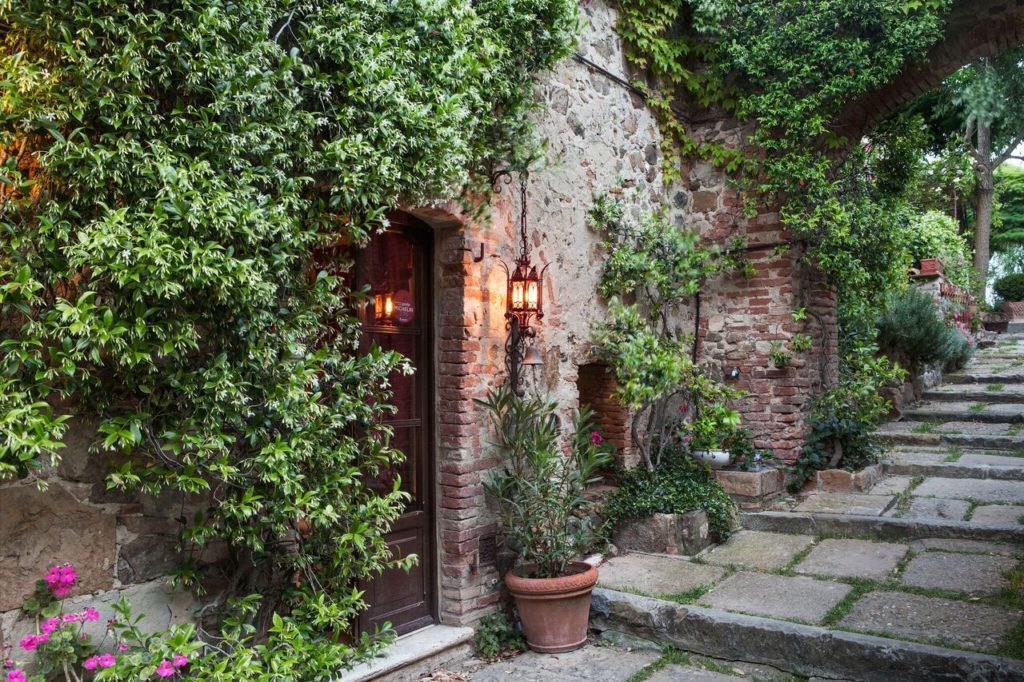 Il Borro
Let your story begin here… In a historical medieval village, lovingly transformed into a 21st-century compound, connected by cobblestone streets, a stone bridge and winding paths. You'll feel suspended between past and present. Experience luxurious accommodations, artisan shops, excellent restaurants, athletic facilities, horseback riding, and even a consecrated church for your wedding ceremony. For an intimate gathering, you may like to all stay together in one of the wonderful farmhouses, complete with separate suites, private pool (one of several on the property), Turkish bath, and billiards table overlooking acres of rolling vineyards.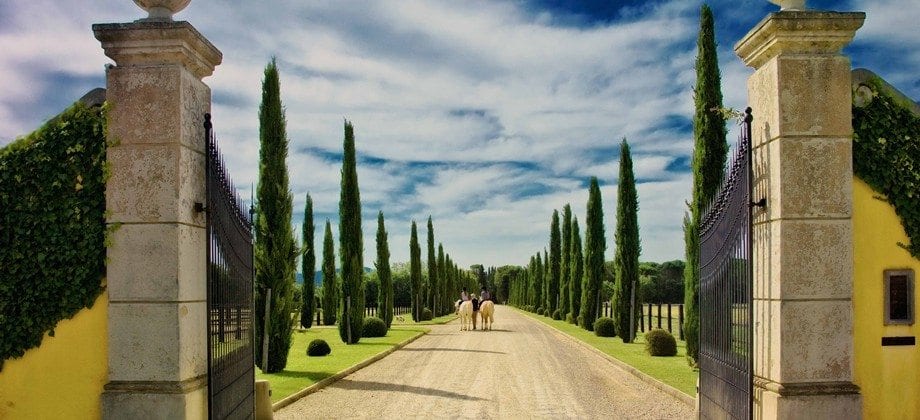 L'Andana offers refined elegance, impeccable service, and excellent cuisine. There are many options on the extensive grounds to host a wedding ceremony, lavish reception, and festive farewell brunch. In fact, you may celebrate your Catholic wedding in the charming and historical consecrated chapel on-site, where they hold Holy Mass each Sunday. From the moment you enter the impressive gates of this grand estate and drive the winding road flanked by cypresses and maritime pines, you'll want your camera in hand. Pull off the road and walk up to the Maremmana cattle farm inside the estate itself. Scan the landscape and marvel at the golf course, the hills in the distance flanking the olive groves and vineyards. You'll understand why the Great Duke of Tuscany Leopold II of Lorraine chose this as his permanent residence.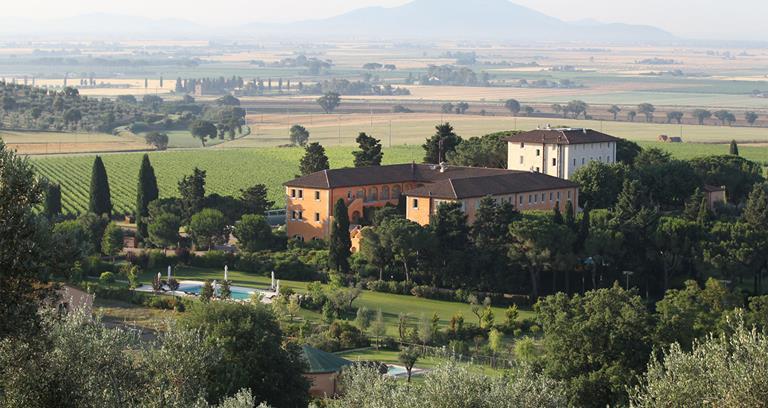 Enjoy sleeping in a castle a thousand years old!  Choose either a room or suite with antique furniture and paintings or a spa room with a contemporary touch, complete with thermal waters flowing directly into your bathtub! And the most spectacular sunset in the privacy of your own gardens! Getting inspired? Swim in one of 5 indoor and outdoor pools filled with hot thermal water rising from the springs of a dormant Volcano. You and your bridal party will be pampered in the 1500 square meter spa, a truly heavenly experience.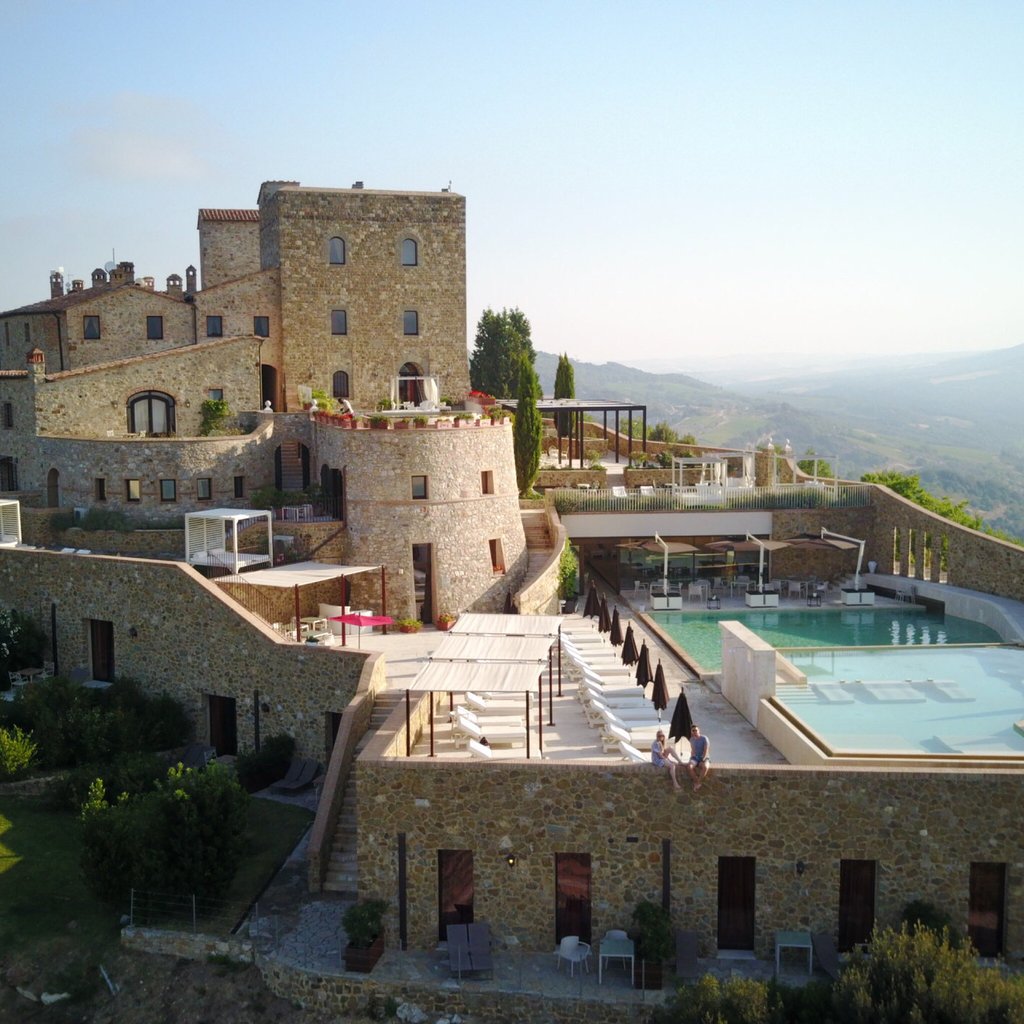 Newly renovated! The picturesque setting of this property encompasses the whole medieval borgo (hamlet). Including the chapel, small square, and views of the rolling hills of Chianti, it's one of Italy's leading wine estates whose produce they export around the world. You and your guests will enjoy privacy (the rooms are located throughout six historic buildings within the borgo). Moreover, you will be able to relax at the spa or do some exercise at the gym (with 9-foot glass ceilings affording gorgeous views). Various activities are available, such as hiking and biking in the countryside in-between the various events surrounding the wedding celebration. Finally, you can host your rehearsal dinner in the wine cellar surrounded by huge barrels. You have everything to enjoy the ceremony and reception on the sprawling grounds, in the main piazza, or in the chic restaurant.
Couples from around the world have celebrated their weddings and vow renewals on this stunning property. Hotel II Pellicano boasts dramatic views overlooking Tuscany that seduce the senses. It offers mouth-watering cuisine and features decor that reflects the beautiful taste of the two lovers who built it.
A charismatic American socialite, Patsy Daszel, and a dashing British aviator, Michael Graham created the perfect hideaway for the romantics, in a secret cove. This picture-perfect destination, once visited by glamorous figures like Charlie Chaplin, allows you to bathe in the azure sea by day and party by moonlight.
This stunning and remote destination goes above and beyond the classic concept of hospitality to create a destination in its own right. This pristine cove sheltered by rugged cliffs sits in the middle of a gorgeous alkaline landscape under the Tuscan sun. It's a historic retreat that will feel like your own medieval, yet chic outpost.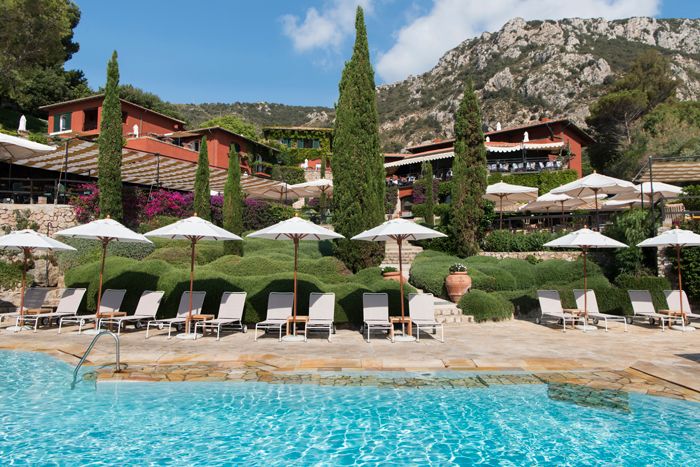 Villa Valentini Bonaparte
The quintessential romantic setting is a feast of natural beauty. With verdant rolling hills giving way to the cornflower blue of the summer skies, this villa is magnificent. After sunset, the villa, and its gorgeous towering trees that line the paths and driveways, lit up to provide an enchanting backdrop to your perfect wedding celebration in the heart of Tuscany. This exquisite setting is the ideal place for exclusive destination weddings and unique events.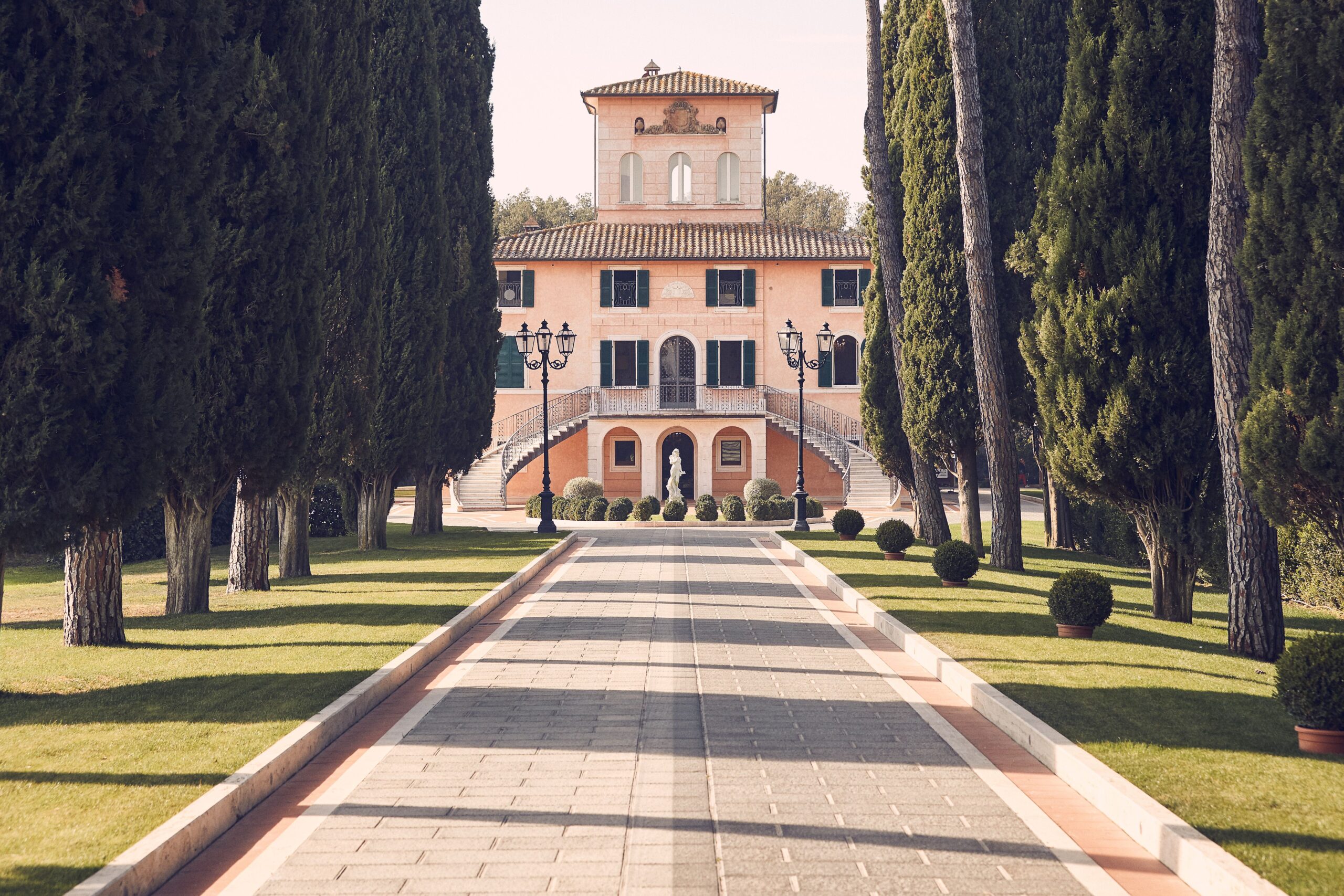 Located in the heart of the Siena Hills in Siena, this resort offers guests a chance to unwind amidst nature. Filled with olive groves, vineyards, streams, and natural hot springs, it caters to all needs. This exclusive resort was originally constructed in the 17th century as a Medicean residence. Nowadays, it is renowned as a therapeutic retreat for those looking to escape into nature. You can hold wedding ceremonies and celebrations in one or more of the many locations on-property. With a beautiful church and surrounding gardens on the hotel grounds, religious ceremonies are welcome. Outdoor and indoor venue spaces are elegant, have spectacular views of the Tuscan hills, and always feel intimate.
Villa Cora in Florence is one of the most gorgeous venues in Italy for hosting lavish weddings. The Villa is decorated in sumptuous style from furniture to fabrics to chandeliers. Your events will be stunning in person, and you will have magnificent photographs forever with this venue as your backdrop. There are several magnificent venue spaces on the property for ceremonies and receptions. Of course, the cuisine and cocktails are equally wonderful.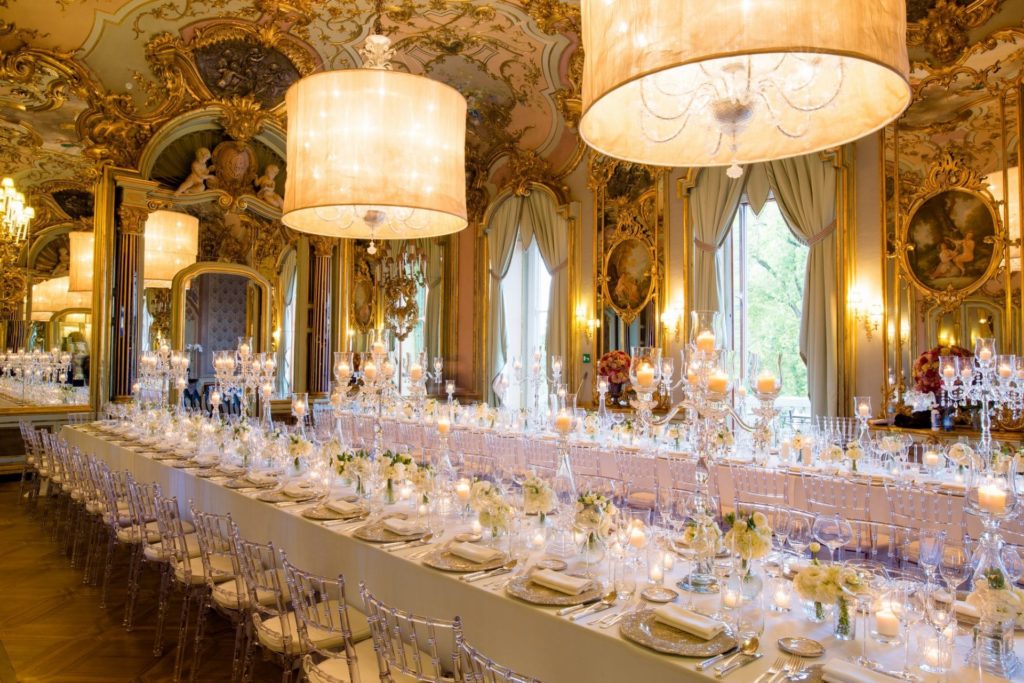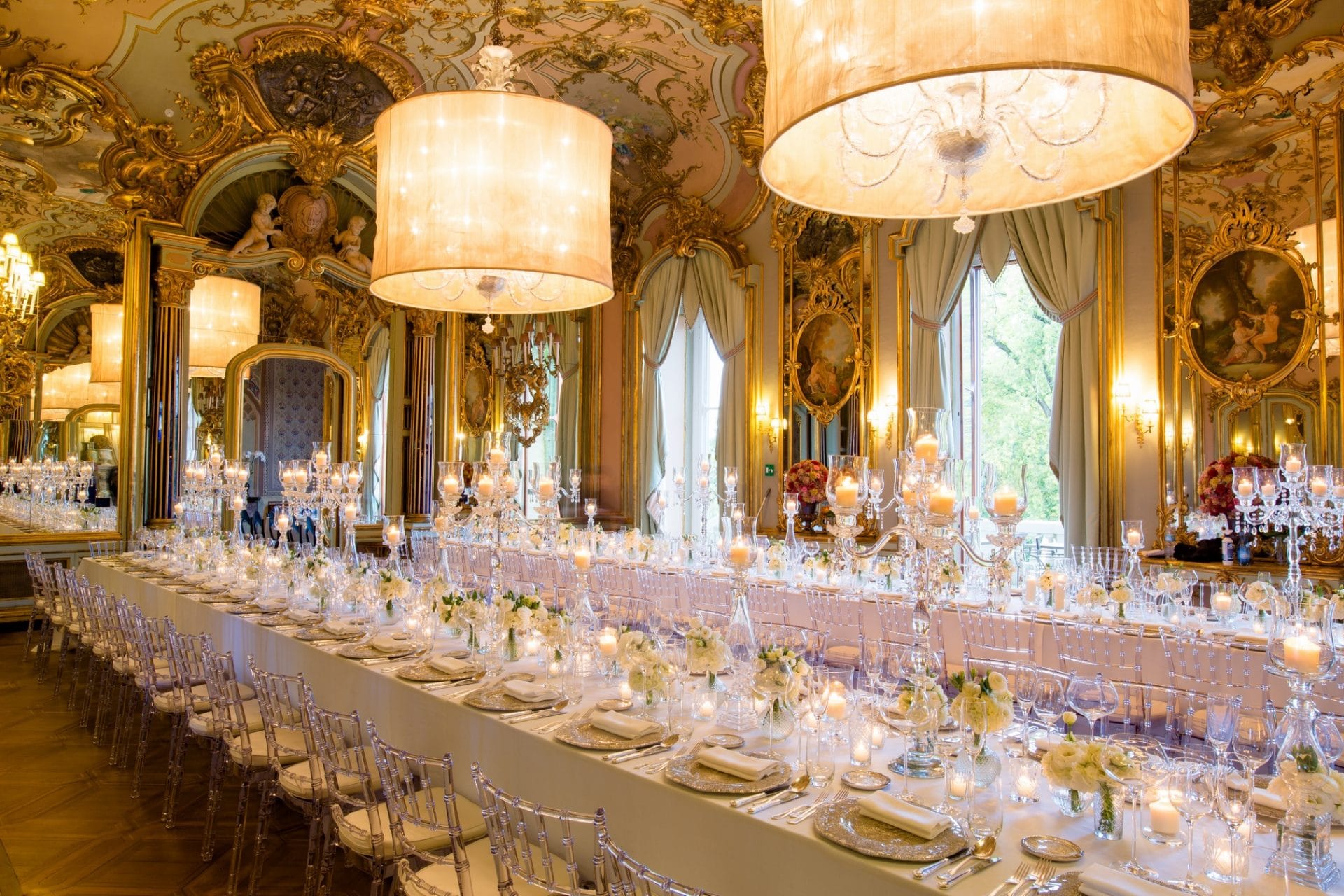 Feel the historical and cultural pulse of Italy as you take cooking classes in the stone kitchen. As you walk through vibrant gardens or relax in one of the unparalleled Mediterranean suites. Each suite in the castle is unique and thoughtfully designed to radiate serenity and Tuscan luxury. The grounds welcome weddings as well as honeymoons, and the rustic courtyards are fit for any catered gathering. From gardens of lavender and rose to groves of olive trees, this is truly the Tuscany you've been dreaming of.