Why Mexico is a Fantastic Destination for Luxury Weddings & Honeymoons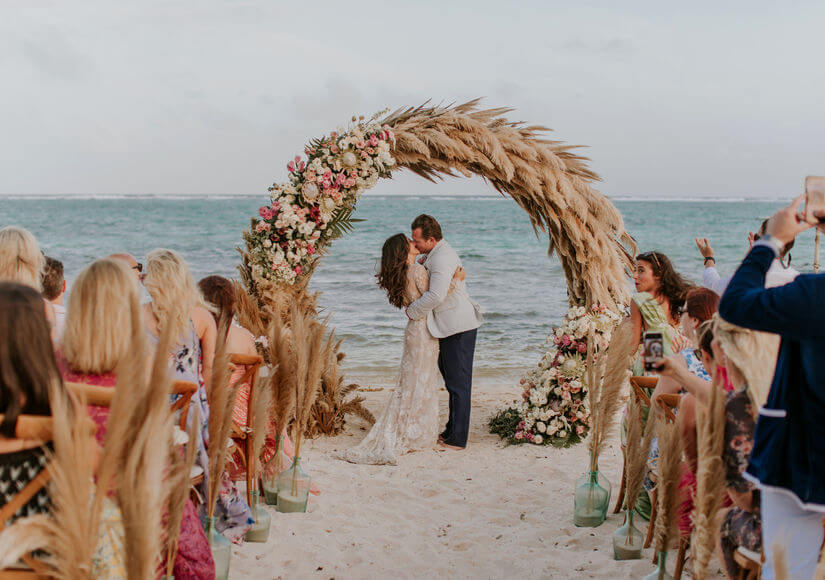 Sun-dappled Mexico is the epitome of paradise. This top travel destination is preferred by couples who want to go one step above the ordinary. The country charms with colorful culture, and exquisite local cuisine. Plus, endless miles of Pacific and Caribbean coastline. Besides, this warm cultured community you won't find anywhere else in the world. Mexico has a distinguished architectural style, natural wonders, most of which are still to be discovered. Not to mention some of the best beaches in the entire world. It's home to many fantastic locations for destination weddings. But most importantly offers direct flights from most US cities. This makes it a super convenient location for the celebration of a big life event. Whether you are planning a destination wedding or want a classic honeymoon destination, Mexico is for you. Here are just a few reasons why Mexico is the best destination for weddings and honeymoons:

Reasons to Choose Mexico for a Destination Wedding
There are plenty of great options for your destination wedding, but Mexico is rather special. A wedding in Mexico is generally more affordable. It will also be easier for your guests to travel to Mexico than other destinations. This means more attendees at your destination wedding and truly celebratory experience. The natural beauty found all across the country will even decrease your need for expensive decor. Whether you choose a secluded beach or a historic chapel, you can be sure it will be breathtaking. With its temperate climate, you can also expect perfect weather almost all year round. Mexican cuisine is well-known and loved across the world. This means the catering and meals for your special day will be divine. Since you are already in Mexico, there is also no need to travel further. Rather stay put after the wedding and enjoy the romantic sun-soaked beaches for your honeymoon.
Reasons to Honeymoon in Mexico
A honeymoon in Mexico is guaranteed to be one of the most amazing getaways ever. With its famed cuisine, impeccable beaches and rich history, Mexico ticks all the boxes for a honeymoon destination. Regardless, of whether you seek adventure or pure relaxation, you will find it in Mexico. This lovely country has plenty to offer a happy couple who wants to honeymoon in a dreamy location. Spend your days blissfully lazing by the beach or the resort pool or even exploring some historical or archaeological sites. The nightlife in certain parts of Mexico is legendary and ideal for couples who enjoy a good party. Since it is so affordable, you can also stay for longer and enjoy even more luxury than you would elsewhere. Your leisurely romance-filled days in Mexico will definitely ensure a great start to your marriage.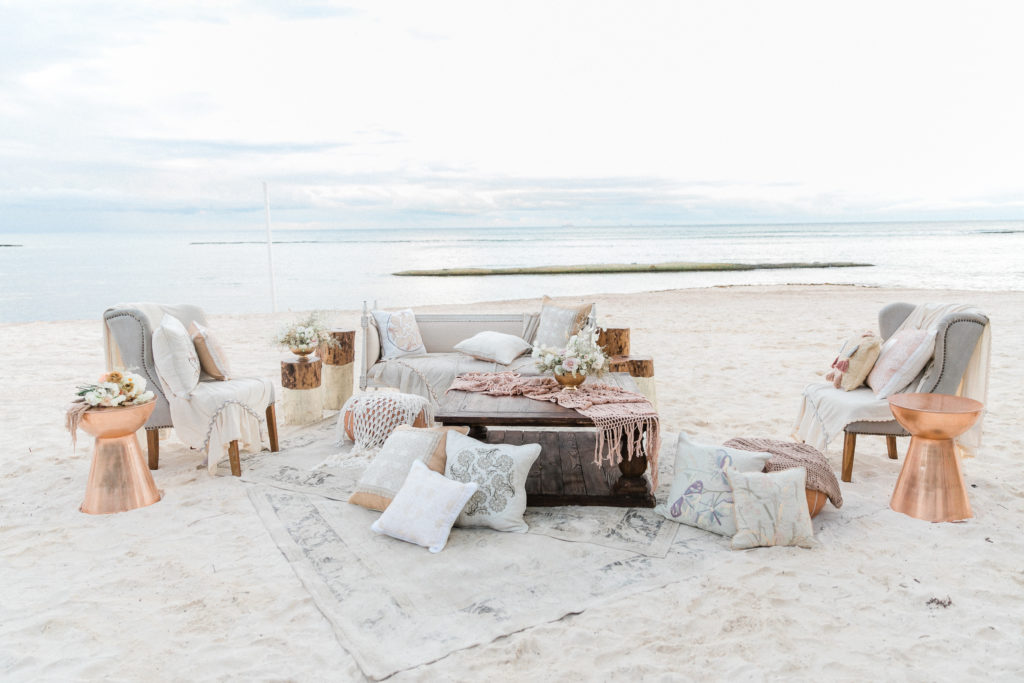 Mexico Has Some of the Best Destinations
Mexico has some of the best beach and adventure locations in the world. Many of these have plenty of luxury venues at affordable prices. There is no shortage of spectacular destination wedding or honeymoon locations and venues in Mexico. However, you will want to choose an area and property that is perfect for you and your partner. Mexico has everything from large touristy beach towns to more secluded intimate resorts. Our team at Wedaways has you covered though with a fantastic selection of exclusive properties in Mexico. Not only can we direct you to the best locations and properties, but we will guide you through the process of finding a local wedding planner as well. However, to provide you with all the information you need to make a decision, we suggest the following areas and resorts for a special day or perfect stay:
Los Cabos
Los Cabos has remained a popular destination among newlyweds and engaged couples. Thanks to its sublime beaches, dramatic coastal landscapes, and an outstanding array of upscale resorts and spas. This is a strategic destination and one that your guests will find easy to travel to. Since it is conveniently located only a 6 hour flight from major cities in the U.S. Its list of swanky resorts may seem overwhelming, but depends on your taste and your budget. There are some distinguished hotels that really stand out from the rest such as Viceroy Los Cabos. Another choice hotel is the award-winning Grand Velas Los Cabos, which offers unrivaled luxury. With its privileged position on the coast and contemporary design that fully incorporates Mexican culture, your stay will be magical. Expect stunning views of the glittering Sea of Cortez, along with luxurious suites, excellent facilities and pampering treatment by well-trained staff members.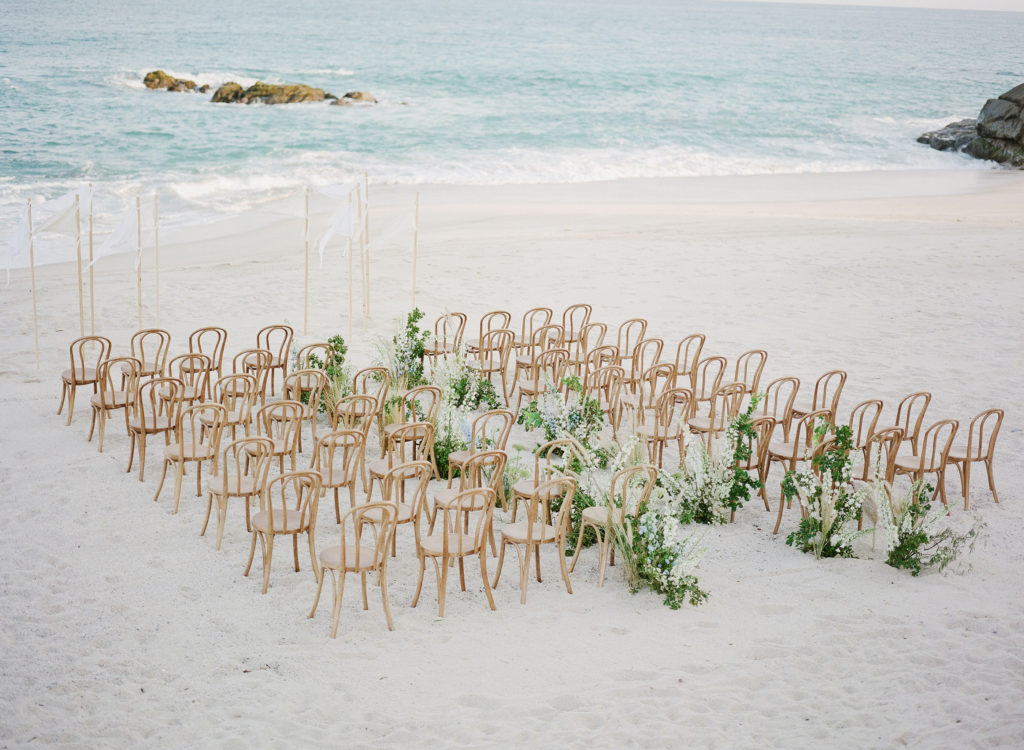 Riviera Maya
Riviera Maya, just south of Cancun, prides itself on its sparkling turquoise waters, luxury resorts, and laid-back ambiance. This essentially untouched Caribbean coast offers more than just an ordinary all-inclusive stay. It is known for its exotic wildlife, jungles, mangroves, white-sand beaches, eco-adventures, and numerous Mayan sites. Here you'll encounter some of the country's most extravagant resorts. Such as Grand Velas Riviera Maya which never fails to delight. Its distinguished world-class service and warm hospitality set the stage for a perfect wedding overlooking the turquoise beach. Also, the ideal sanctuary in which to celebrate your first getaway as newlyweds. Another excellent choice is Banyan Tree Mayakoba, which is an eco-resort and true sanctuary for your senses. While in Riviera Maya, you may also consider staying at Andaz Mayakoba Resort which is surrounded by the tranquility of nature and beautiful lagoons.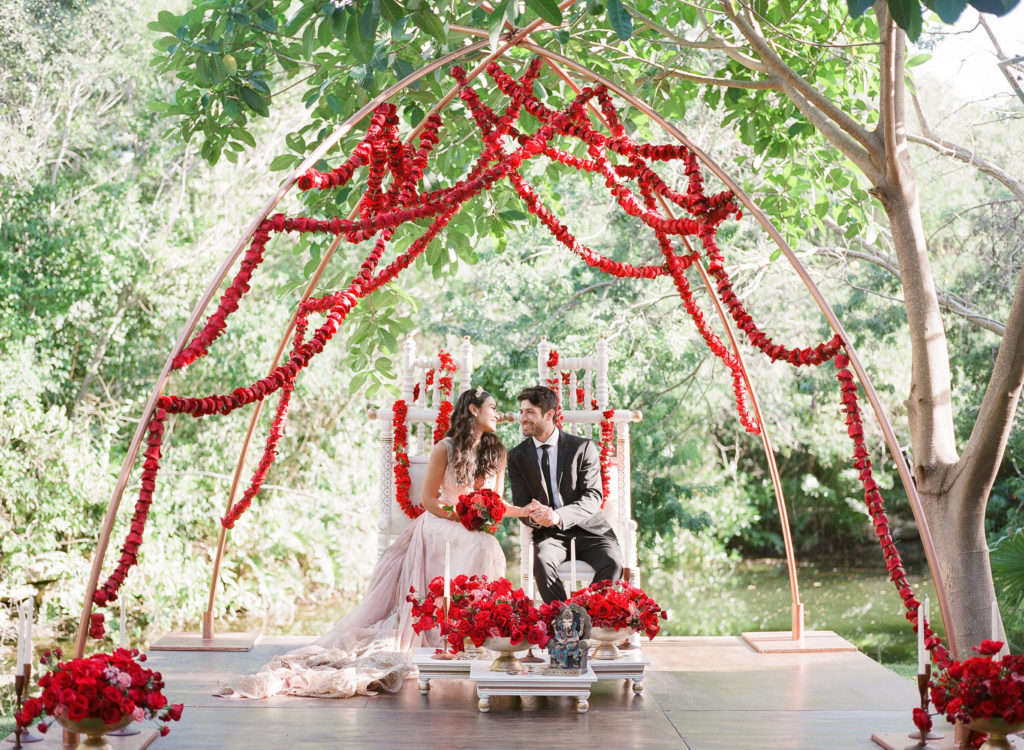 Riviera Nayarit & Puerto Vallarta
El Malecon, boho lounges, and historic sculptures. When it comes to striking wedding destinations, Puerto Vallarta is among the best. This area in the Jalisco State has picture-perfect beaches, water activities, and an active nightlife scene. Not to mention its remarkable weather all-year-round. Of note is the intimate adults-only Casa Velas Resort. The property has its own private strand which can seat up to 250 guests for an oceanfront ceremony. Whereas, the Salon Casa Velas is a spacious indoor venue that can be transformed into a themed reception. Another option is Grand Velas Riviera Nayarit, a luxury All-Inclusive Resort, bestowed with the Hall of Fame Award by TripAdvisor. Their privileged natural setting is ideal for catching the legendary sunsets that create an aura of romance when uniting two souls.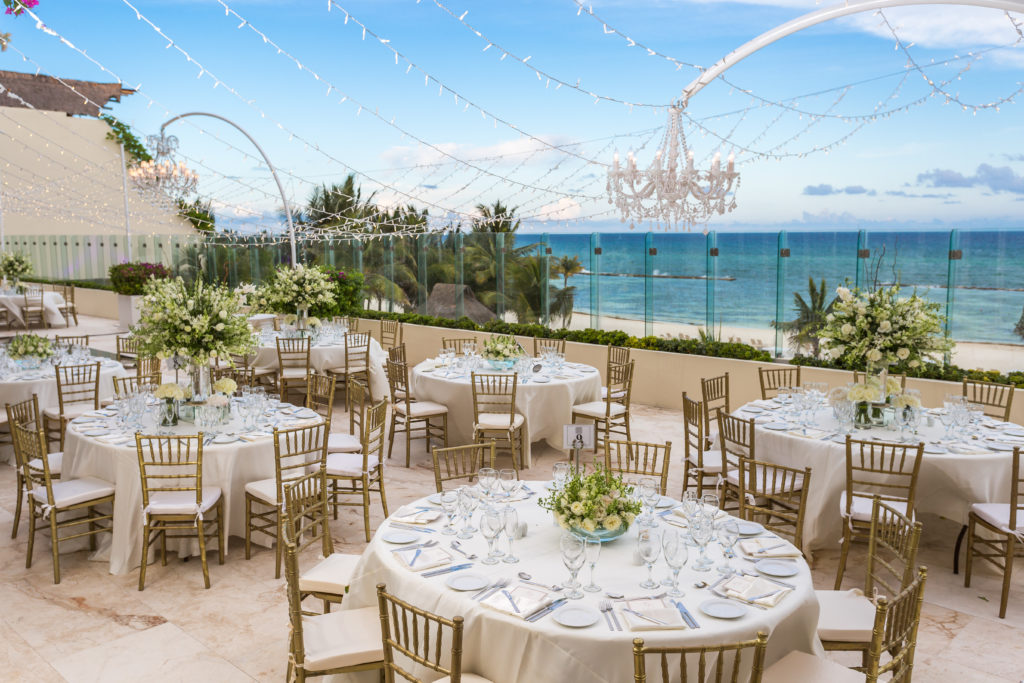 Alternative Mexican Wedding and Honeymoon Destinations
Although the locations mentioned previously are the most popular, Mexico also has much more to offer travelers. The area you decide on will very much depend on your preferences as a couple. However, famous or popular destinations are not your only choices. Some other are areas in Mexico to consider are Mexico City, Acapulco, Playa Del Carmen, and the Yucatan.
Mexico City is a great choice for couples who like cities and want to explore culture and history during their wedding weekend or on their honeymoon. Acapulco is a gorgeous destination that will appeal to foodie couples who enjoy the beach and have a sense of adventure. Playa Del Carmen along the Yucatan Peninsula and especially Chable Yucatan Resort & Spa is ideal for an unforgettable destination wedding and the place to recharge in one of the finest spas during a honeymoon. The Yucatan combines stunning ocean views with grand colonial history to create a magical area perfect for a bright and cheerful wedding. With so many wonderful areas to choose from, Mexico is sure to inspire and delight you as you plan your special day or first getaway as a married couple.
Your Mexican Wedding or Honeymoon
As you can see, Mexico has so much to offer for couples who want an amazing wedding experience or create new memories of their first trip as a newlywed. With so many possibilities to cater to all types of flavors and styles, you're surely destined to create a wedding album that will live for the ages. Now that you have decided on a stunning location, you will need help planning the experience of a lifetime. Regardless of whether you are getting married in Mexico or just heading there for your honeymoon, you will want someone experienced to help you plan.
Our expert team at Wedaways can help you with every part of the experience. For weddings, we can help you decide on your dream Mexican destination. We can also help you find the ideal wedding venue at your destination – plus you get tons of perks when we arrange room blocks at our partner hotels. Finally, we can connect you with a range of talented local wedding planners who are familiar with the destination, the venue, and local customs and traditions. You will definitely not be disappointed when you partner with Wedaways to help you design a memorable experience.