5 Wedding Venues in Rome Perfect for Destination Weddings ~ Part 1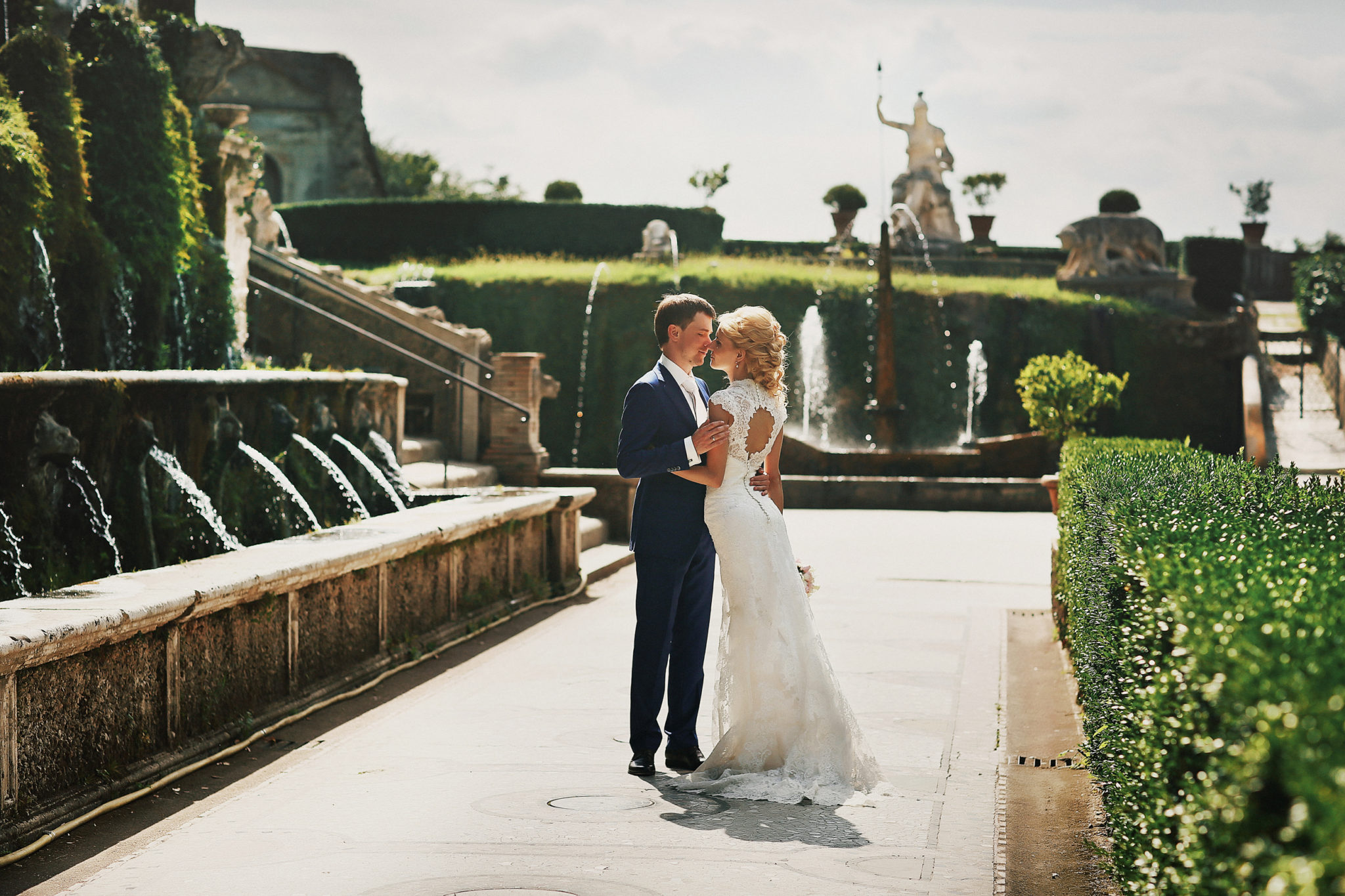 A destination wedding at one of the gorgeous wedding venues in Rome is the dream for many couples. After all, every couple wants a dreamy and Instagram perfect wedding and why shouldn't they? Your wedding is but a once in a life-time experience. Although some couples opt for a destination wedding in their own country, the best ones take place abroad. A destination wedding brings together your friends and family at a venue far away from your everyday life. You and your guests get to step away from your daily routines and be fully immersed in the moment. These weddings are really more of a mini-vacation for the family. Best of all it allows your guests to explore a new country while attending your special day at the same time!
Planning a Destination Wedding in Rome
Destination weddings may seem difficult to plan in terms of logistics. However, with the right team on your side, you can rest assured everything will run smoothly. The most important part is selecting a wedding venue with experience hosting events and of course, a local wedding planner. Our team at Wedaways can connect you with the perfect wedding planner for your special day and help you find your ideal venue. Read this guide to get an idea of the various exceptional wedding venues in Rome that are available to you.
Reasons to Get Married in Rome
Italy harbors the most beautiful and architecturally mesmerizing city at its heart, Rome. Rome has a rich heritage and strong art culture. As a result, the city has is a popular place for destination weddings. The country is full of beautiful monuments to visit and picturesque backdrops for ceremonies and photographs. It has a never-ending list of enchanting and magnificent architecture and romantic spots scattered all around – perfect places to steal some kisses. With fountains, lush green gardens and birds perching on treetops, Rome is definitely one of the best places to have a destination wedding. Apart from that Rome is home to the Colosseum, Spanish Steps and Trevi Fountain. All these culturally enriching sites can be seen simply by taking a walk. The city has ruins and churches that date back way beyond 2000 years. All this combined makes it the city of choice for many couples.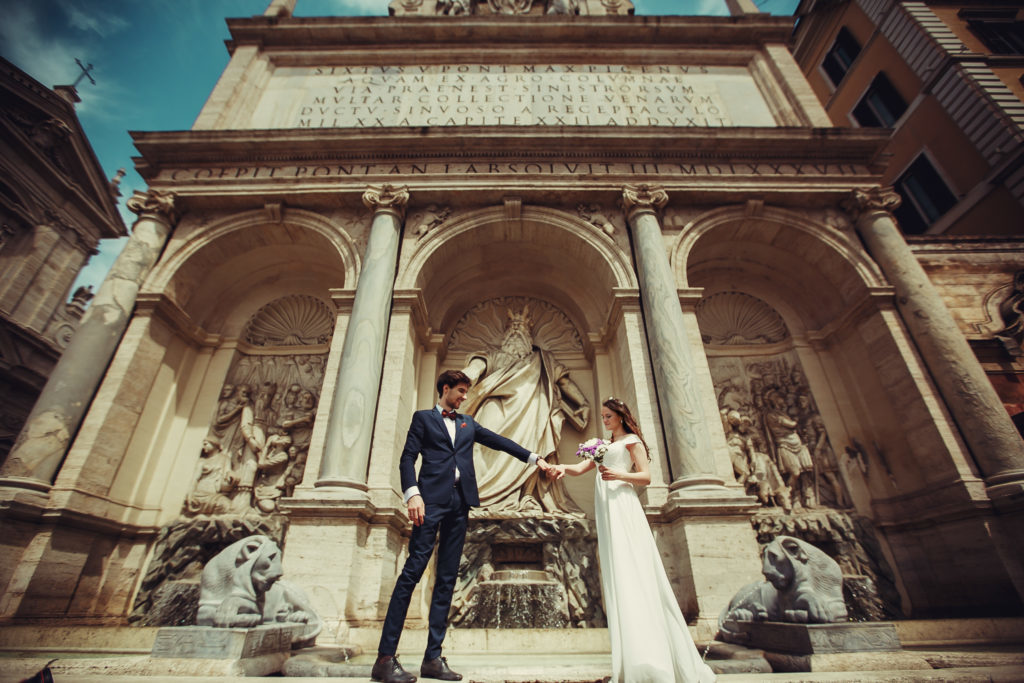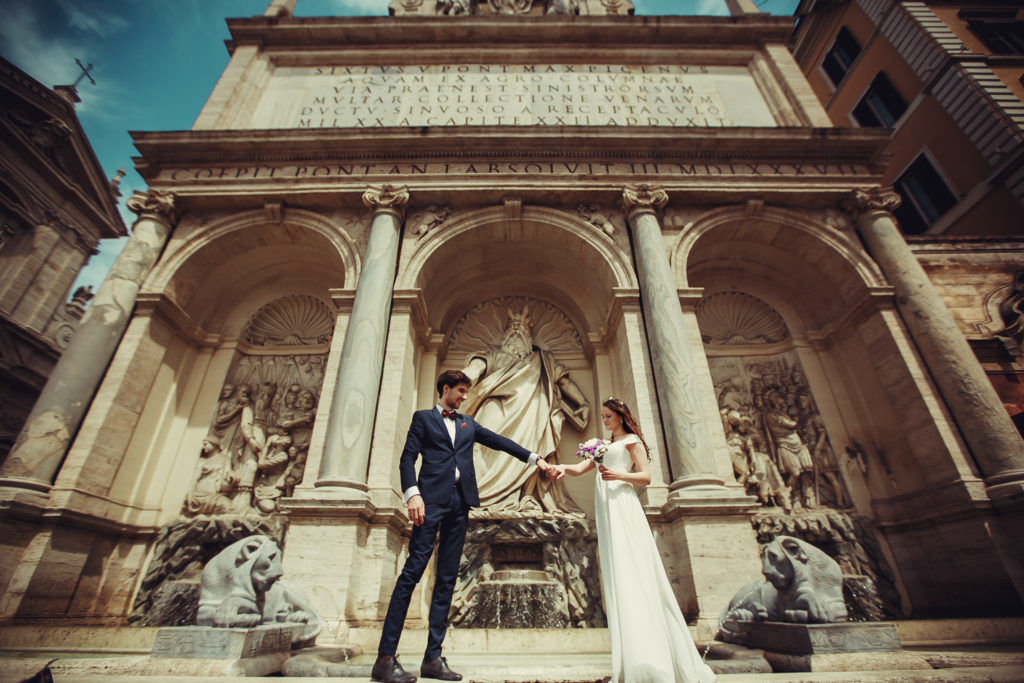 Wedaways Top 5 Wedding Venues in Rome
There are plenty of unique wedding venues in Rome that are absolutely perfect for a destination wedding. But there really are certain places that stand out from the rest. As mentioned, your wedding venue will make all the difference when it comes to planning and execution. We have years of experience in the business, so take it from us, the following venues are some of the best in the city! Read on to learn more about our top choices for wedding venues in Rome.
La Posta Vecchia
Romans always add a hint of their beautiful heritage to everything they make, including their hotels. Consequently, this lavish palazzo, built on the banks of the Thyrennian Sea is a sight to behold. It is very conveniently located only 25 minutes away from Leonardo da Vinci Airport and 30 minutes from the heart of Rome. Originally a Roman Villa built in the 2nd century BC, La Posta Vecchia is now a luxury hotel. This 5-star hotel boasts beautiful gardens and a panoramic view of the crashing waves of the Thyrennian Sea. The hotel provides the facility of a helipad in its compound along with lush green gardens to stroll in.
Weddings at La Posta Vecchia
La Posta Vecchia is home to mesmerizing artifacts that date back to the 18th century.  It also houses a huge Renaissance-themed museum which is culturally enriching yet romantic. Apart from that, the hotel curates the best authentic Italian food for its guests at their restaurant The Caesar. However, guests seem to love the sea views that accompany their meals the most. With the combination of the romantic setting and the elegant estate, La Posta Vecchia is an excellent choice for a wedding. Everything about the property suggests that it has been created for grand weddings. The lucky couple and their beloved family or friends can relax at the spa facilities in the hotel and also take tours in and around the hotel.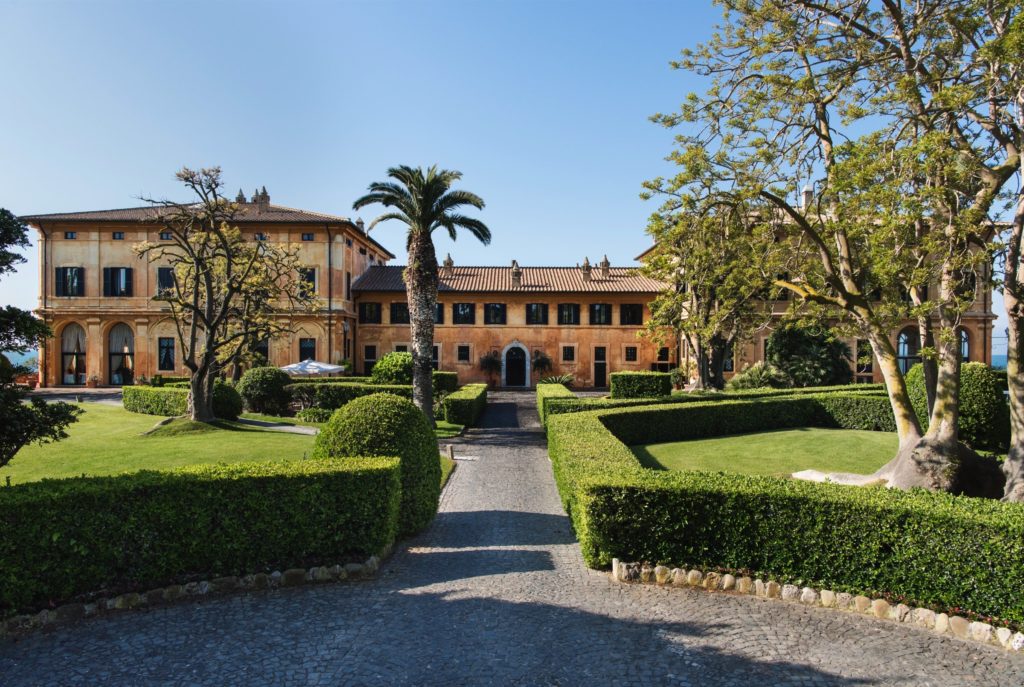 Hotel Hassler Roma

Hotel Hassler has been in the Wirth family for 125 years now and is considered to be one of Rome's masterpiece hotels. It is located right on top of the Spanish Steps therefore, its central location makes it a great venue for a wedding. Hotel Hassler successfully blends together modern facilities and traditional services to bring to you the best Roman experience. It is also very famous for being a retreat for actors, writers, and artists from around the world. Hotel Hassler has an unbeatable setting and boasts of a panoramic view of Rome. It has a Michelin Star restaurant called Imago which overlooks the Spanish Steps. Imago has beautiful wooden furniture and marble finishing décor and provides diners with a complete Italian dining experience. Besides this, the Hassler Bistrot is their other fine dining establishment.
Weddings at Hotel Hassler
Guests of Hotel Hassler have special and exclusive access to the 7th Floor Terrace of the hotel. This lovely spot has one of the best panoramic views of the Eternal city. The hotel regularly hosts weddings and offers couples plenty of extravagant packages. They can provide arrangements for floral décor, customized menus and live music (including a jazz bar). There is also an option for an in-house spa treatment for their guests which can turn a wedding into a relaxing vacation. All these features combined make Hotel Hassler one of the best-suited places to choose for a memorable intimate wedding in Rome.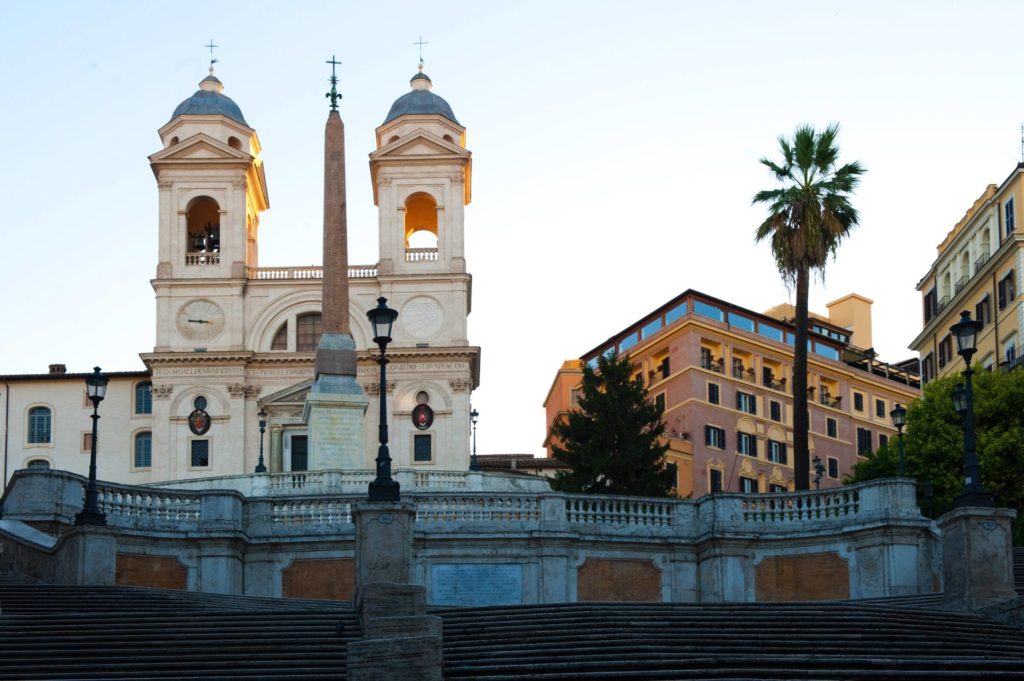 Aldrovandi Villa Borghese
Aldrovandi is a beautiful Villa nestled in the heart of the famous Borghese Gardens. Originally built in the 16th century and majorly revamped in the 19th century, the Borghese Gardens are stunning. The Temple of Aesculapius is a famous monument (which has been featured in many movies) is also found within. The Aldrovandi also has its own secluded gardens, spa, and restaurant which add to its aesthetic appeal. All rooms at Aldrovandi are furnished in the finest Italian Decor. Their Michelin Star restaurant, Asaje makes special Mediterranean dishes and other exquisite gourmet meals. They also provide complimentary shuttles to the Spanish Steps for the guests to visit.
Weddings at Aldrovandi Villa Borghese
Aldrovandi Villa Borghese makes it to our top 5 wedding venues because of its uniqueness. Surrounded by historic monuments and picturesque views, this hotel is truly magnificent. Your special day will have even more meaning when taking the historical location into consideration. The Villa can cater to both a large scale and an intimate wedding. They have 10 function rooms and halls where a wedding ceremony and reception can take place. All of them have a sophisticated and elegant feel that adds to the luxurious experience. Aldrovandi is a warm and home-like Villa that makes it a comfortable space in which to get married.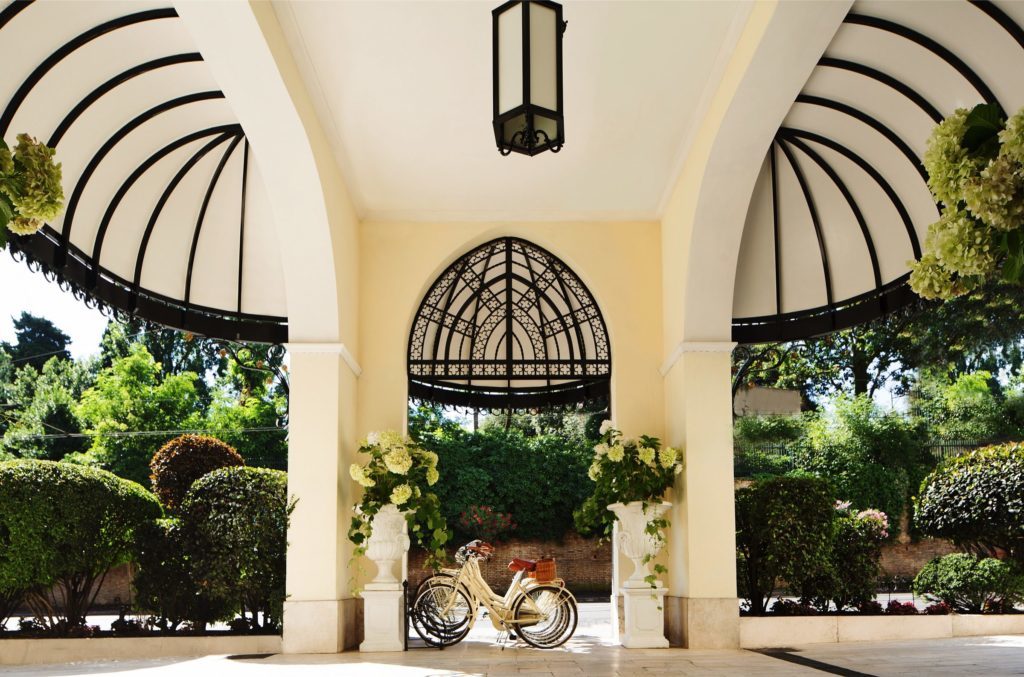 Hotel de Russie
The French poet Jean Cocteau labeled Hotel de Russie 'paradise on earth' in 1917 and it sure lives up to it. Hotel de Russie is a luxury hotel is situated between Piazza del Polo and the Spanish Steps. Therefore, Hotel de Russie has one of the best spots in the whole city. The hotel maintains a lush green Secret Garden with rose bushes, orange trees, mature pines, and nymphaeums. Hotel de Russie houses the Stravinskij Bar which is manned by master bartenders. As a result, they curate the best martinis and concoctions for every kind of occasion including weddings. Hotel de Russie also has a beautiful Italian fine dining restaurant called Le Jardin De Russie perched on the terrace of the Pincio Gardens. They serve delicious dishes with a hint of local Roman taste.
Weddings at Hotel de Russie
The Pincio gardens experience exquisite sunsets every evening with birds chirping and the mini-waterfalls singing in the background. The reason why Hotel de Russie made our top 5 list is that they smoothly cater to the needs of each engaged couple. The Secret Garden is the best spot for your wedding ceremony with its lush green grass, beautiful spring flowers and fountains all around. They also assist with all the arrangements for flower decoration, spa treatments, and exquisite Italian catering for your reception.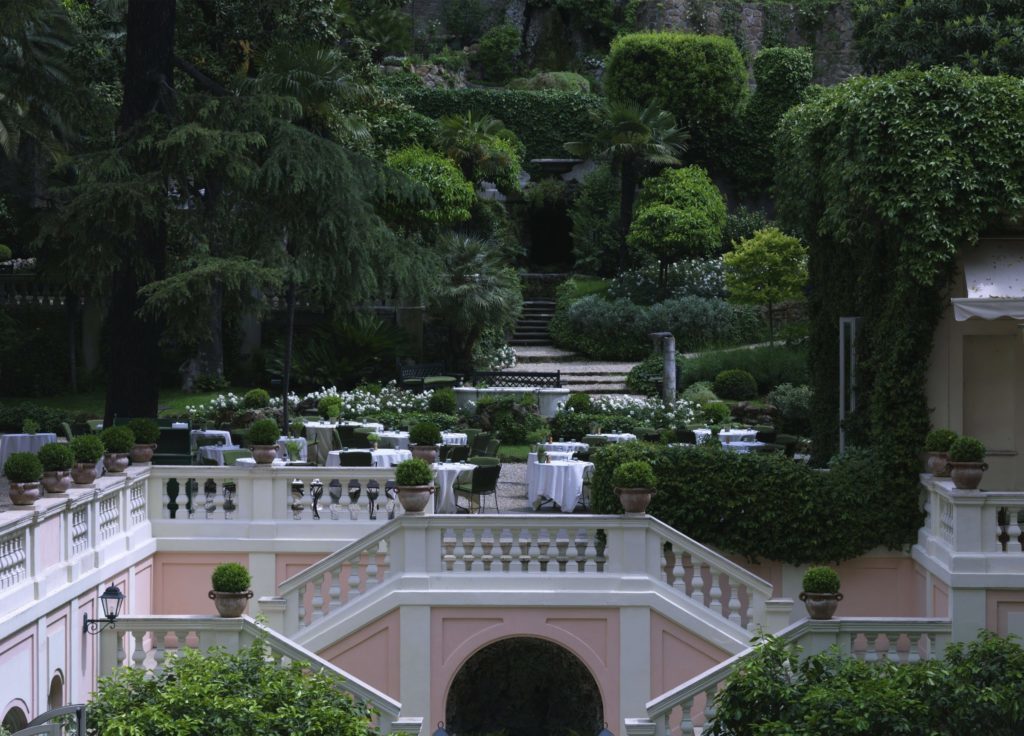 Palazzo Manfredi
Founded in the place of the greatest historical significance – Rome, Palazzo Manfredi is the most exquisite palatial hotel you'll ever visit. It is situated near where once the greatest gladiators of Rome resided. Because of its proximity to the Colosseum, this hotel is an absolute wonder-destination. It was one of the greatest public figures of Rome, Count Manfredi along with his wife, Countess Enrica, who founded Palazzo Manfredi.  Palazzo Manfredi is one of the finest boutique hotels in the city and likely the world. This iconic Roman hotel redefines the limits of luxury. The hotel portrays the royal lifestyle that its founder lived and the same can be experienced by you.
Weddings at Palazzo Manfredi
Palazzo Manfredi is a five-star hotel with world-class concierge services that fulfill all your desires. From superbly luxurious massages to reliable car rental services, Palazzo Manfredi takes care of it all. They also provide excellent transfer services that will help you transport your guests to and from the airport with ease. It provides you with the most romantic and lavish getaway experience for two with amazing services inclusive of couples massage and a dinner for two in one of their exclusive restaurants – Aroma. The dining experience provided with their romantic package includes a view of Coliseum while taking in the beautiful sunsets of Rome.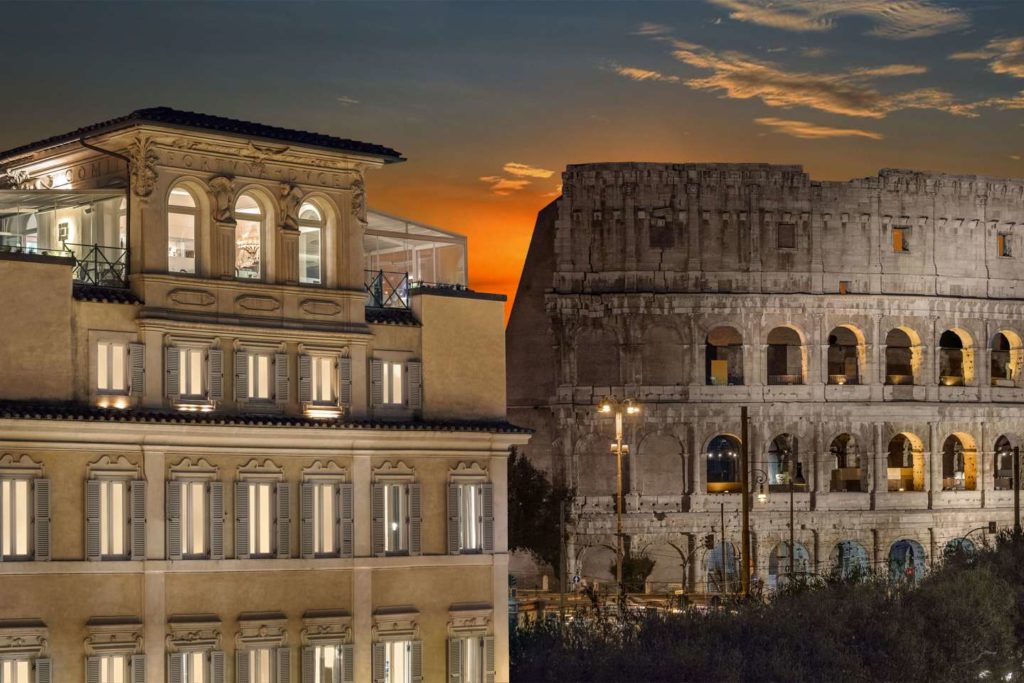 These are definitely our favorite locations, but you may want to check out our website to view the other wedding venues in Rome that we recommend.
For more of our favorite destination wedding venues in Rome, see part 2 of our series.